Business
You get $500K. But first you have to move to Ohio.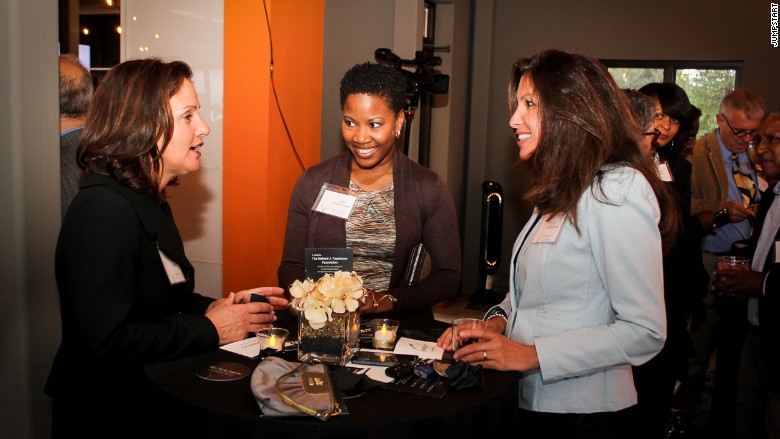 Ohio has a message for women- and minority-led startups: Move to the Buckeye State and you have a real shot at getting funding.
Leading the charge is Cleveland-based JumpStart, a nonprofit that invests in young tech firms.
"Part of our focus is to accelerate opportunity for women and minority entrepreneurs in Ohio," said JumpStart CEO Ray Leach. It now wants to expand that mission nationally.
JumpStart has launched a $10 million seed fund that will solely invest in women and minority-led tech startups.
The Focus Fund will invest in about 20 companies in less than three years — ideally young companies with five employees or less. JumpStart will also take equity in the startups, although it would not disclose how much.
Each startup will get $500,000 in funding. The catch: Entrepreneurs will have to move their headquarters to Ohio to score the money.
"We do require them to move Ohio, but they don't have to stay for any particular period of time," said Leach. "Having said this, we believe once they come to Ohio they will not see any need to leave."
Related: These three startups are heading to Richard Branson's private island
Ohio already has some strong pockets of innovation. Cincinnati, Columbus and Cleveland all have vibrant startup ecosystems, fueled by top-notch accelerators and a growing pool of VC money and angel investors, said Leach.
Healthcare IT, biotech, cleantech and wearables are some of the hottest areas.
"Ohio has invested nearly $500 million in the last five years to advance its entrepreneurial ecosystem," said Leach.
Related: A man's world? Not to these women
Public-private partnerships, like the JumpStart Focus Fund, are part of that effort.
JumpStart, founded in 2005, has invested in 85 early-stage tech firms in Ohio. 35% of those have women or minority founders.
That amount of diversity in its funding portfolio is unusual, given that 95% of venture capital funding in the U.S. goes to male-led startups, said Leach, who's also a member of the National Venture Capital Association's diversity and inclusion task force.
Related: She left Iran at 14. Now she runs a multimillion-dollar U.S. firm
Leach said the Focus Fund is the largest seed fund of its kind to focus entirely on women and minority-led tech startups. (The state of Ohio is providing half of the investment, while JumpStart will provide the other half.)
JumpStart is moving quickly to find the right firms, and it expects to make the first investment in the next 90 days.
"We know there are great innovators who will bring their expertise, talents and relationships to advance Ohio's entrepreneurial economy," said Leach. "It is also our hope that Ohio will be better recognized as one of the most dynamic entrepreneurial states in the country."
He also hopes that the Focus Fund will set an example for the VC industry as a whole.
"We have a long way to go to embrace diversity in this industry. But you have to start somewhere," he said. "We want to see a ripple effect of what we're doing in Ohio to happen across the country."
CNNMoney (New York) First published January 20, 2016: 8:07 AM ET
Source
mypresscity