Business
She's recycling carbon dioxide with hopes of reducing oil dependence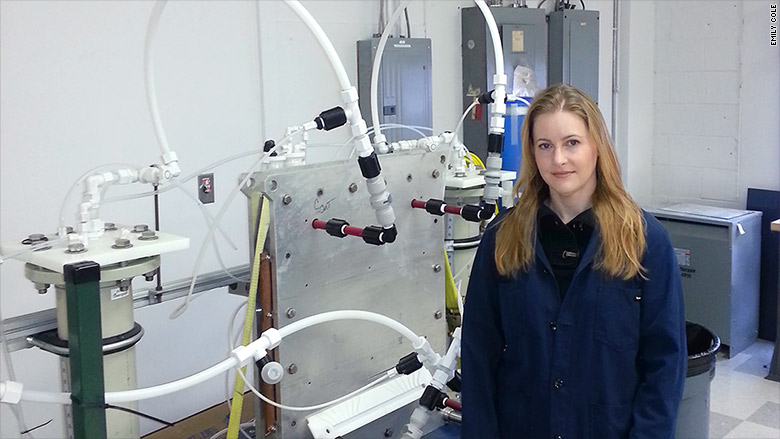 Carbon dioxide gets a bad rap.
Out of all the waste gases produced by human activity — manufacturing, agriculture, electricity production, transportation — carbon dioxide is the biggest byproduct and is fingered as the leading culprit behind global warming.
In fact, it accounts for 76% of all annual global greenhouse gas emissions, according to the Environmental Protection Agency.
But Emily Cole doesn't focus on the negatives. The 32-year-old scientist has created technology that would recycle carbon dioxide into something extremely useful.
Cole is cofounder and chief science officer of Liquid Light. The startup is pioneering a process to convert carbon dioxide gas into a chemical that can be used to make consumer products.
She founded the startup in 2009 and immediately got to work developing technology to capture carbon dioxide and recycle it.
"Right now, waste carbon dioxide is captured and sequestered," said Cole. This means the gas is collected from facilities like industrial plants or manufacturing sites, compressed in pipelines and then injected into rock formations deep underground.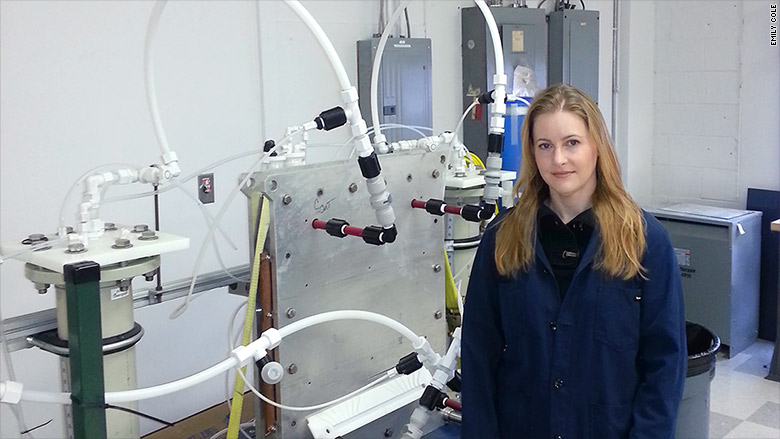 "Instead of storing it, we're utilizing it and converting it into something of value," she said.
Liquid Light is the first company that's developed a catalyst (a combination of water, sunlight, electricity and other chemicals) to make other chemicals out of carbon dioxide.
"We take carbon dioxide from its source [like power plants or factories], add water and electricity to it, and create liquid fuels and chemicals such as ethylene glycol and glycolic acid," said Cole.
Those chemicals could eventually replace petroleum in everyday consumer products like plastic bottles, carpets, antifreeze, even facial creams.
The benefits are manifold: "We reduce our dependence on petroleum, which is not renewable," said Cole. "We make these products with lower carbon dioxide emissions and we can possibly lower the production costs."
Related: These startups could change the world
Cole has a Ph.D. in chemistry from Princeton University. But her passion goes back to her high school days in Texas.
"I had a great teacher who really got me interested and excited about chemistry," she said.
At Princeton, she collaborated with Professor Andrew Bocarsly, who had already been working on ways to recycle carbon dioxide. "His project was stalled for many years because there wasn't a lot of interest or funding for it," she said. But she saw potential, and worked to take his research one step further.
After graduating from Princeton, Cole attracted investment from venture capitalists to start her firm and develop the technology. (While she declined to say how much Liquid Light has raised, CrunchBase reports it has received $23.5 million in several rounds of funding.)
Related: 3D printers could soon make human skin
Liquid Light, which now has a team of 12, hopes to pilot the technology next year and then license it for commercial use.
Big companies have already taken note.
Last year, Coca Cola (KO) partnered with Liquid Light to help accelerate the commercialization of the technology. The technology is especially relevant to Coca-Cola because it could help reduce the cost of producing mono-ethylene glycol, one of the components used to make the company's plant-based PET plastic bottles.
She said there was another "big industry name" that would soon be announcing a partnership as well.
"My dream is really that we're able to commercialize this technology and reduce our dependence on oil," she said.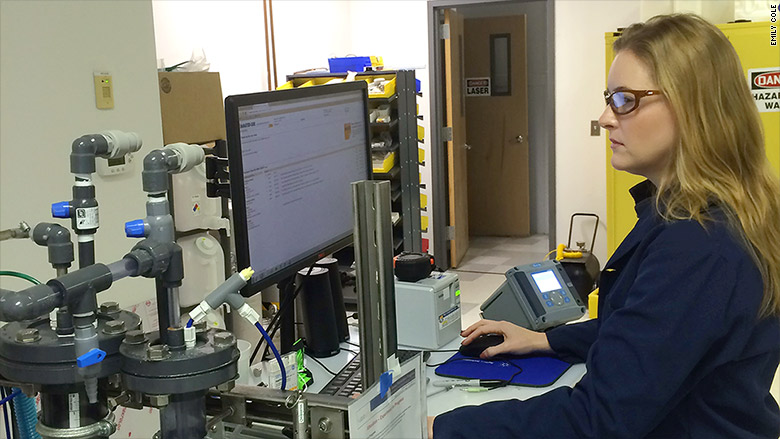 CNNMoney (New York) First published February 12, 2016: 9:15 AM ET
Source