Politics
National Archives agrees to give personal tours to activists who say staff asked them to hide anti-abortion attire | CNN Politics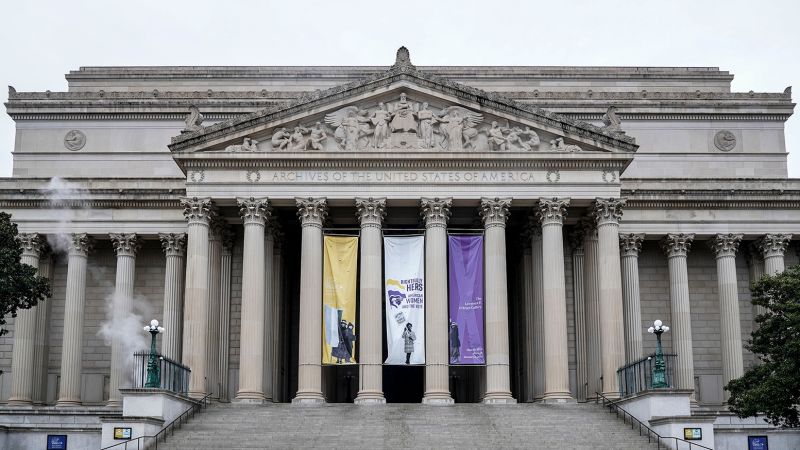 Washington
CNN
 — 

The National Archives will give "personal tours" to two activists who sued the federal records agency, resolving a days-old lawsuit the pair brought after staff at the museum told them cover up anti-abortion attire during a recent visit.
A federal lawsuit filed last Wednesday said that the activists were visiting the Washington, DC, museum the same day as the national March for Life in January and "were subject to a pattern of ongoing misconduct by federal government officials, specifically National Archives security officers … who targeted plaintiffs and intentionally chilled their religious speech and expression by requiring plaintiffs to remove or cover their attire because of their pro-life messages."
The National Archives quickly issued a statement last week clarifying that its policy allows visitor clothing to "display protest language, including religious and political speech," and said it would investigate the incident.
In court papers filed Tuesday by both sides, the museum promised to work with each plaintiff to arrange a "personal tour" of the museum. Under the deal, staff with the National Archives and Records Administration will also extend "a personal apology on that tour regarding the events" that unfolded last month.
"NARA shall further reiterate to all NARA security officers, as well as all other NARA personnel who interact with the public … that NARA policy expressly allows all visitors to wear t-shirts, hats, buttons, and other similar items, that display protest language, including religious and political speech," the agreement reads.
A judge must still approve the agreement.
Last month's March for Life event saw scores of anti-abortion activists travel from all over the US to attend the march, which was the first such event held since the Supreme Court overturned Roe v. Wade last year – the primary goal of the annual protest.
Source
Mypresscity.com https://mypresscity.com