World News
Nicola Sturgeon unexpectedly quits as first minister of Scotland amid swirl of political setbacks, citing 'brutality' of public life | CNN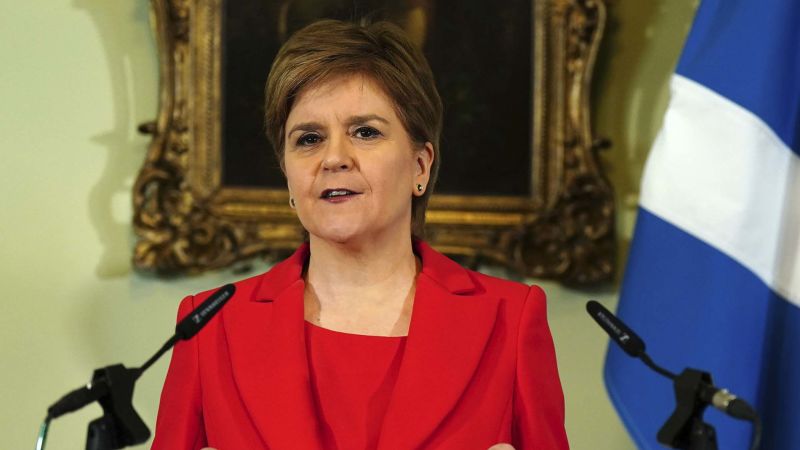 CNN
 — 

Nicola Sturgeon, the figurehead of the Scottish independence movement, dramatically announced on Wednesday that she would resign after eight years as Scotland's first minister.
The Scottish National Party leader made the announcement at a press conference in Edinburgh. She will stay in office until a new SNP leader is appointed.
Sturgeon said she knows the "time is now" for her to stand down, adding that it is "right for me, for my party and for the country."
"First, though I know it will be tempting to see it as such, this decision is not a reaction to short-term pressures," said Sturgeon, who has been facing increasing tensions with the UK government in London over Scottish independence, as well as Westminster's decision to block a Scottish law intended to allow trans people in Scotland to change their legal gender without a medical diagnosis.
"This decision comes from a deeper and longer term assessment," she added.
Sturgeon said she could no longer give her full energy to the job, and that she felt she must say so now. "I have been wrestling with it, albeit with oscillating levels of intensity for some weeks," the 52-year-old leader said. "Giving absolutely everything of yourself to this job is the only way to do it."
She said it was difficult to have a private life, noting it was hard to "meet friends for a coffee or go for a walk on your own" and observed that there was a "brutality" to life at the top.
Sturgeon added that she hoped her successor would be "someone who is not subject to the same polarized opinions, fair or unfair, as I now am."
Her predecessor as first minister, Alex Salmond, hailed Sturgeon as a "first rate political communicator and election winner," and said that there is "no obvious successor" as leader of Scotland following her resignation.
"There are a range of able people in the SNP but they will now be tested in the fire of leadership inheriting a number of serious government policy challenges," tweeted Salmond.
For his part, British Prime Minister Rishi Sunak thanked Sturgeon "for her long-standing service" in a tweet.
"I wish her all the best for her next steps," said Sunak. "We will continue to work closely with the @scotgov on our joint efforts to deliver for people across Scotland."
Wednesday's shock announcement led to breathless speculation over Sturgeon's timing, particularly as she had only recently pledged to make the next British general election a de-facto second referendum on Scottish independence.
While Sturgeon underlined that she felt she didn't have enough left in the tank to perform her duties, her list of political headaches has grown. The SNP's polling has dipped, making a dent in its grip on Scottish politics. The independence movement has stalled, with no real chance of a referendum on the cards any time soon.
She has lost support in her party since she attempted to introduce the controversial bill on gender identification, with some polls suggesting a majority of Scots supported the decision of the UK government to use its powers to block the proposal. And her husband was caught in a scandal at the end of last year, after it was reported he had personally loaned the SNP £100,000.
In short, having dominated Scottish politics for eight years, wielding the independence baseball bat and regularly using it to batter the UK government, Sturgeon might have decided to quit before her legacy is tarnished by failure.
When Scotland held a referendum in 2014, voters rejected the prospect of independence by 55% to 45% – but the political landscape then changed, mostly because of Brexit.
A majority of people in Scotland voted to remain in the European Union in the 2016 Brexit referendum, and the SNP successfully used Brexit as a wedge issue, arguing that Scots were dragged out of the EU against their will.
This boosted support for independence for a time, but that push has run into a brick wall more recently. In November, Britain's Supreme Court ruled that the Scottish government cannot unilaterally hold a second independence referendum.
This means that the SNP is faced with the problem that the UK government must approve any decision to hold a referendum.
Theresa May, Boris Johnson, Liz Truss and Rishi Sunak, four consecutive Conservative prime ministers, didn't entertain the idea. It also seems very unlikely that Keir Starmer, the leader of the official opposition Labour Party, would give any boost to the idea, given that Labour needs to win seats in Scotland in order to win a UK parliamentary majority.
The SNP is due to have a special conference on independence next month. It is now likely it will go into that conference divided and without any certainty of its direction. All of which will make those opposed to independence very happy indeed.
Source
mypresscity