World News
Nigeria reissues old banknote as cash fiasco threatens to disrupt election | CNN Business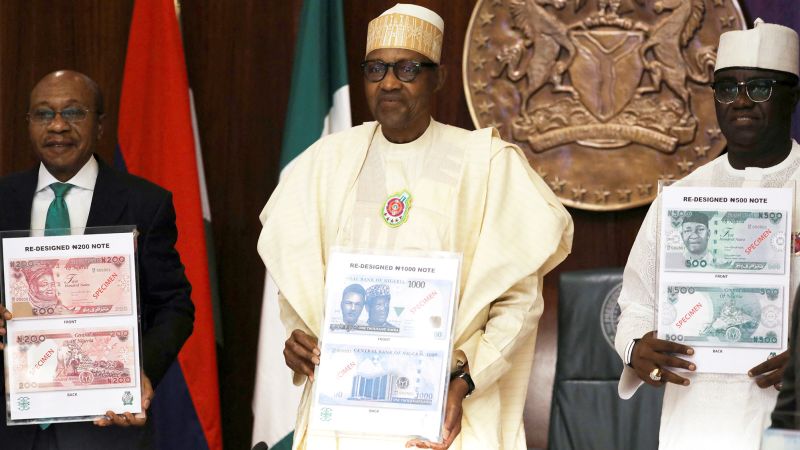 Abuja, Nigeria
CNN
 — 

President Muhammadu Buhari on Thursday directed Nigeria's central bank to reissue old 200-naira ($0.43) banknotes withdrawn just days ago as concerns grow that the botched introduction of new money could disrupt general elections later this month.
Violent protests have erupted in recent weeks as millions of people struggled to get their hands on new, redesigned versions of the 200-, 500-, and 1,000-naira notes that were canceled on February 10, despite a Supreme Court ruling two days previously that the planned currency swap should be suspended.
Now, Nigeria's Independent National Electoral Commission (INEC) has reportedly warned that the inability of banks to distribute enough of the new cash could make it difficult to pay temporary staff and security guards needed to operate thousands of polling stations for presidential and parliamentary elections on Feb. 25. CNN has contacted the INEC for comment.
Buhari unveiled the redesigned currency in November last year with the aim of reining in counterfeiting and the hoarding of large sums of money outside the banking system.
But in scenes reminiscent of the chaos unleashed in India when it tried to swap its two biggest banknotes in 2016, many Nigerians have been spending hours in long lines at cashpoints in a desperate bid to get enough cash to meet their daily expenses.
That shortage has led to frayed tempers and hardship, particularly those who work in the cash-based informal economy and for citizens who live in rural areas. Protests are spreading across the country and bank branches have been damaged.
In a televised broadcast Thursday, Buhari expressed sympathy for Nigerians experiencing hardship and announced that the old 200- naira note will return to circulation for 60 days. The higher denomination notes remain canceled but can be exchanged at the central bank and other designated points, he said.
He also assured Nigerians that the supply of cash would improve in the coming days. Buhari said he has directed the central bank to "ensure that new notes become more available and accessible to our citizens through the banks."
Last month, the central bank said that of 3.23 trillion Nigerian naira ($6.9 billion) in circulation as of October last year, "only 500 billion naira was within the banking industry" while a whopping 2.7 trillion naira ($5.8 billion) was "held permanently in people's homes."
In his address Thursday, Buhari disclosed that around 80% of those funds has been returned to the banks since the unveiling of the new banknotes in November.
"I have been reliably informed that since the commencement of this program, about 2.1 trillion naira ($4.5 billion) out of the banknotes previously held outside the banking system, had been successfully retrieved," he said.