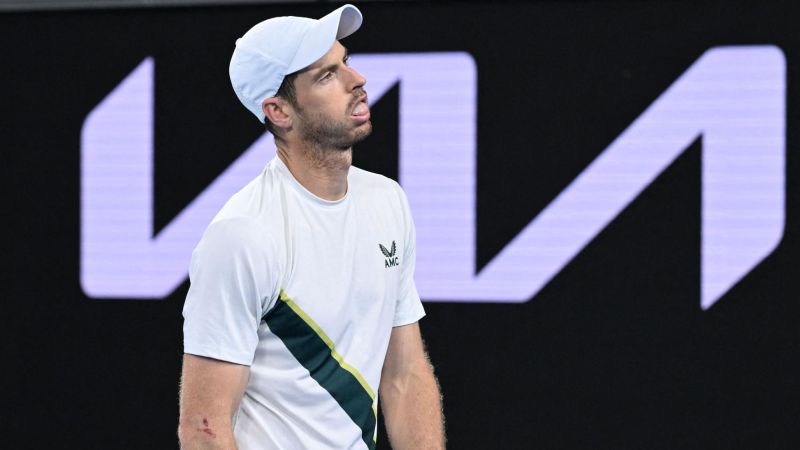 CNN
 — 

It was 4:05 a.m. in Melbourne when Andy Murray drilled a backhand winner past Thanasi Kokkinakis, finally ending a marathon contest which had started five hours and 45 minutes earlier.
Murray, a three-time grand slam champion and former world No. 1, had come from two sets down to beat Kokkinakis at the Australian Open, laying bare all the grit and determination that has typified his tennis career.
Kokkinakis, too, deserves huge credit for continuing to fight well into small hours of Thursday morning when most in Australia had long been in bed.
But as the players emptied all their energy reserves on Margaret Court Arena, many came away wondering why a match was still being played past 4 a.m.
Among them was Murray himself, who fumed at not being allowed to go to the toilet having already taken a bathroom break earlier in the match.
"It's so disrespectful that the tournament has us out here until three, f***ing four in the morning and we're not allowed to take a piss," the Scot vented.
Murray's brother, doubles specialist Jamie, shared the frustration of his sibling, tweeting during the second-round match: "We can't continue to have players compete into the wee hours of the morning. Rubbish for everyone involved – players/fans/event staff."
The Australian Open has a demanding schedule in the early rounds of the tournament; five matches are regularly played each day on the show courts – three during the day session and two at night.
The match between Murray and Kokkinakis was the second-latest finish in the history of the Australian Open.
In 2008, Lleyton Hewitt secured victory over Marcos Baghdatis in five sets at 4:33 a.m. after Roger Federer had taken four and a half hours to defeat Janko Tipsarevic earlier in the day.
Those late finishes are good news for international viewers in Europe and North America, who are able to enjoy the drama and tension of a five-set match, but less good for those involved in the spectacle itself.
"I really think this is a nightmare for tennis," Simon Cambers, a tennis writer and co-author of The Roger Federer Effect, tells CNN Sport.
"The players involved in these night matches are badly affected and their chances of progression are slim.
"Very few people in Australia would have stayed up to watch the whole match and though international viewing figures would have been good, the game needs to be about more than money.
"Many others are affected, too, including staff, officials, media, ball kids, all of whom have to work ludicrous hours, which leaves them tired and not doing their jobs as well. What other elite sport plays until 4 a.m.? It's crazy."
CNN has contacted Tennis Australia regarding the scheduling of the Australian Open but did not immediately receive a response.
Murray, who plays Spaniard Roberto Bautista Agut in the third round on Saturday, was back practicing on Margaret Court Arena on Friday, eight hours after the conclusion of his match against Kokkinakis.
In that time, he would have fulfilled his media responsibilities, warmed down, had something to eat, traveled back to his hotel, and, once the adrenaline of the match subsided, slept.
Australian Open organizers, however, see no need to immediately change the tournament scheduling after the late-night finish.
"We have to protect the matches," Tennis Australia chief Craig Tiley told Australian broadcaster Nine. "If you just put one match at night and there's an injury, you don't have anything for fans or broadcasters.
"At this point, there is no need to alter the schedule. We always look at it when we do the debrief like we do every year; we've had long matches before, at this point we've got to fit the matches in in the 14 days so you don't have many options."
Cambers thinks it would be worth exploring the option of shortening men's matches to best of three sets in the earlier rounds to ease pressure on the schedule, then reverting to best of five from the fourth round onwards.
"Before anyone starts yelling about tradition, it has been done before, back in the 1970s," he says.
"If they don't want to change the schedule, then make matches shorter and less epic by speeding up courts and balls. That way, rallies and matches will not leave everyone spent and potentially, it could lengthen a player's career."
Murray, who also needed five sets to defeat Matteo Berrettini in the first round, is scheduled to play in the first match of the night session on Margaret Court Arena on Saturday.
Both he and opponent Bautista Agut, who came from two sets down to beat Brandon Holt in the second round, will be hoping for quicker wins this time around.
But history isn't particularly kind to them on that front: the previous occasion they met in Melbourne, Bautista Agut triumphed in five sets and more than four hours.
Perhaps we should prepare for another marathon roller coaster at the Australian Open.