World News
At least two killed as militants storm Karachi police headquarters | CNN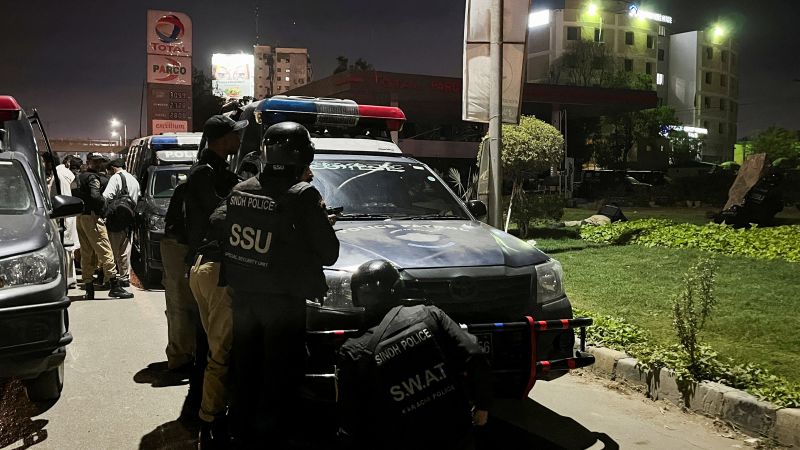 Islamabad, Pakistan
CNN
 — 

At least two people were killed and 11 were injured after militants stormed the police headquarters in the southern Pakistani city of Karachi, according to officials.
Up to 10 militants attacked the police station with hand grenades and shots were fired, an eyewitness told CNN. The Sindh provincial minister for labor, Saeed Ghani, confirmed the attack to CNN, adding the incident was ongoing.
Pakistan's Taliban, known as Tehreek e Taliban Pakistan (TTP), claimed responsibility for the attack, according to spokesman Mohammad Khorasani.
Multiple shots could be heard ringing through the area where the headquarters is located, according to footage from the scene, and eyewitnesses described hearing multiple explosions.
The injured are being treated at a hospital, and one of them is in critical condition, according to Murtaza Wahab Siddiqui, a senior leader of the Pakistan People's Party (PPP), the ruling party in Sindh province where Karachi is located.
Earlier, Edhi Ambulance Service said a police officer and a janitor died in the attack, while four police rangers were among the injured.
The attack prompted the Sindh provincial government to declare a state of emergency in Karachi, according to its spokesperson, Sharjeel Memon.
Pakistan's Taliban have been designated a foreign terrorist organization by the US State Department since September 2010.
Pakistani authorities have yet to confirm any group's involvement.
Rescue teams have reached the site of the attack, according to video released by Chhipa Ambulance Service, in which gunfire could be heard.
Source
mypresscity