World News
China's property crash is prompting banks to offer mortgages to 70-year-olds | CNN Business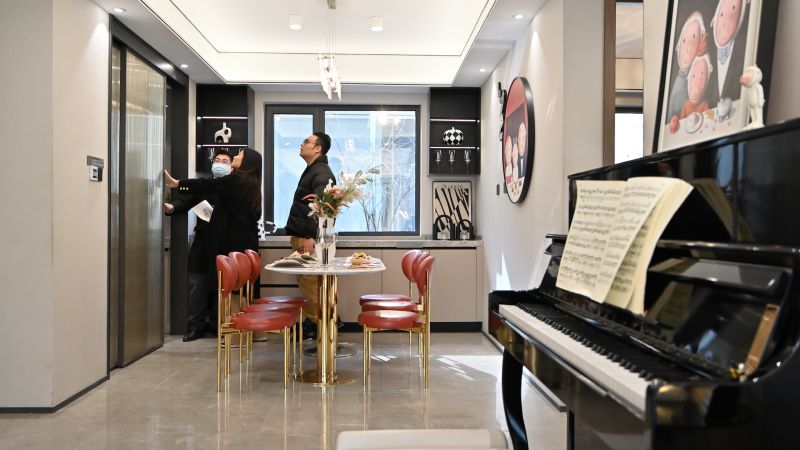 Hong Kong
CNN
 — 

The property market in China is so depressed that some banks are resorting to drastic measures, including allowing people to pay off mortgages until they are 95 years old.
Some banks in the cities of Nanning, Hangzhou, Ningbo and Beijing have extended the upper age limit on mortgages to between 80 and 95, according to a number of state media reports. That means people aged 70 can now take out loans with maturities of between 10 and 25 years.
China's property market is in the midst of a historic downturn. New home prices had fallen for 16 straight months through December. Sales by the country's top 100 developers last year were only 60% of 2021 levels.
Analysts say the new age limits, which aren't yet official national policy, aim to breathe life into the country's moribund property market while taking into consideration China's rapidly aging population, said Yan Yuejin, a property analyst at E-House China Holdings, a real estate services firm, in a recent research note.
"Basically, it's a policy tool to stimulate housing demand, as it can alleviate the debt payment burden and encourage home buying," he added.
The new mortgage terms are like a "relay loan." If the elderly borrower isn't able to repay, his or her children must carry on with the mortgage, he said.
Last month, China reported that its population shrank in 2022 for the first time in more than 60 years, a new milestone in the country's deepening demographic crisis with significant implications for its slowing economy. The number of people aged 60 or above increased to 280 million by the end of last year, or 19.8% of the population.
The mortgage borrower's age plus mortgage length should not usually exceed 70 years, according to previous rules published by the banking regulator. China's average life expectancy is around 78.
The China Banking and Insurance Regulatory Commission hasn't commented publicly about the new terms.
But bank branches across the country are setting their own terms on these multi-generational loans.
According to the Beijing News, a branch of Bank of Communications in the city said borrowers as old as 70 can take out home loans lasting 25 years, which means the upper age limit on its mortgages has been lifted to 95.
But there are also prerequisites: The mortgage needs to be guaranteed by the borrower's children, and their combined monthly income must be at least twice the monthly mortgage payment.
Separately, a branch of Citic Bank has extended the upper age limit on its mortgages to 80, the paper said, citing a bank client manager.
Calls to the Beijing branches of Citic Bank and Bank of Communications were not answered.
Hong Hao, chief economist at Grow Investment Group, said this was a "drastic" measure and "could be a marketing gimmick to attract the elderly to pay [mortgages] for the younger generation."
Yan from E-House said the main beneficiary of the move might not be the elderly, but middle-aged borrowers between 40 and 59. Under the extended payment cutoff age, those people could get a mortgage for 30 years — the maximum length allowed in China.
Compared with previous terms, it means those borrowers could pay less each month.
"It is obviously a way to alleviate the debt payment burden," said Hong.
According to calculations by E-House, if a bank extends the upper age limit to 80, borrowers aged from 40 to 59 can get 10 additional years on their mortgages. Assuming their mortgage is one million yuan ($145,416), then their monthly payment can be reduced by 1,281 yuan ($186), or 21%.
Chinese households have grown reluctant to purchase new homes in the past year, as the now-defunct Covid curbs, falling home prices and rising unemployment have discouraged would-be buyers. Last summer, protests that erupted in dozens of cities were staged by people refusing to pay mortgages on unfinished homes, dealing a further blow to market sentiment.
Authorities have rolled out a flurry of stimulus measures to try to revive the housing market, including several cuts to lending rates and measures to ease the liquidity crisis for developers — so that they can resume stalled construction and deliver pre-sold homes to buyers as quickly as possible.
Other than Beijing, some banks in Nanning, the provincial capital of Guangxi province, have raised the upper age limit on mortgages to 80, according to the city's official newspaper Nanguo Zaobao.
In the eastern cities of Ningbo and Hangzhou, several local lenders are advertising age limits of 75 or 80, a relaxation from previous rules, according to reports by government-owned Ningbo Daily and Hangzhou Daily.
"If the applicant is too old to meet the loan requirement, they can have their children as the guarantor," a lender was quoted as saying.
But Wang Yuchen, a real estate lawyer at Beijing Jinsu Law Firm, warned such mortgages were "risky."
It's understandable that many cities are trying to revive their housing markets by reducing the monthly debt payment and enlisting more elderly people into the pool of home buyers, he said in a written commentary on his WeChat account.
"But the elderly have relatively poor repayment ability. On the one hand, it could affect their quality of life in old age, as they continue carrying the mortgage debt mountain and work for the bank until the last moment of their lives," he said. "On the other hand, the associated risks may be transferred to their children, increasing their financial pressure."
"For some home buyers, choosing this way to purchase a house is probably because of their lack of funds. But it's risky to do so at this time," he said, adding that the property market is in a structural downturn and the government is still working to curb speculation.
Source
mypresscity