World News
Isolated Iran finds ally China reluctant to extend it a lifeline | CNN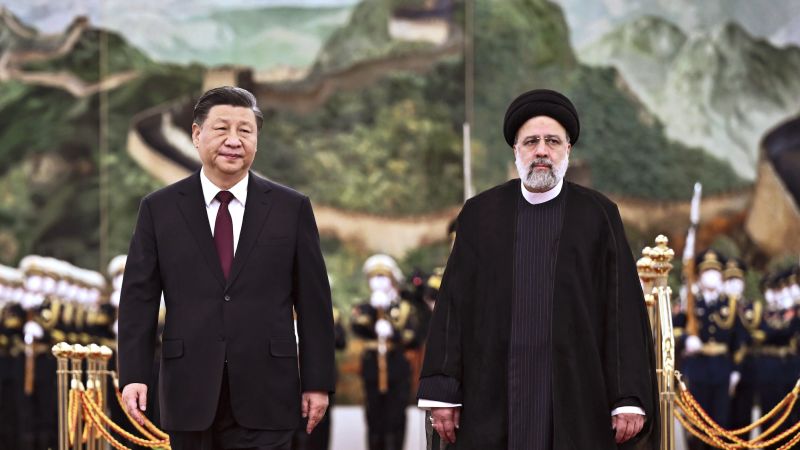 Editor's Note: A version of this story appears in today's Meanwhile in the Middle East newsletter, CNN's three-times-a-week look inside the region's biggest stories. Sign up here.

Abu Dhabi, UAE
CNN
 — 

Shortly before leaving for his first state visit to China on Tuesday, Iranian President Ebrahim Raisi issued a thinly veiled criticism of his powerful ally, saying the two countries' relationship has not lived up to expectations.
The first Iranian president to arrive in China on a state visit in two decades, Raisi was keen to tell Beijing that it has not given enough support to Tehran, especially economically.
"Unfortunately, I must say that we have seriously fallen behind in these relations," he said, referring to trade and economic ties. Part of his mission, he said, was to implement the China-Iran Strategic Partnership Plan (CISPP), a pact that would see Beijing invest up to $400 billion in Iran's economy over a 25-year period in exchange for a steady supply of Iranian oil.
Raisi said that economic ties had regressed, and that the two nations needed to compensate for that.
The public criticism on the eve of the landmark trip demonstrated the heavily-sanctioned Islamic Republic's disappointment with an ally that has in many ways become one of its few economic lifelines.
The speech was likely "a reflection of Tehran's frustration with China's hesitancies about deepening its economic ties with Iran," Henry Rome, senior fellow at the Washington Institute for Near East Policy, told CNN. "The same issues that have constrained China-Iran relations for years appear to remain."
Analysts said Raisi's speech was a clear call for China to live up to its end of the relationship, seeking economic guarantees from the Asian power so he can have something to show at home amid a wave of anti-government protests and increasing global isolation.
"The mileage Raisi will get for having a visit is going to be very limited if that visit doesn't produce anything," said Trita Parsi, vice-president of the Quincy Institute in Washington, DC. "The Iranians are not in a position right now in which a visit in and of itself is sufficiently good for them…They need more."
Whether Iran is satisfied with what China offered it, however, is yet to be seen.
"Though more substance may be achieved following the visit, the reality is that Raisi needs both the substance and the announcement of concrete agreements," said Parsi. He added that China, on the other hand, appears to be inclined to "play matters down" as it balances the partnership with its ties with Gulf Arab states at odds with Iran, as well as its own fraught relations with the US.
In a joint statement, both China and Iran said they are "willing to work together to implement" the CISPP and "continue to deepen cooperation in trade, agriculture, industry, renewable energy, infrastructure and other fields."
On Wednesday, Iranian Foreign Minister Hossein Amirabdollahian, who accompanied Raisi to China, said that the two countries agreed to remove obstacles in the way of implementing the CISPP, adding that Iran was "optimistic at the results of the negotiations," according to state news agency IRNA.
Chinese President Xi Jinping also accepted an invitation to visit Iran on a future date.
Raisi's trip comes as Beijing strengthens its ties with Iran's foe Saudi Arabia, and as cheap Russian oil potentially threatens Iran's crude exports to China.
Less than two years after he took power, Raisi's term has witnessed growing isolation from the West – especially after Iran supplied Russia with drones to use in its war on Ukraine – and failed efforts to revive a 2015 nuclear deal that removed some barriers to international trade with the Islamic Republic.
As Western sanctions cripple its economy, Beijing has helped keep Tehran afloat economically. China is Iran's biggest oil customer, buying sanctioned but cheap barrels that other nations would not touch.
Tehran's other ally, Russia, has however been biting into its Asian oil market as China buys more Russian barrels – also sanctioned by the West – for cheap, threatening one of Iran's last economic lifelines.
The visit is therefore a strategic one, analysts say, and an attempt by Iran pull itself back up from domestic instability and worsened isolation from the West.
"(It) is an opportunity for Raisi to try to draw a line under the past five months of domestic unrest and project a sense of normalcy at home and abroad," said Rome.
But Jacopo Scita, a policy fellow at the Bourse & Bazaar Foundation in London, said he did not expect the visit to result in much more than a recognition of China's partnership with Iran.
"Raisi will hardly get much from the economic perspective, except for a new series of memoranda of understanding and some minor deals," he told CNN.
Iran has also been reminding its people that looking eastward is the right path toward economic revival as prospects of returning to nuclear agreement fade, said Parsi. The government has been keen to show that it has "an eastern option" that is supportive and lucrative, he said.
Scita said that China is unlikely to live up to Iran's expectations, however.
"I don't believe that Beijing can offer guarantees to Tehran except a pledge to continue importing a minimum amount of crude regardless of the global market situation and China's domestic demand," he told CNN.
How Raisi's visit will be received back at home remains unclear. If the trip yields no concrete results in the coming days, then Iran's move eastward could prove to be "a huge strategic mistake that the Raisi government has really rushed into," said Parsi.
Additional reporting by Adam Pourahmadi and Simone McCarthy
Turkey's earthquake left 84,000 buildings either destroyed or in need of demolition after sustaining heavy damage, Turkish Urban Affairs and Environment Minister Murat Kurum said Friday, according to state media.
The deadly earthquake – which sent shockwaves across the region – has so far killed more than 43,000 across both Turkey and Syria.
At least 38,000 people died in Turkey, according to Turkey's governmental disaster management agency, AFAD. The death toll in Syria remains at least 5,841, according to the latest numbers reported Tuesday by the United Nations Office for the Coordination of Humanitarian Affairs (OCHA).
Here's the latest:
Since the February 6 earthquake, a total of 143 trucks loaded with aid provided by six UN agencies have crossed from Turkey to northwest Syria through two border crossings, a OCHA statement said Friday.

Two men were rescued in Hatay ten days after the earthquake struck, said Turkey's Health Minister Fahrettin Friday. And late on Thursday, a 12-year-old boy was rescued from rubble in southern Hatay 260 hours after the earthquake hit, according to CNN Turk, which reported live from the scene.

World Health Organization Director-General Tedros Adhanom Ghebreyesus said upon returning from Syria on Tuesday that more than a decade of war in the region has left towns destroyed, with the health system unable to cope with this scale of emergency. "Survivors are now facing freezing conditions without adequate shelter, heating, food, clean water or medical care," he said.

Turkey added Elazig as the 11th province in the list of those impacted by the quake, the ruling party spokesman said.

A Turkish family was reunited with the 'miracle baby' that was found in the rubble of the quake after they had given up hope.
A confused woman asked her rescuers "What day is it?" when pulled alive from the rubble of last week's earthquake after 228 hours.

After attending the Munich Security Conference in Germany, US Secretary of State Antony Blinken will travel on to Turkey and Greece on Sunday to see US efforts to assist with the earthquake and to meet with Turkish and Greek officials, the State Department said Wednesday.
Palestinian activist beaten by Israeli soldier says he is scared for his life
Palestinian activist Issa Amro, who was filmed being assaulted by an Israeli soldier on Monday, told CNN Thursday that he is physically and psychologically affected by the attack and fears for his life.
Background: Lawrence Wright, a writer for the New Yorker magazine, posted video of the assault on Twitter. It showed two IDF soldiers manhandling well-known activist Amro, throwing him onto the ground, and one soldier kicking him, before that soldier is pushed away by other troops. The Israeli soldier who was filmed assaulting Amro in Hebron was sentenced to 10 days in military jail. In response to CNN's interview with Amro, Israel Defense Forces international spokesman Lt. Col. Richard Hecht said there was "no justification" for the soldier's behavior, but suggested Amro had provoked the incident.
Why it matters: Amro said he is afraid for his life and for the lives of the people in the area, but added that, "unfortunately what happened to me is happening almost every day." He said he filed many complaints to the Israeli police about soldier and settler violence, but had gotten no accountability. Amro also said he wants the Biden administration to reopen the Palestinian consulate in East Jerusalem.
Protesters set fire to ATMs as Lebanese lira hits 80,000 against the dollar in new record low
Lebanon's national currency has hit a new record low of 80,000 Lebanese lira against the US dollar, according to values sold on the black market on Thursday. On Thursday, protesters blocked roads across Beirut and set fires to ATMs and bank branches, according to videos posted on social media by the organizers, United for Lebanon and the Depositors Outcry Association, who are both advocating for the release of depositor savings.
Background: The lira has been on an exponential fall since January 20 when the Lebanese central bank (BDL) adjusted the official exchange rate for the first time in decades, from LL1,500 to LL15,000. Lebanese banks have been closed since Tuesday due to a strike announced by the Association of Banks in Lebanon. Prime Minister Najib Mikati said in a statement Thursday that "efforts are continuing to address the financial situation."
Why it matters: Lebanon has been in a deepening financial crisis since 2019. The country moved toward securing an International Monetary Fund (IMF) bailout in April 2022, but the deal is yet to be finalized.
Iran denies links to new al-Qaeda leader, calls US claim 'Iranophobia'
Iranian Foreign Minister Hossein Amir Abdollahian on Thursday denied claims by the US that al-Qaeda's new leader, Seif al-Adel, is living in his country. "I advise White House to stop the failed Iranophobia game," wrote Abdollahian on Twitter. "Linking Al-Qaeda to Iran is patently absurd and baseless," he said.
Background: US State Department spokesman Ned Price on Wednesday told reporters that the US backs a UN report linking al-Adel to Iran. "Our assessment aligns with that of the UN, the assessment that you (a reporter) referenced that Saif al-Adel is based in Iran," said Price during a press briefing, adding that "offering safe haven to al-Qaeda is just another example of Iran's wide-ranging support for terrorism, its destabilizing activities in the Middle East and beyond."
Why it matters: Tensions between Iran and the US have only worsened in recent months, as the Islamic Republic supplies drones to Russia for use in its war on Ukraine and negotiations to revive a 2015 deal remain frozen. The US said it killed al-Qaeda's former leader, Ayman al-Zawahiri, in a drone strike on Kabul, Afghanistan last year.
A Roman-era lead sarcophagus was uncovered on Tuesday at the site of a 2000-year-old Roman necropolis in the Gaza Strip. The necropolis is along the Northern Gaza coast and 500 meters (0.3 miles) from the sea.
The sarcophagus may have belonged to a prominent individual based on where it was found, the Palestinian Ministry of Tourism and Antiquities' director of excavation and museums, Jehad Yasin, told CNN on Thursday.
Yasin said the ancient Roman cemetery was discovered in 2022 "as excavations were carried out at the site in cooperation with Premiere Urgence Internationale and funded by the British Council."
Premiere Urgence Internationale, a French humanitarian organization, has collaborated on "Palestinian cultural heritage preservation" projects in Gaza under a program called INTIQAL.
The coffin was exhumed from the site to perform archaeological analysis for bone identification, which will take around two months, according to Yasin.
A team of experts in ancient funerary will unseal the coffin in the coming weeks.
While Gaza is a site of frequent aerial bombardment and a land, air, and sea blockade imposed by Israeli and Egyptian officials, the sarcophagus remains intact.
"The state of preservation of the sarcophagus is exceptional, as it remained sealed and closed," read a press release from the Ministry of Tourism and Antiquities.
French and Palestinian archaeologists have uncovered eighty-five individual and collective tombs in the 3,500-square-meter Roman acropolis since its discovery last year, while ten of them have been opened for excavation.
Beyond the rubble of the coastal enclave lay dozens of artifacts and burial sites from the Roman, Byzantine and Canaanite eras.
Last year a Palestinian farmer discovered the head of a 4,500-year-old statue of Canaanite goddess Anat while another Palestinian farmer discovered a Byzantine-era mosaic in his orchard.
In 2022 the Ministry of Tourism and Antiquities released their first Arabic archaeological guide titled "Gaza, the Gateway to the Levant." The guide charts 39 archaeological sites in Gaza, including churches, mosques and ancient houses that date back to 6,000 years.
The ministry expects more archaeological findings at the necropolis.
Further sarcophagi are likely to be uncovered in the following months, said Director Yasin.
By Dalya Al Masri