Politics
Mayorkas goes on the offensive as GOP scrutiny builds, says it's up to Congress to fix immigration system | CNN Politics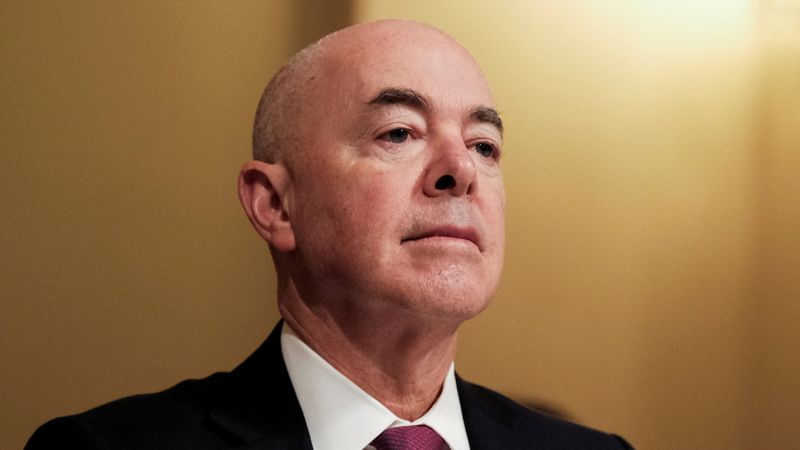 CNN
 — 

Homeland Security Secretary Alejandro Mayorkas pointed the finger back at Congress to fix the country's broken immigration system and maintained that he will not resign from his post in an new interview with CNN's Chris Wallace.
House Republicans, who have been fierce critics of President Joe Biden's immigration policies, have been moving to build a case against Mayorkas as they consider launching rare impeachment proceedings against a Cabinet secretary.
"I'm not going to resign," Mayorkas told CNN's Chris Wallace on "Who's Talking to Chris Wallace," which is now streaming on HBOMax and airs Sunday night at 7 p.m. ET on CNN.
"I call upon Congress – as the president has done, as this nation has done – to actually fix an immigration system that has been broken for decades," he added.
Republican lawmakers have argued that Mayorkas' claims of having operational control of the border are unfounded and that the record arrests mark a dereliction of duty – two themes that have come up repeatedly in congressional hearings and have been cited as reason to impeach the secretary.
Ahead of potential proceedings, the Department of Homeland Security is bringing on a private law firm to help with potential impeachment proceedings against Mayorkas.
"I don't have any intention of being uncooperative. I have complete confidence in the integrity of our decision making," Mayorkas told Wallace.
Over recent weeks, key committee chairman already held two congressional hearings over the Biden administration's handling of the US-Mexico border. Earlier this month, the House Judiciary Committee, which would have jurisdiction over an impeachment resolution, held its first border-related hearing.
"These numbers make clear that the Biden administration does not have operational control of the border," House Judiciary Committee Chair Jim Jordan said during a February hearing. "Month after month after month, we have set records for migrants coming into the country and frankly, I think it's intentional."
Pressed by Wallace on what it means for the border to be secure and if it means people aren't illegally crossing the border, Mayorkas said: "Of course not. By that measure, the border has never been secure, right?"
Asked again by what measure the border is secure, he said: "There is not a common definition of that. If one looks at the statutory definition, the literal interpretation of the statutory language, if one person successfully evades law enforcement at the border, then we have breached the security of the border."
He added: "What our goal is – to achieve operational control of the border, to do everything that we can to support our personnel with the resources, the technology, the policies that really advance the security of the border, and do not come at the cost of the values of our country. And I say that, I say that, because in the prior administration, policies were promulgated, were passed, that did not hew to the values that we hold dear."
The Biden administration faces unprecedented movement across the Western Hemisphere that has contributed to a surge of migrants at the border, including more people from different countries, such as Cuba, Venezuela and Nicaragua. The US is largely barred from deporting migrants to Cuba and Venezuela, presenting a unique set of challenges for DHS.
"The level of migration that has gripped our hemisphere is extraordinary," Mayorkas said, stressing that Congress needs to pass reform to fix the immigration system, which Republicans and Democrats agree is broken.
US border authorities encountered migrants more than 2.3 million times along the US-Mexico border in fiscal year 2022, according to US Customs and Border Protection data. Of those, more than 1 million migrants were turned away at the border.
In early January, the Biden administration expanded a humanitarian parole program to include Haitians, Venezuelans, Nicaraguans, and Cubans to provide a legal pathway for them to enter the US instead of crossing the border. The administration also made those nationalities eligible for Title 42, meaning they can now be turned away by authorities if they don't apply for the program.
Since then, there has been a significant decline in migrants from Cuba, Haiti, Nicaragua, and Venezuela crossing the US-Mexico border unlawfully, according to the Department of Homeland Security, which attributed the drop to new border measures.
Source
mypresscity