Politics
GOP Sen. Rick Scott revises plan to exempt Medicare and Social Security from sunset provision | CNN Politics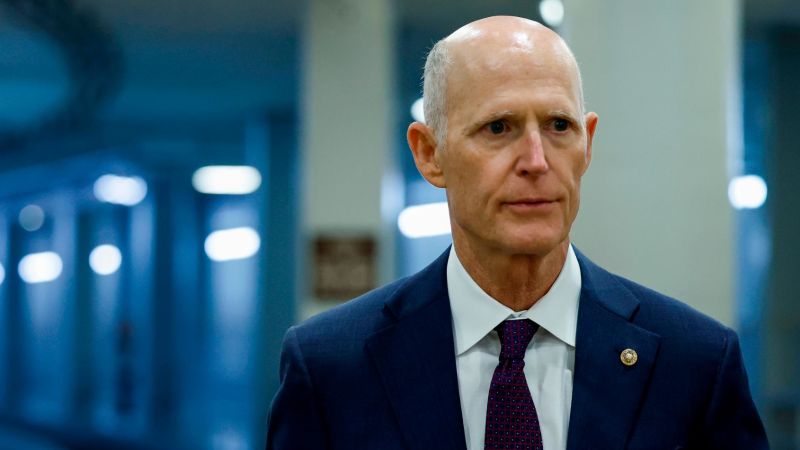 CNN
 — 

Republican Sen. Rick Scott of Florida has revised his much-maligned proposal to sunset all federal programs in five years, after absorbing weeks of criticism from Democrats and even his own party, by adding an exemption for Medicare and Social Security.
The updated version of Scott's "Rescue America" plan now says: "All federal legislation sunsets in 5 years, with specific exceptions of Social Security, Medicare, national security, veterans benefits, and other essential services."
The previous version of the proposal included no such exemption and instead declared: "If a law is worth keeping, Congress can pass it again."
Democrats and Republicans had pointed out that such a provision could have endangered the popular entitlement programs. President Joe Biden seized on the proposal in his State of the Union address earlier this month and attempted to tie Republicans to Scott's idea, leading to an animated back-and-forth with GOP lawmakers during his speech.
Biden in Florida last week continued to hammer Scott, telling supporters, "The very idea the senator from Florida wants to put Social Security and Medicare on the chopping block every five years I find to be somewhat outrageous."
The criticism of Scott's plan wasn't limited to Democrats. Last week, Senate GOP leader Mitch McConnell told a Kentucky radio station that the Florida senator's proposal was "just a bad idea."
"I think it will be a challenge for him to deal with this in his own reelection in Florida, a state with more elderly people than any other state in America," McConnell said.
Scott has stumbled to defend his proposal, repeatedly claiming that Biden and Democrats have misrepresented his plan. His revised Rescue America blueprint included a shot at Biden, McConnell and Senate Majority Leader Chuck Schumer in bold typeface.
"Note to President Biden, Sen. Schumer, and Sen. McConnell – As you know, this was never intended to apply to Social Security, Medicare, or the US Navy," the plan now says.
The revision marks the second time Scott has been forced to adjust his plan amid criticism from both sides of the aisle. He previously dropped a proposal to require all Americans to pay at least some federal income tax, which could have forced low-income earners to pay taxes, as well as those in the middle class who have reduced their income tax burden to zero through various deductions.
In its place, Scott added a new requirement: "Able-bodied Americans under 60, who do not have young children or incapacitated dependents, should work. We need them pulling the wagon and paying taxes, not sitting at home taking money from the government."
Scott was chairman of the National Republican Senatorial Committee, the campaign arm of the Senate GOP, at the time he released his Rescue America plan. He said the proposal was his own and didn't reflect the views of the Senate Republican Conference. Nevertheless, he said he introduced it to give Republicans a platform to run on in the 2022 midterm elections, suggesting party leadership wasn't presenting voters with ideas for what the GOP stood for.
"Some Republicans are also going to complain about our plan," Scott told a crowd at last year's Conservative Political Action Conference. "They'll argue that Democrats will use it against us in the election. I hope they do. Because my response is, 'Bring it on.'"
McConnell, anticipating the potential fallout from the idea in the midterms, immediately distanced his party from Scott's blueprint not long after he had unveiled it.
"Let me tell you what would not be a part of our agenda," the Kentucky Republican said at a news conference last March. "We will not have as part of our agenda a bill that raises taxes on half the American people, and sunsets Social Security and Medicare within five years."
Source
mypresscity