World News
History repeats itself with anti-China land ownership proposals | CNN Politics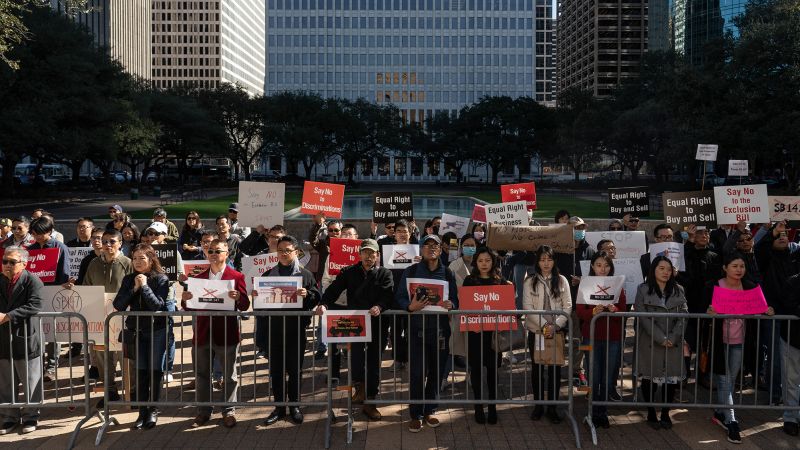 A version of this story appeared in CNN's What Matters newsletter. To get it in your inbox, sign up for free here.


CNN
 — 

New efforts to bar Chinese citizens and others from owning property in Texas and other states echo the treatment of Asian people in the US more than 100 years ago, when Congress barred them from obtaining citizenship and multiple state laws restricted land ownership.
In Virginia, Gov. Glenn Youngkin is expected to sign legislation to bar citizens of countries the State Department has designated as "foreign adversaries" from owning agricultural land. Companies with deep ties to those countries would also be affected. Those countries currently include China, Russia, North Korea and Iran. There are similar proposals in Montana, Wyoming and North Dakota. Foreign owners control a fraction of US farmland, according to the Congressional Research Service.
In Texas, a much broader proposal names those countries and bans citizens of them from owning any land whatsoever. The ban would presumably extend to legal immigrants living in the US. That bill is still working its way through the legislature but has the support of Gov. Greg Abbott.
The Texas proposal in particular specifically recalls a despicable chapter in US history, when so-called Alien Land Laws were passed in numerous states between the 1880s and 1920s to specifically bar Asian people from owning land. The California Alien Land Law was eventually overturned by the Supreme Court in 1952 for violating the 14th Amendment.
Chinese people were explicitly barred from immigration to the US for generations – from the 1880s, when Congress passed the Chinese Exclusion Act, until that law's repeal during World War II.
So few Chinese people were allowed to immigrate for another generation after that until 1965 – 105 per year – that it amounted to a de facto ban.
As a result, the anti-Asian property laws mostly affected Japanese Americans.
While the laws did not specifically single out Asians, they were applied to people "ineligible for citizenship."
That made the laws specifically apply to Asians since Congress, at the time, allowed citizenship only for immigrants coming from Europe or Africa.
The most notorious example of Alien Land Laws was in California, which passed multiple versions of these laws over the years, and where Asian immigrants were concentrated.
One celebrated and yearslong court battle pitted a Japanese immigrant, Jukichi Harada, who found a way around the law by having his children own the house where his family lived in Riverside, California. They were ultimately able to keep the house when a judge ruled in their favor in 1918, but they were later moved to internment camps during World War II because of their Japanese ancestry.
Today, the Harada House is a National Historic Landmark and a museum.
I called Madeline Hsu, a history professor and expert in Asian American studies at the University of Texas at Austin, to ask if these new proposals are an example of history repeating itself.
"It's definitely sort of reinvocation of kind of what people in Asian American studies would refer to as 'Yellow Peril' fearmongering," she said.
"There are ways in which it resonates with what happened to Japanese Americans during World War II, where regardless of citizenship, regardless of nativity, they were racially categorized as enemy aliens."
Hsu pointed me to an article in the Journal of Southern History by the University of Texas Rio Grande Valley professor Brent Campney that documents fears of a Japanese "invasion" in the Rio Grande Valley more than 100 years ago.
Campney's larger argument in studying the treatment of Asian Americans, in this case people of Japanese descent, is that the local discrimination in Texas and also California reverberated back into the growing animosity between Japan and the US leading up to World War II.
Decades before the US government robbed Japanese Americans of their rights and held them in camps, Campney writes, "white Americans appealed to the same stereotypes and exclusionary impulses used against the Japanese during the internment, exacerbating tensions between Japan and the United States."
That's a historical lesson everyone has an interest in learning as tensions between the US and China grow today. The US military is maneuvering with allies to control China in the Pacific. The US government is focused on making the economy more independent from Chinese manufacturing. There is even talk of banning TikTok, the app popular with young people in the US and owned by a private Chinese company.
These efforts against a government seep into more problematic territory when they seem to target the many Chinese and ethnic Chinese people who live in the US.
"Targeting people by nationality is also problematic," Hsu said. "That's not a good way of identifying people who are national security risks or who are acting on behalf of a foreign government."
She drew a correlation between these new state proposals and former President Donald Trump's promise to enforce a ban on Muslims traveling to the US. In order to get a plan through the Supreme Court, he instead banned, for a time, travel from certain countries in Africa, Asia, the Middle East and South America.
The Texas bill similarly targets specific countries by name and generalizes that all citizens of those countries could be a threat.
"The only thing it does is it expresses these kinds of gut suspicions and hostility to these countries," Hsu said.
Source
mypresscity