Politics
Key senators torn over retirement decisions as party leaders try to fortify 2024 standing | CNN Politics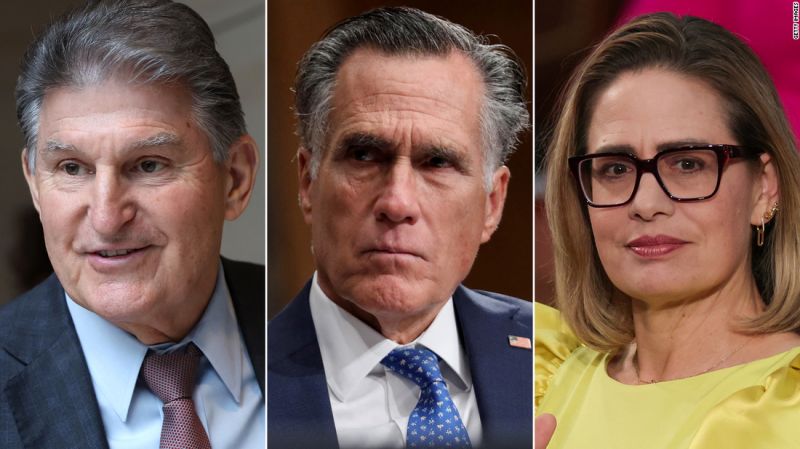 CNN
 — 

Sen. Joe Manchin, torn over whether to run for reelection, says he's "given everything I possibly can" over four decades of holding public office. Sen. Jon Tester is close to making his final decision on a 2024 bid and concedes there's a risk of his seat flipping next year.
"It's a commitment," the Montana Democrat said of another run.
They're not the only ones in a tough spot.
Sen. Bob Casey, a Pennsylvania Democrat, is weighing health considerations after treatment for prostate cancer. Sen. Bernie Sanders, 81, says he'll make a decision about whether to run for a fourth Senate term in Vermont "at the appropriate time."
And Sen. Mitt Romney, a Utah Republican who has gone to battle with former President Donald Trump, says he'll decide whether to run for a second term by mid-April, sounding ready to take on his party's MAGA wing if he runs again.
"People understand that every action has a consequence, and you accept the consequences for the actions that you think are right," Romney, 75, said of potentially facing a stiff challenge from the right. He then added bullishly: "If I run, I'll win."
As the 2024 landscape begins to take shape, the senators' decisions about their political futures will dramatically alter the map and hold major ramifications for the makeup of the institution itself.
For Democrats, the concern is the most acute. They already have a difficult road to maintain their slim 51-49 majority, with 23 seats to defend compared to just 11 for the GOP.
Plus they'll have to hold onto Democratic seats in GOP terrain, such as in Ohio, Pennsylvania and West Virginia – not to mention keep their seats in swing states like Pennsylvania, Wisconsin, Michigan and Nevada. The map provides them with scant pickup opportunities, since Republican incumbents are mostly running in ruby-red states or states that have trended to the GOP, like Florida.
Then there's the complicated dance for both parties in Arizona, if Sen. Kyrsten Sinema, now an independent, decides to run again for a seat that would put her up against a Republican and Democrat in a messy, three-way race. For Republicans, fear is growing that the hard-right Kari Lake may mount a bid and put their hopes for a pickup in jeopardy.
And with few pickup chances, Senate Democrats recognize they'll have to limit losses – and prevent retirements – in order to cling to power.
"I'm doing everything I can to help Manchin in West Virginia," Senate Majority Leader Chuck Schumer told CNN when asked if he were concerned that the conservative Democrat might hang it up, referring to legislative actions.
After Michigan Sen. Debbie Stabenow announced she'd retire, Schumer and his top deputies are hoping to prevent others from following suit, recognizing that an open seat would give Republicans an even better chance of seizing control of the chamber they lost in the 2020 elections. The exception is California, where the 89-year-old Dianne Feinstein announced her retirement this week, something widely expected, as Democrats are expected to keep the seat in their control in the blue state.
In particular, Democratic leaders are urging Tester and Manchin to run again, knowing full well that finding another Democrat to win in those conservative battlegrounds will be an extremely tall order in 2024.
"Clearly, it's important for them to run," said Sen. Gary Peters, a Michigan Democrat who chairs the Senate Democratic campaign arm, when asked about Tester and Manchin. "I don't know where they are. I've talked to them, but they're just working through issues, personal issues for themselves as to what they want to do. So we just have to give them time to think that through and I look forward to their answers."
Peters acknowledged that his party's effort to keep the Senate will grow bleaker if either or both men retire.
"Those are states that are very Republican," Peters told CNN, referring to Montana and West Virginia. "And I know they can win again, but they're without question the strongest candidates in those states. It'd be more difficult without them running."
Democrats acknowledge they have close to no backup plans in Montana or West Virginia. But they have been heartened by the polls that are being released publicly by Republican groups in those states, showing their numbers have been better than expected – and perhaps encouraging – for the incumbents.
But neither Manchin nor Tester seem concerned that the seat could turn red if they retire.
"That's not my factor," Manchin said in the interview. "I'm not weighing that because of my, what it might do to the numbers as far as up here. No, I've been at this for quite some time. This term being up, there'll be 42 years I've been in public service so I've given everything I possibly can."
Several Democratic operatives involved in planning for Senate races tell CNN they expect that ultimately, Tester will run and that Casey will as well after his successful surgery this week. Manchin has them more on edge, and they anticipate that's how they'll remain for almost a year: the West Virginia filing deadline isn't until next January.
That, after all, is what he did in 2018.
Manchin, a former governor and state legislator who has served in the Senate since 2010, insists he's not concerned about the prospects that the GOP governor, Jim Justice, is strongly considering a run against him, though Justice would have to escape a difficult primary against Rep. Alex Mooney and potentially the state's attorney general, Patrick Morrisey, who may run as well. He has acknowledged that Justice would be the toughest candidate to face, though he insists he could still pull off a victory.
Manchin, 75, just doesn't know if he wants to do it again as he looks back at the last several years – especially in the 50-50 Senate in the last Congress where he was at the peak of his power in the chamber and played a central role shaping major laws. The question Manchin is weighing: whether he'll have the same kind of impact with another six years.
"I make a decision based on if I've been able to deliver for the state, have I been able to support the Constitution and the oath I've taken, I think I have," Manchin said, confirming he's been urged by Biden and Schumer both to run. "Is there more I can do in different, other areas? I don't know."
Tester, who also said Schumer has been urging him to run, conceded that his seat could flip if he bows out.
"Oh, absolutely there's a risk of flipping there's no doubt about that but so are all of them," Tester said.
But he contended other Democrats could mount a vigorous challenge for the seat.
"Actually, we've got some really good folks in the wings that can run," Tester, 66, said before he noted that things have gotten dire for Democrats in recent cycles. "We haven't had the best of luck the last few cycles in Montana but I think that's as much self-inflicted as it is the state turning red."
But Tester pointed to key positions he holds – chairing a subcommittee on Pentagon spending and running the veterans panel – as he weighs another run.
"I'm at a point and time where we can get a lot of good things done because of my position on Veterans Affairs and defense chairman but it's just something where I think you just need to take the time to think over," he said.
Yet Democrats could benefit from a potentially divisive GOP primary in Montana – with the possibility of candidacies from two House members, the governor and the state attorney general. That will put the other Montana senator, Republican Steve Daines, to the test as he plans to use his National Republican Senatorial Committee to be more assertive in GOP primaries to root out lackluster general election candidates, though it's unclear how he would handle his home state.
In an interview, Daines was noncommittal when asked about one candidate in particular – Rep. Matt Rosendale – a hard-right Republican who lost to Tester in 2018 and is considering running again. He said "it's early" since candidates have yet to declare and that the field will get "sorted out," contending the race is "winnable."
"These are three red states where the only statewide elected official left that's a Democrat is a US Senator. That's Montana, it's West Virginia, it's Ohio," Daines said. "These are going to be spirited races."
And after last cycle's GOP debacle, where several Donald Trump-aligned candidates petered out in the general election and effectively cost them winning the majority, Senate GOP Leader Mitch McConnell is determined not to allow that to happen again.
"I just think we need to focus on candidates who can win in the general election," said Sen. John Cornyn, a Republican from Texas and close McConnell ally. "We had some great primary candidates, but that won't get the job done. You got to have somebody who can have a broader appeal than just the base. That was one of the most important lessons of this last cycle."
Senate leaders in both parties see Arizona as the biggest wildcard – depending on what Sinema decides to do and which Republican decides to run.
Lake, the Trump-aligned Republican who lost one of the nation's premier governor's races last fall, recently met with officials at NRSC headquarters – even though many Republicans are nervous about her potential candidacy and one GOP strategist called the potential of a Lake Senate run "disastrous."
As she made the rounds in Washington, Daines told CNN that he spoke with Lake.
"I want to see a candidate who can not only win a primary, but can win a general election," Daines said when asked about that visit, not commenting on Lake directly.
Other top Republicans are unnerved about Lake – and her evidence-free claims of widespread election fraud – and are pushing for other candidates to jump into the race.
"I've just said to any of our candidates or potential candidates in 2024, that you got to talk about the future, not the past," said Senate Minority Whip John Thune of South Dakota, the No. 2 Republican. "And I think if you're building your campaign around the theme of a stolen election, that's not a winning strategy. We've seen that. So if she does decide to do it again, I think she's gonna have to talk about the things that are on the hearts and minds of American people."
Schumer and Democratic leaders, themselves, are in a bind in the state, refusing to say if they'll back their party's nominee with Sinema still undecided on a run. The reason: They need Sinema to continue to organize with them in order to maintain their 51-49 majority and are in no mood to alienate her.
But some Democrats are angry at their leaders for refusing to say if they'll back their nominee, especially backers of Rep. Ruben Gallego, the party's leading candidate in the race.
"At some point, they're going to have to endorse a Democrat," said Rep. Raul Grijalva, a fellow Arizona Democrat who backs Gallego, noting it would be "problematic" if party leaders didn't dump huge resources to help their party's nominee win a general election.
"If they don't, that would be an insult at many levels," Grijavla said.
While some Democrats are nervous that Gallego and Sinema would split the vote and give Republicans a victory, Gallego dismisses the possibility and says only a "strong Democrat" can win.
"No matter what happens, Kyrsten Sinema is always going to be in third place," Gallego said. "I also doubt she fully runs."
As she's grown more alienated from her former party, Sinema has grown closer to Republicans, including one – Lisa Murkowski of Alaska – who told CNN she would endorse the senator if she ran again.
"I absolutely support Sen. Sinema," Murkowski said, noting she's also backing Manchin. "She's not afraid to take on hard things, and I'm gonna be supporting her too."
Even in safe Democratic seats, there's the potential for a shakeup that could bring more diversity and younger members into the ranks, including in Maryland and Delaware where Sens. Ben Cardin and Tom Carper, respectively, have not made a final decision to run yet.
Cardin, 79, who hasn't spent much time fundraising yet, said he would make his decision sometime in the spring, while Carper, 76, said he'd be ready to run but noted that campaigns are "way too long."
In Hawaii, Sen. Mazie Hirono said she plans to run again, as did Maine's Angus King, an independent who caucuses with Democrats.
"There's only two ways to run: Scared or unopposed," King said.
In more contested states, Nevada's Jacky Rosen said she is running, as did Ohio's Sherrod Brown. And in Wisconsin, Sen. Tammy Baldwin said she'd make her announcement about her plans in the spring after upcoming elections in the state.
In Texas, Sen. Ted Cruz has announced plans to run for a third Senate term, and Democrats are weighing whether to mount a serious effort to try to unseat him in the red state – with a focus on whether Democratic Rep. Colin Allred will try to mount an upset bid against the conservative senator.
In Michigan, where Stabenow's retirement is leaving Democrats with an open seat in a swing state, Rep. Elissa Slotkin is eying a run and could get some implicit help from the outgoing senator herself. Stabenow has spoken by phone with several prominent Michigan Democrats, and while some have perceived that as dissuading some weaker candidates from running, a Stabenow spokesperson says she's just been giving everyone advice on the challenges of running statewide in Michigan and not trying to clear the field.
Republican recruitment efforts in the state are also up in the air, with a push for newly elected Rep. John James, who has lost two previous bids for the Senate. If he passes, GOP leaders believe other contenders will emerge, potentially former Rep. Peter Meijer and even some current members of the House delegation or local officials.
While several potential Democratic candidates have decided not to run, other political players in the state remain unsure about Slotkin's statewide strength and have continued talking privately about finding an alternative.
Given how much Democrats in the state rely on high turnout in heavily African-American Detroit, finding a candidate who could run strong there has been a major topic in those discussions. Lt. Gov. Garlin Gilchrist, who got his start in Detroit politics is "very seriously thinking about making a run" and is expected to make a decision over the next month, according to a person familiar with his thinking.
Meanwhile, several Democrats in Michigan tell CNN they have been surprised by outreach they're getting from "The Good Doctor" actor Hill Harper, whose political experience mostly relates to being Barack Obama's law school roommate, but who owns a coffee shop in Detroit and has gotten involved with the local business community there. Harper did not return a request for comment.
Stabenow said she's not endorsing any candidate in the primary to replace her.
"What I'm saying to folks is that I want somebody that is strong, effective, who can raise money, who can win," Stabenow said. "But I'm talking to everybody."
Source
mypresscity