World News
North Korea tests long-range ballistic missile, Seoul says | CNN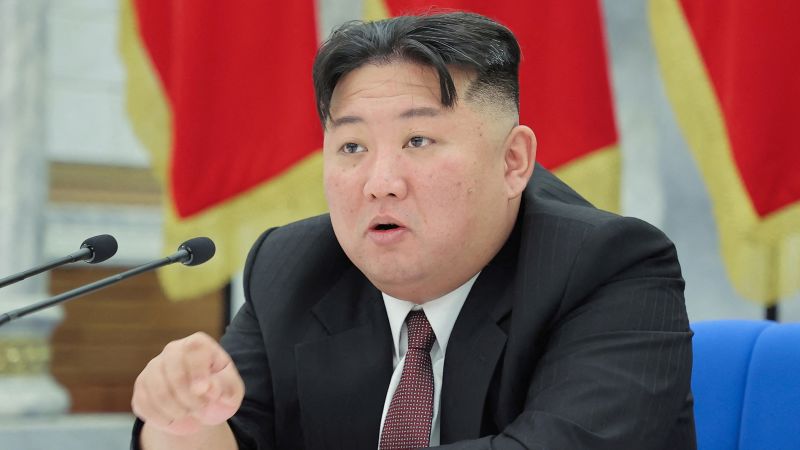 Seoul, South Korea
CNN
 — 

North Korea launched a presumed long-range ballistic missile Saturday afternoon, South Korea's Joint Chiefs of Staff said, a day after Pyongyang warned of "unprecedented strong responses" if the US and South Korea go ahead with planned military exercises.
Japanese Prime Minister Fumio Kishida said the missile landed inside Japan's exclusive economic zone west of the northern main island of Hokkaido, sparking condemnation from the United States.
Japan's Defense Ministry said the missile reached an altitude of 5,700 kilometers (3,541 miles) and flew a distance of about 900 kilometers (559 miles). It was launched from Pyongyang's Sunan area around 5:22 p.m. local time Saturday, the South Korean JCS said.
Japanese officials said the missile flew for more than 60 minutes.
North Korea launched a missile last March with a slightly longer flight distance and time. That projectile was believed to be an intercontinental ballistic missile (ICBM), its first test of such a missile since 2017.
In November, after another similar launch, Pyongyang announced the "test firing of a new kind" ICBM, which it called the Hwasong-17.
Japanese Defense Minister Yasukazu Hamada said at the time it had the potential to reach the US mainland. "The ICBM-class ballistic missile launched this time could have a range of over 15,000 km when calculated based on the flight distance of this ICBM," Hamada said in a statement. "It depends on the weight of the warhead, but in that case, the US mainland would be included in the range."
North Korea tests its missiles at a highly lofted trajectory. If they were fired at a flatter trajectory, they would in theory have the ability to reach the US mainland.
The US government described Saturday's missile launch as "a flagrant violation of multiple UN Security Council resolutions," according to a statement from White House National Security Council spokesperson Adrienne Watson.
"While [the US Indo-Pacific Command] has assessed it did not pose an immediate threat to U.S. personnel, or territory, or to our allies, this launch needlessly raises tensions and risks destabilizing the security situation in the region," Watson said. "It only demonstrates that the DPRK continues to prioritize its unlawful weapons of mass destruction and ballistic missile programs over the well-being of its people."
Watson said the US is urging other countries "to condemn these violations and call on the DPRK to cease its destabilizing actions and engage in serious dialogue."
Earlier this month, the Kim Jong Un regime showcased almost at least 11 advanced ICBMs at a nighttime military parade in Pyongyang in the biggest display yet of what its state-run media described as North Korea's "nuclear attack capability."
Analysts said those missiles appeared to be Hwasong-17s.
Ankit Panda, a nuclear policy expert at the Carnegie Endowment for International Peace, said on social media that if each missile in the parade were equipped with multiple nuclear warheads, they could represent enough volume to overwhelm US ballistic missile defenses.
Saturday's test came after the North Korean Foreign Ministry lashed out at the United States and South Korea on Friday over their plans for upcoming military exercises.
Washington and Seoul are expected to hold nuclear tabletop drills next week at the Pentagon, the South Korean Defense Ministry said Friday. The allies are also expected to hold military drills next month in the Korean Peninsula.
North Korea, in the same statement, also said it would consider additional military action if the UN Security Council continues to pressure Pyongyang "as the United States wants."
In January, Kim Jong Un called for "an exponential increase of the country's nuclear arsenal" and highlighted the "necessity of mass-producing tactical nuclear weapons," according to the country's state media KCNA.
Kim had called for the development of a new "Intercontinental Ballistic Missile system," capable of a rapid nuclear counterstrike, according to the KCNA report.
Source
mypresscity