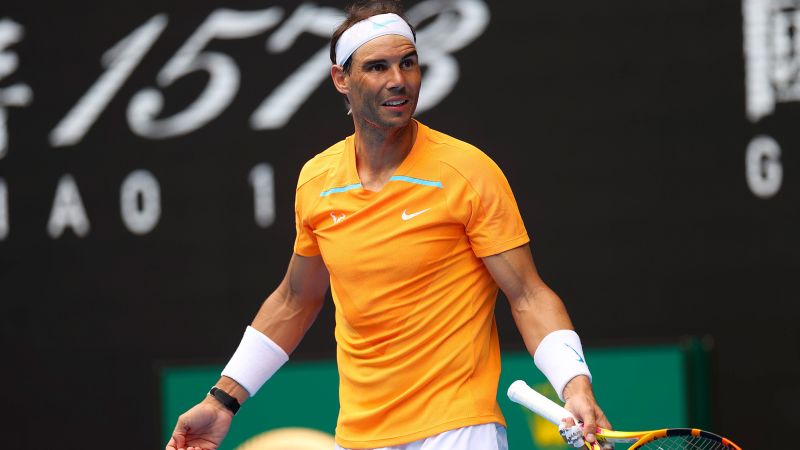 CNN
 — 

It wasn't all plain sailing for Rafael Nadal in his first-round victory at the Australian Open on Monday.
Midway through the first set against Britain's Jack Draper, the 22-time grand slam winner stood with his arms spread as explained to the umpire that he was looking for his racket.
"It's this one for the stringer, not that one," Nadal could be heard explaining to the umpire.
"I need the racquet back! It is this not one. I need the dampener and everything," added the Spaniard, referring to the small rubber device which tennis players place between the strings to lessen the impact when they hit shots.
As it turned out, the ball boy had taken Nadal's racket with the dampener to the stringer.
"I don't think he has a spare one, so I think there is going to be a delay here," explained Eurosport commentator Guy McCrea.
After selecting a different racket, Nadal apologized to Draper saying: "The ball boy took my racquet!"
After the match, Nadal described the racket snafu as a "funny situation."
"Normally, I have the number of the rackets under control so I said I need the stringer, but I need the stringer for the other racket," Nadal explained, per Eurosport.
"So [the ball boy] picked the racket I was ready to play with. But no problem at all."
Later in the match, Nadal had another conversation with the umpire when the floodlights appeared to switch on automatically, despite the match being played in sunlight.
"Now it is bothering me a lot," Nadal said to the umpire while pointing up to the floodlights. "The combination of lights."
Draper was also unhappy, with the umpire calling stadium staff to fix the situation.
Nadal needed four sets to beat the 21-year-old Draper.
The Briton took the second set off the 36-year-old to level match but then suffered cramps as the game developed, with Nadal eventually winning 7-5 2-6 6-4 6-1.
Nadal's victory continues a run of 26 years since the last time a defending champion had fallen in the Australian Open's opening round.
"Last year had been one of the most emotional tournaments of my tennis career, no doubt about that," said Nadal, who beat Daniil Medvedev 2-6 6-7 6-4 6-4 7-5 in last year's Australian Open final having lost the first two sets. "Unfortunately that passed, so we need to keep working.
"I'm super happy to be back here in Australia one more time. I don't know, it's like my 19th season on the professional tour.
"I'm very excited about this new beginning… The last couple of months haven't been easy for me, but hopefully this victory will help me."
The Australian Open's top seed will now face American Mackenzie McDonald in the second round.
Source
mypresscity