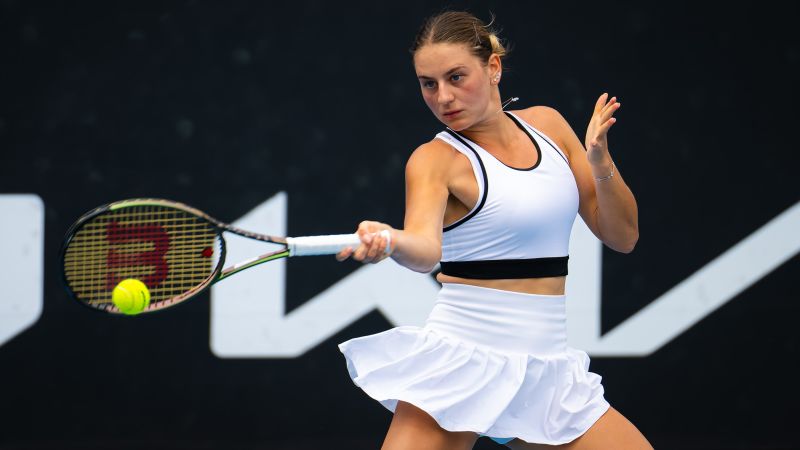 Reuters
 — 

As Russian missiles continue to pound her country, Ukraine's number two tennis player Marta Kostyuk says she will not shake hands with tour rivals from Russia and Belarus who she feels have not done enough to speak out against the invasion.
The 20-year-old Kyiv native generated headlines last year when she refused the customary handshake at the net with former world number one Victoria Azarenka after the Belarusian beat her at the US Open.
Belarus is being used as a key staging ground for Russia's war in Ukraine, which Moscow terms a "special operation."
After winning her first match at the Australian Open on Monday, upsetting 28th seeded American Amanda Anisimova, Kostyuk said she would snub handshakes with any Russian or Belarusian opponent who had not openly condemned the invasion.
"I haven't changed about the war and everything that's going on, on tour," she told Reuters.
"Because people who just say they don't want war, it makes us (Ukraine) sound like we want war.
"Obviously, we don't want the war, too."
Among the grand slams, only Wimbledon has banned Russian and Belarusian players from competing, leading to a $1 million fine by the men's tour.
Russian and Belarusian players are allowed to play at Melbourne Park this year without their flag or country displayed.
"Whoever speaks out clearly I believe has every right to be on tour but whoever doesn't … I don't think it's just humane," she said.
"I don't really talk to anyone," she added of Russian and Belarusian players.
"I barely say 'hi' to them."
Most of Kostyuk's family are in Kyiv, including her father and grandfather.
She is in touch with them regularly and said it was scary how they had all become so used to the "horror" of the war.
"Like, I am more stressed being outside and looking in, than actually being there," said Kostyuk, who visited Kyiv in October and left days before missiles rained down on the city center.
Her mom sent her updates about Russian attacks, including how she and her neighbor would plan to sneak coffees in before an expected wave of missile strikes.
The world number 61 said she would still head home to Ukraine even if it was not safe, but she was in no doubt her country would eventually prevail.
"I don't think we would even have a chance if we didn't think like this," she said.
"It just takes time and, unfortunately, a lot of losses and death, including a lot of innocent people.
"This is our faith, I guess, and we have to just come back strong."
Source
mypresscity