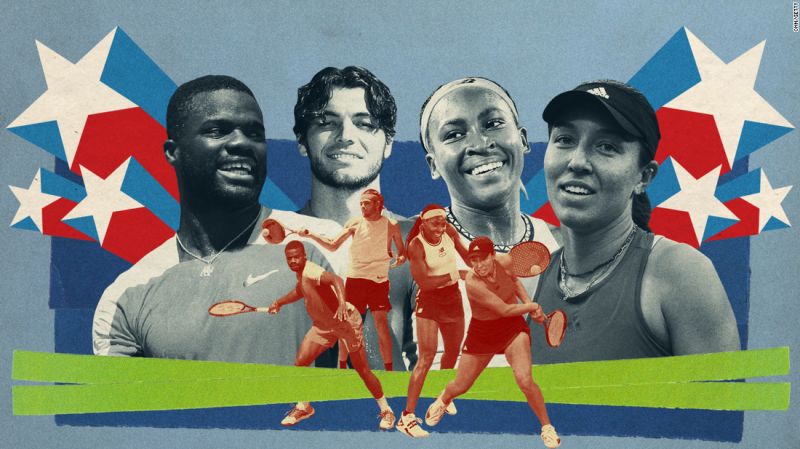 CNN
 — 

History might come to view 2022 as a watershed year for American tennis, even with the retirement of the country's greatest ever player.
Serena Williams' decision to hang up her racket felt like a pivotal moment, such was her dominance in the sport for more than two decades. But in the same year, her compatriots showed that the future of tennis in the United States looks bright.
On the men's and women's circuits, American players won more singles and doubles titles last year than any other nation – 22 on the ATP Tour and 21 on the WTA Tour.
Among those players to excel was Jessica Pegula, who rose to No. 3 in the world rankings at the end of 2022 – the highest year-end finish by an American since Williams in 2016.
The 28-year-old Pegula has carried her form into the new year, too, defeating world No. 1 Iga Świątek as the US won the inaugural United Cup competition earlier this month, then cruising past Jaqueline Cristian 6-0 6-1 in the Australian Open first round.
Her relatively late rise through the rankings comes after battling injuries earlier in her career.
Eurosport expert Laura Robson, a former Junior Wimbledon champion and an Olympic silver medalist, told CNN Sport that Pegula is "definitely" one of the main contenders for the women's title.
"She has always been an unbelievable ball striker but she's improved her consistency and movement so much over the last year," Robson said.
"She is hitting the ball better than ever and the win against Świątek at the United Cup will give her a huge amount of confidence to believe that she can finally have that big breakthrough at the slams."
Alongside Pegula, the 18-year-old Coco Gauff has continued to show maturity and composure beyond her years.
Gauff reached a career-high fourth in the rankings in October and topped the doubles rankings for the first time in August. She also contested her first grand slam final at the French Open, losing against a dominant and in-form Świątek.
Like Pegula, Gauff has also started the year in auspicious fashion after winning the third singles title of her career in Auckland, New Zealand, and reaching the second round of the Australian Open with a 6-1 6-4 victory against Kateřina Siniaková.
"Coco has to be the best mover in the women's game, along with Świątek, so as long as her body stays healthy I always see her as a potential slam winner," said Robson.
"Combined with the fact that she won last week in Auckland, that will give her such a positive mindset going into the tournament. If she's able to use the fast court surface in Melbourne with her serve, I could see her having a great result."
Madison Keys, meanwhile, was unbeaten across five United Cup games and has recently made her return to the top 10 in the world.
But will these performances translate to success at the Australian Open? Aside from Williams, who won the year-opening grand slam seven times, Sofia Kenin is the other American woman to triumph in Melbourne in the past 20 years.
Since that title in 2020, Kenin has struggled with form and injury, dropping well outside the top 100 in the rankings.
Other American challengers include Danielle Collins, last year's runner-up at the Australian Open, and 21-year-old Amanda Anisimova, a former grand slam semifinalist.
"I think people are sort of happy with how this group is ticking along, especially with Gauff and also Pegula in the mix," tennis journalist Ben Rothenberg told CNN Sport. "I think people are pretty content right now."
But on the men's side, grand slam success has proved harder to come by. Not since Andy Roddick's US Open title 20 years ago has an American man won a major singles title, several months after Andre Agassi won the final grand slam title of his career at the Australian Open.
Another American male champion feels long overdue, and among the current crop of players, Taylor Fritz, Frances Tiafoe, and Sebastian Korda look the most likely to end the drought.
Fritz became the first American man since Agassi in 2001 to win Indian Wells last year, while he also reached a first grand slam quarterfinal at Wimbledon before losing to an ailing Rafael Nadal.
Tiafoe defeated Nadal to reach the semifinals of the US Open, and Korda, a former junior champion at the Australian Open, came a point away from defeating Novak Djokovic at the Adelaide International on January 8.
Korda, the son of two ex-tennis players and the brother of two professional golfers, won his first ATP Tour title two years ago aged 20 and came agonizingly close to ending Djokovic's unbeaten run in Australia, which now stands at 34 matches.
"All three players really impressed me in the lead-up events for the Australian Open," said Robson.
"Korda was outrageously close to pulling off an upset against Djokovic in Adelaide. The margins are so small and a scoreline like that shows you how close he is to the very best in the game.
"Fritz and Tiafoe were equally impressive at the United Cup and with the hot and fast conditions in Melbourne they will be super dangerous."
Both Tiafoe and Korda came through their first-round matches at the Australian Open in four sets, while Fritz faces Nikoloz Basilashvili in a later game.
Djokovic's nine previous titles at the Australian Open make him the favorite in Melbourne, although he has been managing a niggling hamstring in recent games.
Top seed Nadal, meanwhile, got off to a winning start against Great Britain's Jack Draper having suffered back-to-back defeats in the United Cup.
The in-form US hopefuls are certainly outsiders to win the Australian Open, but recent results will make each of them quietly confident of producing their own American Dream Down Under.
"The American players have pushed each other and helped each other to believe they can compete close to that level," former player turned broadcaster John McEnroe said in a recent interview with Eurosport.
"If I had to pick one, I'd probably pick Sebastian Korda; he's the youngest of that current top group of Americans and the one with the most upside right now.
"Frances Tiafoe made some great improvements as well, Taylor Fritz is a phenomenally superior ball-striker, and is a legit top-10 player and a threat to make a deep run."
Source
mypresscity