Politics
Blinken says US has 'no doubt' China was conducting surveillance with balloon | CNN Politics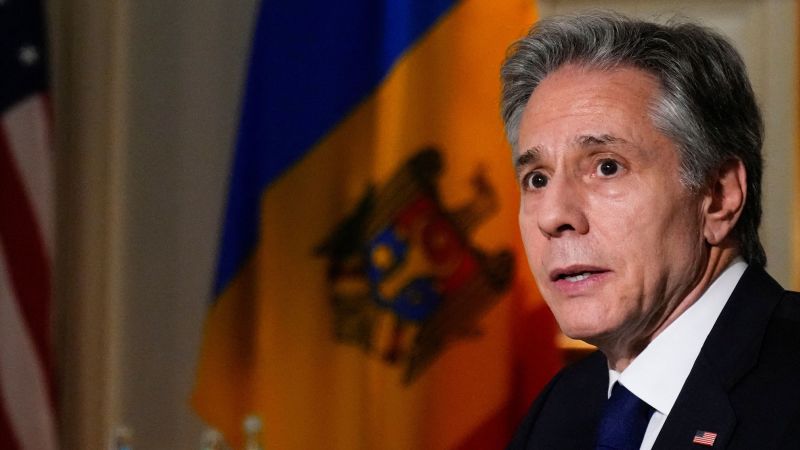 Washington
CNN
 — 

Secretary of State Antony Blinken has made clear that the US has no doubt China was seeking to surveil the US via the balloon that was ultimately shot down off the coast of South Carolina earlier this month.
"I can't say dispositively what the original intent was, but that doesn't matter because what we saw when it was over the United States was clearly an attempt to surveil very sensitive military sites," Blinken said on ABC's "This Week" in an interview taped Saturday.
"The balloon went over many of them. It, in some cases, loitered," he added. "We took measures to protect that information. We took measures to get information about the balloon. And I think we'll know more when we … actually get the remains."
Following the downing of the suspected Chinese spy balloon, the US military downed three subsequent objects that were much smaller and are now believed to have not been tied to any country's surveillance program, President Joe Biden said last week. Instead, they were likely used for weather or research purposes by private entities.
US officials have said that the Chinese balloon, in contrast, had a payload – or the equipment it was carrying – the size of roughly three buses and was capable of collecting signals intelligence and taking photos. The balloon traveled over sensitive sites in Montana, officials have said, but the administration has said it tracked the balloon's path and worked to minimize its intelligence collection capabilities.
The US has said that the balloon was part of a large fleet controlled by the Chinese military that has conducted surveillance over at least 40 countries across five continents in recent years.
"There's absolutely no doubt in our minds about what the balloon, once over the United States, was attempting to do. And no doubt in our minds about this surveillance balloon program that China has, and again, has been used over more than 40 countries around the world," Blinken told ABC.
On the topic of Russia's invasion of Ukraine, the top US diplomat said Sunday he has concerns over China's support of Russia's military, specifically that Beijing is considering supplying Moscow with "lethal support."
CNN previously reported that the US has begun seeing "disturbing" trendlines of late in China's support for Russia's military, and there are signs that Beijing wants to "creep up to the line" of providing lethal military aid to Russia without getting caught, according to US officials familiar with the intelligence.
The officials would not describe in detail what intelligence the US has seen suggesting a recent shift in China's posture but said US officials have been concerned enough that they shared the intelligence with allies and partners at the Munich Security Conference in Germany over the past several days.
"We've been watching this very closely," Blinken told "Face the Nation" on CBS while in Munich.
"The concern that we have now is based on information we have that they're considering providing lethal support, and we've made very clear to them that that would cause a serious problem for us and in our relationship," Blinken said.
Source
mypresscity