Politics
Exclusive: Attorney for Gaetz's ex-girlfriend says prosecutors didn't have credible evidence to charge | CNN Politics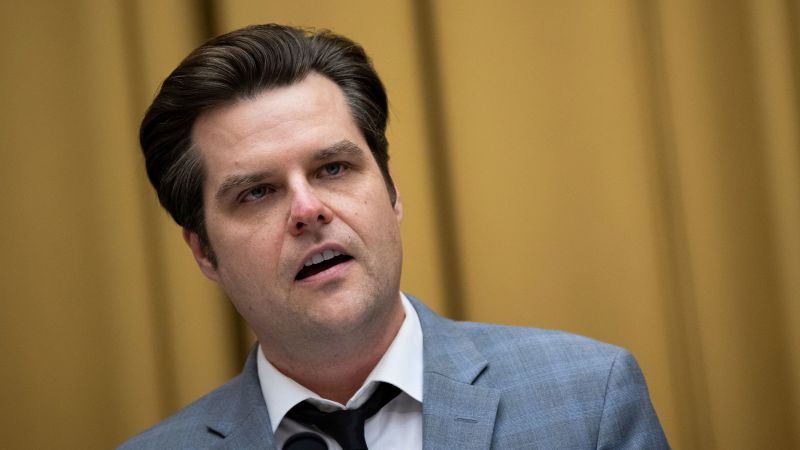 CNN
 — 

A defense attorney who represented the former girlfriend of Rep. Matt Gaetz says that prosecutors made the right decision not to charge the Florida Republican after a yearslong federal sex trafficking investigation.
Attorney Tim Jansen told CNN on Saturday that Justice Department prosecutors were aggressive with his client. She was initially approached as a possible target in the sex-trafficking investigation but eventually agreed to cooperate and testified before an Orlando grand jury hearing evidence in the case last year.
The ex-girlfriend, whom CNN has not named, is not the underage woman at the center of the sex-trafficking investigation.
Jansen, who said the DOJ thoroughly pursued leads against Gaetz, disputed the notion that the congressman was cleared because he was in a powerful position, arguing that the evidence against Gaetz simply wasn't credible and couldn't hold up in court.
"They turned over every stone. And I think they ultimately made a decision that they didn't have evidence to prove a crime," Jansen said. "And I know critics think that the congressman somehow bought it off or somehow used his power, but I found (federal prosecutor) Todd (Gee) very responsible. He was very organized. He had evidence that he believed that he was following, and they made a determination that they weren't going to charge."
CNN has reached out to the Justice Department for comment.
CNN first reported this week that the Justice Department had informed lawyers for Gaetz and several witnesses that it would not prosecute the GOP lawmaker.
Last fall, investigators working on the case recommended not bringing charges amid concerns that the central witnesses in the case would not be perceived as credible, including Joel Greenberg, a former Seminole County, Florida, tax collector who pleaded guilty to six federal crimes, including sex trafficking, and agreed to cooperate with the government.
The DOJ's formal decision not to charge Gaetz, who has been serving in Congress since 2017, marks the end of a long-running investigation into allegations that the congressman violated federal law by transporting underage girls across state lines for sex.
Gaetz has repeatedly denied any wrongdoing.
Jansen told CNN that his client was initially threatened with prosecution by federal investigators as part of the investigation. Her phone was seized, and she was told she could be a target in the investigation. She ultimately became a witness, Jansen said.
But Jansen said the problems with Greenberg's credibility and the inconsistencies in the testimony of the women ultimately prompted Gee, a deputy chief of the Justice Department's public integrity section, not to charge Gaetz.
"In order to prosecute a case, you have to have credible evidence, either tangible witnesses, and in this case, there was no credible evidence of any wrongdoing," Jansen said. "Joel Greenberg was somebody who (you) couldn't put on the witness stand, as a prosecutor. I believe these women; none of them believed they were victims of any crime."
Source
mypresscity