Politics
Ukrainian refugees, uncertain about returning home, wrestle with their legal status in the US | CNN Politics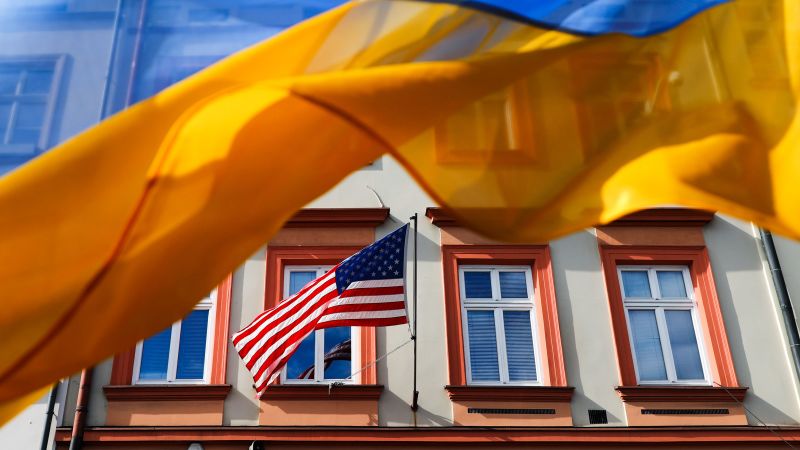 CNN
 — 

Anna Yezerova, a Ukrainian national, arrived in the United States last year with her young daughter and a couple of months of summer clothes. Their hope: that the war in Ukraine would be over soon.
Nearly one year later, Yezerova remains in the US and is setting down roots in New Jersey, trying to chart out a life she never envisioned for herself.
"I have never dreamed of moving abroad," Yezerova told CNN. "We started everything from nothing."
President Joe Biden's visit to Poland this week is expected to again put into sharp focus the Ukrainian refugee crisis and the need for humanitarian support in addition to security assistance. Poland was among the countries that took in millions of refugees as Russia invaded Ukraine.
But as Russia's war in their country slogs on, Ukrainian refugees in the US who were once optimistic they would return to their homeland within two years are coming to grips with the fact that they're probably not going back and having to wrestle with their legal status in the US.
Last year, the Biden administration set up a program, dubbed "Uniting for Ukraine," that provided a streamlined process for Ukrainian refugees to come to the United States. The humanitarian parole program requires Ukrainians to be sponsored by a US citizen or an eligible individual, as well as undergo rigorous security vetting and checks. If accepted, the individuals are allowed to live and work in the US for up to two years.
Refugee advocates applauded the program, which opened a pathway for Ukrainians seeking to come to the US. Prior to that, thousands of Ukrainians traveled to Mexico, where it was easier to obtain a visa, and then tried to enter the US through land ports of entry.
Now, as the one-year anniversary of Russia invading Ukraine approaches, many Ukrainians who came to the US are getting closer to the expiration of their parole, prompting concern about what comes next.
"It's a big issue right now," said Yezerova, who works for Church World Service, a resettlement organization, and helps Ukrainians in the US and back at home. "It's very complicated to live here when you don't know how many years you can live here. Can you go study? Can you buy something like a car?"
Ukrainians who arrived on parole may be able to adjust their legal status while in the US or extend their parole, according to a Homeland Security official.
Since the Uniting for Ukraine program was launched, US Citizenship and Immigration Services has received approximately 213,000 requests from individuals agreeing to support Ukrainians or their immediate family members, according to the Department of Homeland Security. And more than 113,000 individuals have arrived as part of the program, while around 146,000 Ukrainians have been authorized to book their own travel.
"DHS remains committed to supporting Ukrainians in the United States, and we continue to explore opportunities to provide avenues for humanitarian relief and protection for Ukrainians fleeing Russia's unprovoked war," a Homeland Security spokesperson said in a statement.
Since last March, around 154,000 Ukrainians have been processed into the US outside of the Uniting for Ukraine program. DHS also extended a form of humanitarian relief for Ukraine, known as Temporary Protected Status, that provides protections to people already in the US. That designation, if not renewed, expires this October.
Mariia Mitina, like Yezerova, was among those who arrived through the Uniting for Ukraine program. Mitina fled Mariupol with her husband and two teenage children after the city fell to Russian forces.
In an interview with CNN, Mitina described, through an interpreter, hiding in a basement with her family during the invasion and going 10 days without food, electricity or water. Eventually, she was connected with a family in the US, who was hoping to sponsor Ukrainians.
"It was a happy coincidence," Mitina said, adding that they connected through a long chain of friends.
With help from the family and the humanitarian group International Rescue Committee, Mitina arrived in Kansas last July and now works for the state's Department of Children and Families.
"The life here is very nice," she told CNN, adding that she hopes her family can stay in the US but shares concerns with other Ukrainians about the end of the parole period.
While there may be ways for Ukrainians who came through parole to stay on, refugee advocates say the uncertainty can be unsettling.
"A lot of our clients fear what the future will bring. It's a situation of all the hallmarks of a protracted conflict and one that makes returning safely all but impossible," said Krish O'Mara Vignarajah, president and CEO of Lutheran Immigration and Refugee Service, a refugee resettlement organization.
"It's creating an immense amount of anxiety and uncertainty. And it makes it virtually impossible to set down roots with any sort of confidence," she added.
Congress also allowed applicants of the Uniting for Ukraine program to be eligible for certain benefits, such as medical assistance and case management, but not all the benefits that refugees who come through the US resettlement program get. Parole expiration would also mean the expiration of those benefits.
"The future for people who have fled is uncertain. Some thought this was going to be temporary, and there would be an opportunity to go back, stay closer to home and, in the event of ceasing war activities, go back and see their loved ones," said Erol Kekic, senior vice president at Church World Service. "Some people have already been here for a year and the chances of them going back are not high."
Source
mypresscity