Politics
US announces $100 million in earthquake relief funding for Turkey and Syria | CNN Politics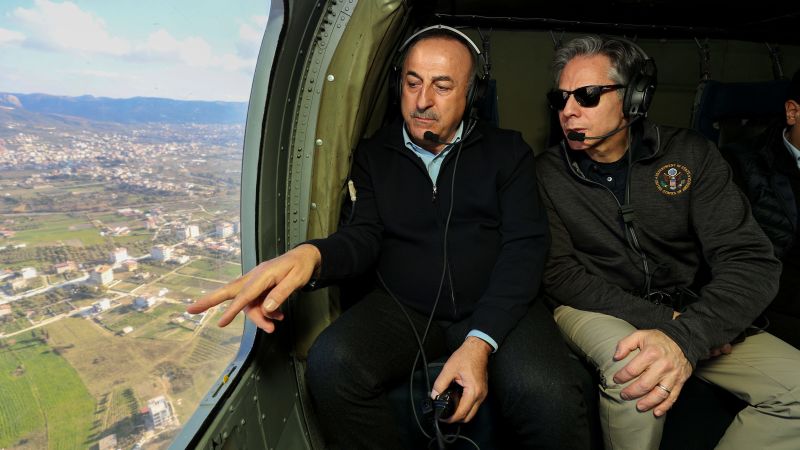 Washington
CNN
 — 

US Secretary of State Antony Blinken on Sunday announced $100 million in disaster relief aid for Turkey and Syria as the countries grapple with the aftermath of a powerful 7.8 magnitude earthquake that has killed at least 46,000 people.
The top US diplomat, who took a helicopter tour Sunday of some of the hardest-hit areas alongside Turkish foreign minister Mevlüt Çavuşoğlu, later told reporters at Incirlik Air Base that it was "really hard to put into words" the devastation he saw during the tour but said, "We are here to stand with the people of Turkey and Syria."
The new round of funding includes $50 million under the Emergency Refugee and Migration Assistance Funds for emergency response efforts and an additional $50 million in humanitarian assistance through the State Department and USAID, according to the State Department.
The latest funding brings the total American assistance to $185 million. Private US nongovernmental organizations have already contributed another $66 million to response efforts thus far, according to a fact sheet provided by the State Department.
"Immediately after the earthquake hit, the United States and other countries jumped in," Blinken said.
Efforts to retrieve survivors have been hampered by a cold winter spell across quake-stricken regions, while authorities grapple with the logistical challenges of transporting aid into northwestern Syria amid an acute humanitarian crisis compounded by years of political strife.
Blinken acknowledged that relief efforts in Syria were "very, very challenging" but vowed, "We'll do everything we can, including making sure, for example, there's absolutely no doubt that whatever sanctions against Syria do not affect the provision of humanitarian assistance."
"They never have, but we're going to make sure that we clear up any doubts about that so that anyone who's able to can make sure they're helping out in getting the aid to the folks who need it in Syria," he said.
Blinken noted that the rescue effort is "unfortunately is coming to an end."
"It's going to take a massive effort to rebuild, but we're committed to supporting Turkey in that effort," he said.
"The most important thing right now is to get assistance to people who need it to get them through the winter and get them back on their feet," he added.
Source
mypresscity