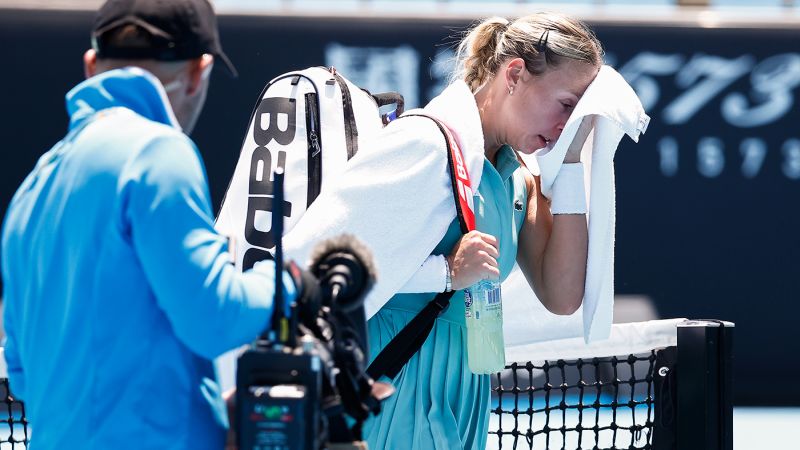 CNN
 — 

Play was postponed for hours at the Australian Open due to the searing Melbourne heat on Tuesday, a decision which some expressed their irritation at.
As temperatures reached almost 36 degrees Celcius (almost 97 degrees Fahrenheit), tournament organizers announced at around 2 p.m. local time (10 p.m. ET Monday) that games on outdoor courts would come to a halt
"The AO Heat Stress Scale has reached 5 and play will be suspended on the outside courts," it said on its Twitter account.
"This means play continues until the end of an even number of games or the completion of a tie break. No new matches will be called to court. Play on outdoor practice courts is also suspended."
The roof was closed on the grand slam's three show courts – Rod Laver Arena, John Cain Arena and Margaret Court Arena – and play was allowed to continue.
Games on outside courts were able to resume at 5 p.m. local time (1 a.m. ET).
Earlier in the day, the Australian Open announced temperatures had reached stage four of the "AO Heat Stress Scale" which allowed singles players to take 10-minute breaks between sets – for women players, between their second and third, and for men, between their fourth and fifth.
"Players have the option of staying on court or using showers or cooling rooms," it said.
According to the ATP: "The AO Heat Stress Scale takes into account air temperature, radiant heat (strength of the sun), humidity and wind speed, which affect a player's ability to disperse heat from their body. Those factors are measured in real time across five different locations across the Melbourne Park precinct."
The decision to postpone play wasn't met with delight by all.
Australian Jordan Thompson couldn't hide his annoyance at being told his match against JJ Wolf was being stopped after breaking the American in the second set, having lost the first.
"When has that ever happened?!" a frustrated Thompson could be heard saying to the umpire.
"I've been here when it has been like 45 degrees (113 degrees F)! It is not going to be for hours."