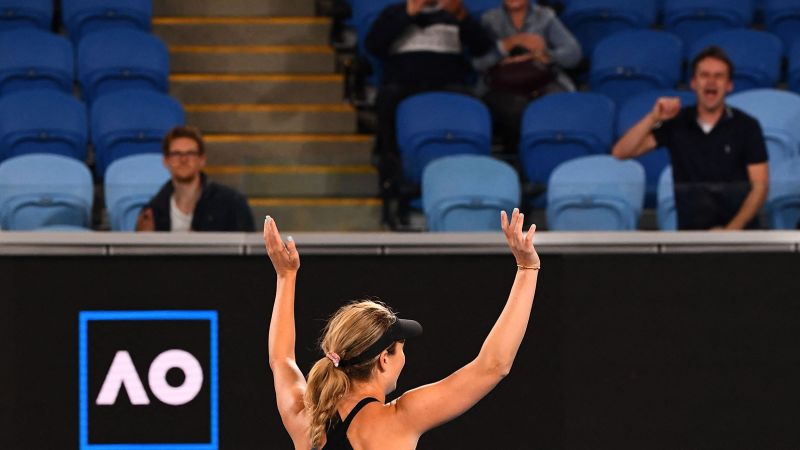 CNN
 — 

We've all been there. You're in the midst of competition and in the furor of battle, you lose track of the moment and score of the match.
Unfortunately for American Danielle Collins, her moment where she slipped up came during her second round match at the Australian Open in a crucial third set tiebreak on Wednesday.
Playing against the Czech Republic's Karolina Muchová, the No. 13 seed was engaged in a ferocious battle in which she narrowly lost the first set before racing back to win the second.
The final set was nip-and-tuck between the two, eventually needing a tiebreak to settle the deciding frame.
Collins raced into a 6-3 lead and, when Muchová's forehand sailed out of bounds giving Collins her seventh point, the American dropped her racket in celebration before raising her hands above her head in a gesture as if to say "thank you."
The only problem is that after a rule change made in the last few years, if a grand slam match reaches six games all in the final set, the winner will be the first player to win 10 points with an advantage of two or more points – something which Collins appeared to have forgotten.
After picking up her racket and walking to the net to shake hands with Muchová and the umpire as is tradition, Collins appeared to look confused about why no one was moving.
Last year's runner up was told by the umpire that she still had three more points to go before she had claimed victory, causing Collins to break out into a big smile as she walked back to serve again.
"I was a little embarrassed," Collins admitted afterwards during the on-court interview. "I never had to play a tiebreak in the third set of grand slam before."
"I really thought the match was over. I told myself, at least you didn't face plant. I had to keep things in perspective … I am not really good with the score, so maybe I have to work on that a little bit."
Luckily for Collins, she was able to secure the final three points without too many issues, winning 6-7(1-7) 6-2 7-6(10-6) and allowing her to properly celebrate this time after a two-hour-and-55-minute-long battle.
Collins is not the first to fall foul of forgetting deciding tiebreaks went to 10 points, with both Kaia Kanepi and Zheng Qinwen celebrating early last year.
Collins will now play No. 22 seed Elena Rybakina on Friday in the third round.
Source
mypresscity