Politics
Primary voters aren't excited about Biden or Trump. What does that mean for 2024? | CNN Politics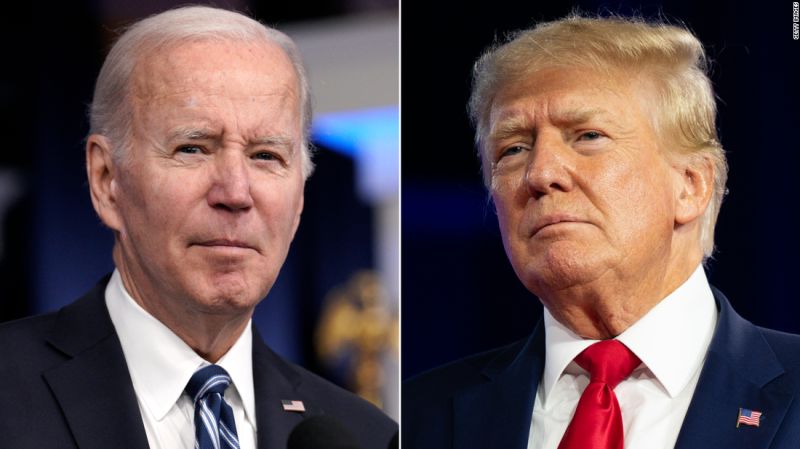 CNN
 — 

The first phase of the 2024 presidential primary season is officially underway, bringing with it a cavalcade of early polling designed to answer a seemingly basic question: whether President Joe Biden and his predecessor, Donald Trump, have the support of their respective parties.
That topic, though, is more complicated than it seems, reflecting voters' complex attitudes toward the two men, which in both cases fall far short of either an enthusiastic endorsement or a definitive rejection.
At first glance, Trump, who launched his third bid for the presidency in November, and Biden, who is yet to officially announce his reelection plans, seem to face similar challenges.
Just 44% of Republicans and Republican-leaning independents in a recent Washington Post-ABC News poll said they'd prefer to see Trump win the party nomination in 2024, with an even slimmer 31% on the Democratic side saying they'd like to see Biden renominated.
That's in line with other recent polls, including a December CNN survey that found just 38% of Republican-aligned voters and 40% of Democratic aligned-voters thought their parties should renominate Trump and Biden, respectively.
But while many Republicans and Democrats would prefer to see someone else nominated, the vague concept of "someone else" isn't an eligible challenger for the presidency. And when it comes to specific, viable rivals, Trump and Biden currently face very different situations.
So far, one potential primary challenger to Trump has significantly broken through among the GOP faithful, Florida Gov. Ron DeSantis, although polls have varied on his precise strength against the former president.
When a recent Monmouth University poll asked GOP and GOP-leaning voters an open-ended question about whom they'd like to see as their party's nominee next year, most named either Trump (33%) or DeSantis (33%). Two percent or fewer mentioned anyone else as a possible nominee – including former South Carolina Gov. Nikki Haley, the latest entrant into the GOP race who'd yet to declare when the survey was taken.
CNN's December polling found that among Republican-aligned voters who favored a nominee besides Trump, 47% had a particular alternate candidate in mind, including 38% who singled out DeSantis.
There are no similarly prominent rivals to Biden: 72% of Democratic-aligned voters in CNN's December poll who wanted to see the party nominate someone else said they had nobody specific in mind.
Despite the lukewarm partisan reactions to Trump's and Biden's 2024 candidacies, both are well-regarded within their parties, for the most part.
In the Post-ABC poll, 79% of Republicans and Republican-leaning independents said they'd feel positively if Trump were elected to the White House in 2024, with 72% of Democrats and Democratic-leaners saying the same about the prospect of Biden being reelected. Just 7% on the Republican side said they'd be angry to see Trump return to office, with only 3% on the Democratic side saying they'd be angry to see Biden serve another term, the Post-ABC survey found.
And in a January CNN poll, 29% of Republican adults said they viewed Trump unfavorably, compared with the 14% of Democrats who expressed an unfavorable view of Biden.
With nearly a year to go before any votes are cast, the 2024 primary landscape remains liable to change, as new candidates enter the race and voters learn more about them. That's particularly true on the Republican side, where a number of politicians have openly signaled interest in running; Democratic leaders, by contrast, have largely shied away from calls to challenge a Biden reelection campaign.
None of the recent survey findings predict how the presidential primary landscape will develop in the months to come, or how public opinion might evolve in response. But taken together, they help to paint a fuller picture of where things stand now.
Both Trump and Biden remain generally well-liked by their respective parties, even as Democrats and Republicans also express a shared eagerness to find alternatives. And so far, Trump, unlike Biden, has seen at least one real potential challenger emerge.
Source
mypresscity