Politics
Ron DeSantis' use of government power to implement agenda worries some conservatives | CNN Politics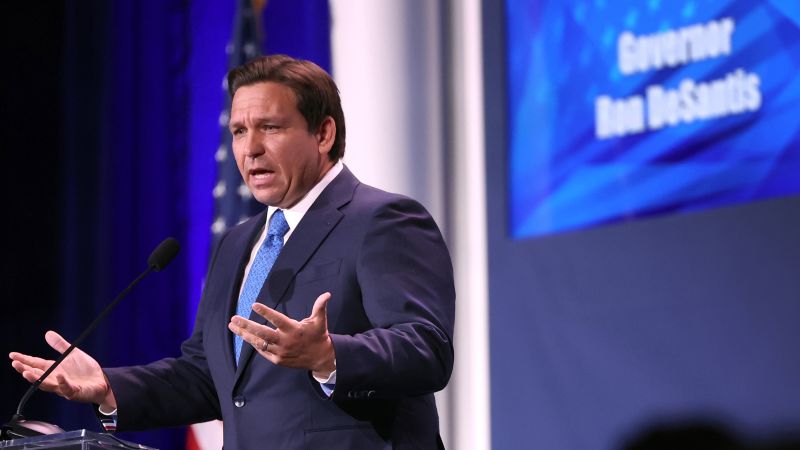 CNN
 — 

Florida Gov. Ron DeSantis has made freedom his calling card, but some conservatives have become skeptical of how liberally the Republican leader is using government power to impose his will.
Among GOP donors, leading conservative voices and even some supporters, there is a growing concern that DeSantis has overstepped in his fight against "wokeness" as he seeks to shore up conservative support ahead of a highly anticipated 2024 campaign for president. Several potential rivals for the GOP nomination have seized on DeSantis' brash approach and top-heavy governing style to draw sharp contrasts with the popular Republican.
As Florida state lawmakers met earlier this month to hand DeSantis new authority over Disney World – punishment for the company's opposition to a measure restricting certain classroom instruction about sexual orientation and gender identity – Republican Gov. Chris Sununu of New Hampshire took a shot at the power grab.
"I'm a principled free-market conservative," said Sununu, who is also weighing a bid for president. "For others out there that think that the government should be penalizing your business because they disagree with you politically, that isn't very conservative."
Even among would-be allies, DeSantis has made critics.
The Foundation for Individual Rights and Expression, a right-of-center First Amendment group that argued for White nationalist Richard Spencer's right to speak on a Florida campus, has joined DeSantis in opposing diversity, equity, and inclusion, or DEI, programs. Nevertheless, the group has repeatedly criticized Florida's heavy-handed approach to forcing conservative beliefs on universities and is suing the state over the Stop WOKE Act, a DeSantis-backed measure that legislated how professors teach certain topics.
College Board releases framework of new AP course denounced by DeSantis
"You cannot censor your way to freedom of expression," said Will Creeley, FIRE's legal director. "You cannot trade one orthodoxy for another. What we've seen recently in Florida is a troubling willingness to do just that."
DeSantis, though, has no shown no signs of halting. In a little over a month since he was sworn in for a second term, DeSantis has settled a score with Disney, threatened to end Advanced Placement classes in Florida, took over a small liberal arts college and vowed to put guardrails on how banks lend money. He has punished political enemies, disrupted institutions, consolidated power and imposed his will on businesses – all in the name of stopping "wokeness."
His political committee did not respond to a request for comment on Sununu's remarks. But DeSantis has defended his approach in the past.
"Corporatism is not the same as free enterprise, and I think too many Republicans have viewed limited government to basically mean whatever is best for corporate America is how we want to do the economy," the Florida governor said at a speech last year at the National Conservatism Conference. "My view is, you know, obviously free enterprise is the best economic system, but that is a means to an end."
While the record DeSantis is building is almost sure to play well with many GOP primary voters, a sense of concern is palpable, particularly on matters of race, among some Republicans who are supportive of the governor.
"Being perceived as racially insensitive is not a good place for him to be in the long term," a Republican supporter of DeSantis said, speaking on the condition of anonymity to talk frankly about an area of rising worry.
The supporter pointed directly to the fight over an Advanced Placement course on African American studies and DeSantis' quarrel with the College Board, saying the governor could alienate some voters who would otherwise be supportive.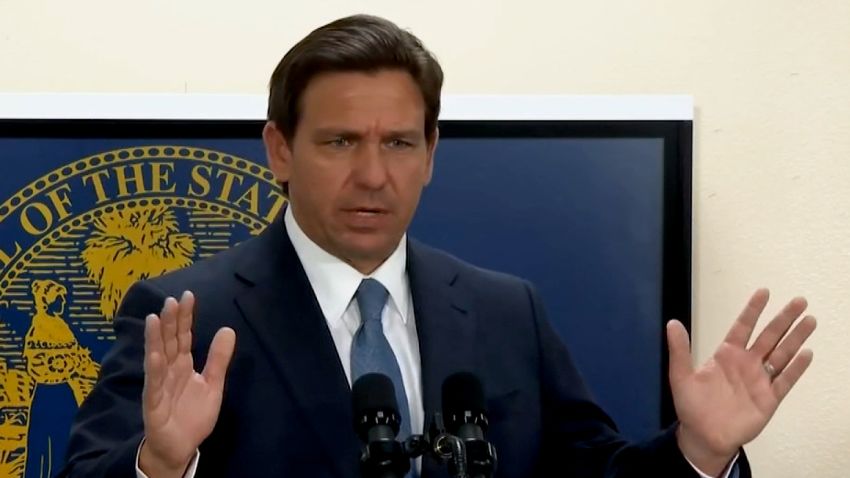 Video: Hear DeSantis defend rejection of AP African American studies course
Another Republican fundraiser close to the governor told CNN that there is concern DeSantis is going overboard with "anti-woke stuff" but added: "You've gotta win the primary first."
DeSantis is so far drawing the most support from Republicans looking to move on from former President Donald Trump, according to recent polls. Some have suggested DeSantis could be Trump without the baggage of his first term, his two campaigns and his post-presidency obsession with the 2020 election. For his part, DeSantis has privately told supporters he believes Trump's divisiveness and addiction to political drama distracted from advancing his agenda. Trump but more effective, is how some around the governor have outlined his path to defeating the former president in a primary.
But Republicans voters have yet to be introduced to many potential contenders for the party nomination. Meanwhile, outside groups such as the Club for Growth and Americans for Prosperity have signaled they intend to get involved in the primary.
Frayda Levin, a member of the Club for Growth's board of directors, said there is great interest in DeSantis but she is increasingly concerned that he has become "too heavy-handed" in his pursuit of hot-button social issues. DeSantis is one of six Republicans invited to a Club for Growth donor summit in Florida as the conservative organization distances itself further from Trump. Former Vice President Mike Pence, former Secretary of State Mike Pompeo, South Carolina Sen. Tim Scott, Virginia Gov. Glenn Youngkin and former South Carolina Gov. Nikki Haley are also invited.
"I'm a genuine libertarian; I'm kind of a live-and-let-live kind of girl," Levin told CNN. She said she has no problem with candidates espousing strongly held personal beliefs on social issues but said she objects to DeSantis "putting the power of his state behind his socially conservative views."
DeSantis' pugilistic style has become a frequent topic of debate among free-market conservatives who believe the government shouldn't interfere with businesses. DeSantis has often intervened if he accuses a business of running afoul of his vision of freedom. He instigated a standoff with the cruise line industry during the pandemic over their vaccine policies, banned businesses from requiring masks and vaccines, and championed a bill that restricted how businesses train workers around topics such as race and gender.
"DeSantis is always talking about he was not demanding that businesses do things, but he was telling the cruise lines what they had to do," former Maryland Gov. Larry Hogan, a fellow Republican, said of DeSantis last year. Hogan has remained critical of the Florida governor as he weighs entering the mix for the Republican nomination.
Meanwhile, South Dakota Gov. Kristi Noem, another potential GOP contender, has also compared her Covid19 record against DeSantis in ways that suggest Florida was too hands-on – for ideologically disparate reasons. Noem said Friday it was her state, not Florida, that "set an example of freedom" by refusing to shut down at all. Florida, which DeSantis has called a Citadel of Freedom, closed schools, bars and theme parks and restricted other economic activity early in the pandemic.
DeSantis has built his political persona around protecting freedoms. He dubbed his 2022 spending plan the "Freedom First Budget" and rebranded this year's financial blueprint as the "Framework for Freedom." He pitched the tourism slogan "Vacation to Freedom" during the pandemic and "Freedom over Faucism" is a frequent applause line in his speeches. On election night last fall, he stood victorious behind a podium adorned with a sign: "Freedom Lives Here."
But his approach has often included more government programs (creating an office to pursue voter fraud and a new program to conduct missions to surveil, house and transport migrants from border states to Democratic jurisdictions), more regulation (dictating bank lending practices) or flexing government power in unprecedented manners (ousting an elected state prosecutor).
"I'm troubled by this trend, because what I think the interpretation will be is that this is working," Katherine Mangu-Ward, the editor-in-chief of the libertarian magazine Reason, said in a recent podcast episode centered around DeSantis' tactics. "DeSantis is raising his profile every single week. He is putting himself in a better position to potentially win the presidency. And he is doing it through indiscriminate use of state power, not only to achieve kind of broader ends, but also just to score points."
"That is not a good way to run a state. That is not a good way to run a country," she added.
DeSantis' allies have pushed back against the growing chatter. Christopher Rufo, a senior fellow at the Manhattan Institute, contended on Twitter recently that the governor was using his power as an elected leader – a job he was reelected to with a historical 19-point victory in November.
DeSantis last month appointed Rufo to the board of New College, a small liberal arts school that the governor has targeted for a drastic overhaul to become a more conservative university.
"The complaint about using 'state power,' meaning constitutionally-mandated democratic governance, to correct the ideological corruption of *public universities,* i.e., state institutions funded by taxpayers, is ridiculous," Rufo tweeted. "Amounts to 'the people can't regulate the state.'"
And even where there is apprehension among allies, DeSantis has not necessarily lost support. Ken Griffin, the billionaire hedge fund owner of Citadel and a major DeSantis donor, said he was "troubled" last year by the governor's move against Disney.
"I don't appreciate Gov. DeSantis going after Disney's tax status," Griffin said at the time. "It can be portrayed or feel or look like retaliation. And I believe that the people who serve our nation need to rise above these moments in time in their conduct and behavior."
But later in 2022, Griffin touted DeSantis' "tremendous record" in an interview with Politico and suggested he would back the Florida governor in the GOP primary for president.
"Would I support him? The bigger question is, is he going to run?" Griffin said. "That bridge has to be crossed."
CORRECTION: This story has been updated to reflect the Foundation for Individual Rights and Expression's new name.