Politics
Top House Republicans call on Biden to increase military support for Ukraine | CNN Politics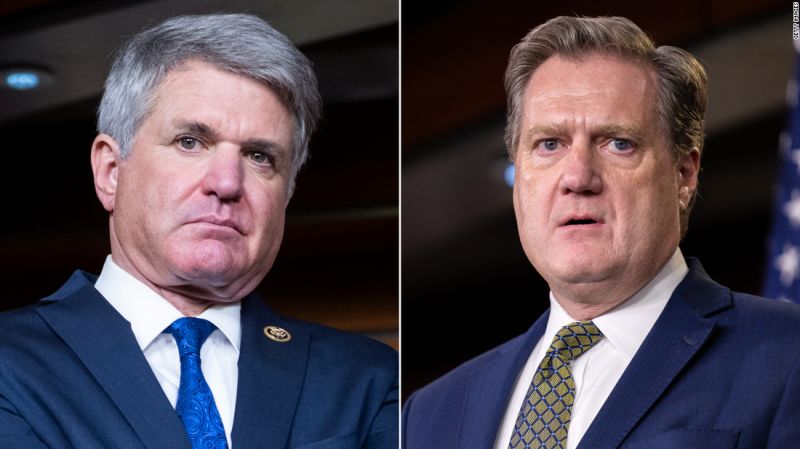 Washington
CNN
 — 

Two leading House Republicans have called on President Joe Biden to increase military support to Ukraine in its defense against Russia's invasion and reiterated support on both sides of the aisle for continuing to fund the Ukrainian war effort.
Texas Rep. Mike McCaul, the chairman of the House Foreign Affairs Committee, told CNN's Pamela Brown on "State of the Union" in a joint interview with House Intelligence Chairman Mike Turner that aired Sunday that bipartisan support for Ukraine is "still very strong."
But as the one-year anniversary of the war approaches, McCaul warned that hedging support for Ukraine could prolong the conflict, which could play into Russia's advantages and allow anti-Ukraine dissent to build.
"The longer (Biden administration officials) drag this out, they play into (Russian leader Vladimir) Putin's hands. He wants this to be a long, protracted war because he knows that potentially, he will lose – we could lose the will of the American people and therefore the Congress," the Texas Republican told CNN, speaking from the Munich Security Conference in Germany.
The US and its allies have already sent nearly $50 billion in aid and equipment to Ukraine's military over the past year. To keep that up, and to rebuild its own stockpiles, the Pentagon is racing to re-arm, embarking on the biggest increase in ammunition production in decades and putting portions of the US defense industry on a war-footing despite America technically not being at war.
Asked by Brown if he believes the US is considering sending F-16 fighter jets to Ukraine, McCaul replied, "I hope so," and reiterated his concern over a drawn-out conflict between Russia and Ukraine while noting, "I think the momentum is building for this to happen."
"The fact is, the longer they wait, the longer this conflict will prevail," McCaul said.
US Sen. Lindsey Graham echoed that message, telling ABC in an interview that aired Sunday that US lawmakers attending the Munich Security Conference were in "virtually unanimous belief" that the US should begin training Ukrainian pilots on F-16 fighter jets.
"I believe a decision will be imminent when we get back to Washington, that the administration will start training Ukrainian pilots on the F-16. They need the weapons system," Graham said.
Asked by CNN whether the Biden administration has ruled out sending F-16s to Ukraine, Linda Thomas-Greenfield, the US ambassador to the United Nations, said officials were "working very closely and directly with the Ukrainians on identifying what their needs are and when they need them."
"We're also working to ensure that they have the training and the capacity to use whatever weapon systems we provide for them. So, this discussion is continuing," she said in a separate interview on "State of the Union."
Turner, an Ohio Republican, defended congressional support for Ukraine despite several of his fellow House GOP colleagues co-signing a "Ukraine Fatigue" resolution calling for the US to end military and financial aid to the country. House Speaker Kevin McCarthy told CNN last week he opposes the resolution.
Turner equated the resolution to a letter more than two dozen progressive House Democrats sent the White House last fall, asking it to pursue diplomacy between Russia and Ukraine. The letter was retracted shortly after.
"You have a handful on both sides, both sides, Pamela, who have been cautious or who have said that they don't support, or they want support to come to an end," he said from Munich. "There are 435 members of Congress. There are probably 400 that are for continuing this direction and this path."
McCaul also told CNN that the suspected Chinese surveillance balloon that flew over US airspace before being shot down off the coast of South Carolina earlier this month contained parts manufactured in the United States and urged the US to restrict the flow of weapons technology to China.
"This balloon, by the way, had a lot of American parts in it. We know that the hypersonic missile that went around the world with precision was built on the backbone of American technology," McCaul said, referring to Beijing's test of a nuclear-capable hypersonic missile in 2021.
"They steal a lot of this from us. But we don't have to sell them the very technology they can put in their advanced weapons systems to then turn against either Taiwan in the Pacific or eventually, possibly the United States of America. I think there's great bipartisanship on this issue," he added.
Turner and McCaul also said they want to see Biden take a more serious position toward China following the a balloon incident.
McCaul said that the tension between the two countries "is very high right now" and that both Democrats and Republicans are aligned in wanting to confront Chinese threats.
"I think we have a unique opportunity to be bipartisan on this issue of national security against one of the greatest threats to this country, and the world, for that matter," McCaul said.
Turner, meanwhile, said there is an opportunity for the Biden administration to "get back to a normal dialogue with China."
"No one, of course, wants a cold war, but that isn't the issue. What we want is a China that is not going to be an aggressor state, that's not going to be building up its military and threatening the United States, and certainly not making the negative comments that it's making instead of just openly apologizing for sending a spy balloon over our most sensitive military sites," Turner said.
Adding to the tension between Washington and Beijing, the US has recently begun seeing "disturbing" trendlines in China's support for Russia's military, and there are signs that Beijing wants to "creep up to the line" of providing lethal military aid to Russia without getting caught, US officials familiar with the intelligence told CNN.
The officials would not describe in detail what intelligence the US has seen suggesting a recent shift in China's posture, but said US officials have been concerned enough that they have shared the intelligence with allies and partners at the Munich Security Conference over the last several days.
"The most catastrophic thing that could happen to US-China relationship, in my opinion, is for China to give lethal weapons to (Russian leader Vladimir) Putin and his crime against humanity," Graham told ABC.
"If you jump on the Putin train now, you're dumber than dirt. It would be like buying a ticket on the Titanic after you saw the movie. Don't do this," he said.
This story has been updated with additional information.
Source
mypresscity