Politics
Biden's trip to Kyiv delivers the starkest rebuke possible to Putin | CNN Politics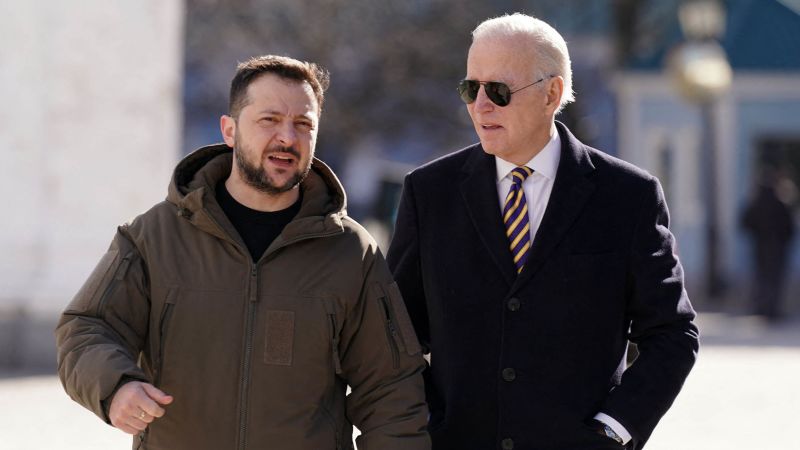 CNN
 — 

There is no more powerful symbol of Vladimir Putin's failure.
A year ago, the Russian leader launched a blitzkrieg against Ukraine, mocking its history and sovereignty, sending his tanks churning toward Kyiv to obliterate the democratically elected government led by a former comic actor. His purpose was clear: To crush once and for all Ukraine's dreams of joining the West and to force it to return to the orbit of greater Russia.
Back then, anyone predicting how the anniversary of the war would be marked might have mused about a Russian military parade and a visit by Putin himself to a puppet leader he installed in a nation again under Moscow's iron fist.
The reality is far different following heroic Ukrainian resistance bolstered by weapons sent by NATO members.
The president of the United States, in overcoat and shades, strolled through Kyiv in daylight, visiting a historic church as air raid sirens wailed and standing exposed alongside President Volodymyr Zelensky in the city's vast, open and iconic St. Michael's Square.
His presence sent a message of defiance to Putin most directly and a cherished sign of resolve and empathy for the people of Ukraine. His audience also included European powers in a western alliance that Biden has led and invigorated like no president since the end of the Cold War. And every time a commander-in-chief makes such an audacious splash on the world stage he's also making a point to Americans – on whose support continuing extraordinary support for Ukraine's war effort depends – and to his own fervent domestic critics.
Biden deliberately contrasted the sense of then and now that his visit, just before the anniversary of Russia's invasion, conjured.
"That dark night one year ago, the world was literally at the time bracing for the fall of Kyiv," Biden told Zelensky at a news conference flanked by the Stars and Stripes and Ukraine's distinctive blue and yellow national flag. The event itself carried its own symbolism – it did not feature two leaders cowering in a bunker, but went ahead in an ornate room like any other leaders' press conference in any other capital.
"One year later, Kyiv stands. And Ukraine stands. Democracy stands," he declared. "The Americans stand with you and the world stands with you."
Biden's words might have lacked the poetry of "Ich bin ein Berliner," or "Mr. Gorbachev, tear down this wall." But Biden's visit instantly went down in history alongside two defining trips to divided Berlin by Presidents John Kennedy and Ronald Reagan that were flashpoints of the Cold War and each of which sent their own image of US resolve to the Kremlin.
Those events made clear that the United States stood with its Western allies for as long as it took to prevail over the Soviet Union. Biden's visit was meant to give similar historic heft to his comment Washington is there for "as long as it takes" — though it's unlikely that it will assuage fears in Kyiv and Europe that a change in president might weaken that US vow.
In photos: President Biden visits Ukraine and Poland
Biden's secret visit, which involved the president leaving the US unannounced and heading to an active war zone, matched some of the colorful stagecraft that Zelensky – a master of public relations – has used to maintain Western support for his people and the multi-billion-dollar pipeline of weapons and aid.
During America's Middle East wars of the last 20 years, Americans became accustomed to Presidents George W. Bush, Barack Obama and Donald Trump leaving Washington in the dead of night and popping up in Baghdad or Kabul to visit US troops and US-backed leaders. And while those trips had their own measure of daring and danger, Biden's visit went a step further – venturing into a foreign capital that is often under air attack and lacks the security offered by large garrisons of American troops and air assets. The US did inform Russia of the plans to visit for "deconfliction purposes," according to Biden's national security adviser Jake Sullivan.
Biden had always planned to visit Europe this week to mark the anniversary of the Russian invasion — though his public program mentioned only a trip to neighboring Poland. But a journey across the Atlantic that lacked a Ukrainian component would have been unsatisfactory given that fact that many European leaders have already visited Kyiv. Still, the security footprint of the US president is far greater than the one accompanying those leaders, and his position as the leader of the West leaves him far more exposed.
But by not visiting Ukraine, Biden would have been implicitly admitting that there were some things that Putin could prevent him from doing – in effect showing US weakness.
Ukrainians understood the intent better than anyone.
"The tipping point in this war will not be when we receive another set of weapons but when our alliance will stop playing reactive roles to what Putin will do," Kira Rudik, a member of the Ukrainian parliament, told "CNN This Morning."
"President Biden has claimed the upper hand … and tomorrow Putin will have to reply to what happened today," Rudik said, referring to a speech in which Putin is expected to rally the Russian people on Tuesday.
Political symbolism is only effective if it gets results, drives policy and changes an entrenched situation.
So, like the Berlin visits of Kennedy and Reagan, the true historic sweep of Biden's perilous journey to Ukraine can only be judged in the light of subsequent events. In other words, his gesture will be an empty one if Russia – which appears to be mustering for a spring offensive – wins the war.
And while the pictures of Biden in Kyiv were remarkable, they cannot disguise real questions and uncertainties surrounding the US approach to the war and differences with the Ukrainians. This plays out both in the types of weapons the US is prepared to offer and potentially in divergent scenarios about how the war could end. The phrase "as long as it takes" can mean different things to different people and there is every sign that this war, which Putin cannot afford to lose, could grind on for many bloody more years, testing Western resolve.
The personal nature of the president's rebuke to Putin is meanwhile likely to trigger a response from a ruthless leader who has shown no mercy to civilians and a cruel indifference to the value of human life – Russian as well as Ukrainian. One potential way Biden's visit could backfire is that it could bolster Putin's claim that he is really fighting a war against the West rather than an independent sovereign nation – a framing that is popular among some Russians and is one Biden has tried to avoid.
The president's visit only served to expose growing opposition to the war among conservative Republicans at home – which, if not yet near the levels that could force him to desert Ukraine, is sufficient to raise concerns about the size of future aid packages and what a new president after 2024 – Trump or a GOP leader who shares his "America First" tendencies – could mean for Ukraine.
The most glaring difference between Biden and Zelensky lies in the kind of weapons the US president is willing to provide. The government in Kyiv is ratcheting up its campaign for the West to send F-16 jets and is now getting increasing buy-in from some influential bipartisan members of Congress.
Biden has so far declined to agree to the request, which gets to the heart of a dilemma that defines his war strategy: How far to go to help Kyiv win while avoiding a direct clash between the West and Russia.
Texas Rep. Mike McCaul, the chair of the House Foreign Affairs Committee, complained on CNN's "State of the Union" Sunday that Washington had taken too long to send game-changing weapons to Ukraine in the past and should not make the same mistake with warplanes. Asked if the Biden administration was now considering the dispatch of F-16 fighter planes, the Texas Republican replied: "I hope so," and added, "I think the momentum is building for this to happen."
Sending US-made jets to Ukraine could be even more sensitive than the dispatch of the tanks to which the president just agreed.
This is because they would enhance Ukraine's capacity to potentially strike at Russian jets and air defense systems inside Russia. The use of NATO aircraft in such operations – even with Ukrainian pilots – could prompt the Kremlin to conclude the alliance has directly intervened in the war, increasing the risk of a disastrous escalation of the conflict Biden has tried to avoid.
But retired US Brig. Gen. Steve Anderson told CNN's Poppy Harlow Monday that Biden's visit came at another turning point in the war.
"This is a great show of leadership by President Biden. Good leaders always go to the sound of the guns." But, Anderson added: "The United States needs to make a decision. Are we in it to ensure the Ukrainians simply not lose? Or are we in it so they can actually win?"
Less importantly globally but still significantly, Biden's trip to Ukraine had domestic political implications.
A grueling and dangerous journey that required energy and endurance felt like a jab at critics who question whether Biden should be contemplating a reelection race at the age of 80.
And like Biden's State of the Union address earlier this month, his stagecraft infuriated the most extreme wing of the Republican Party, which Biden has said is a danger to US democracy and values. Georgia Rep. Marjorie Taylor Greene, for instance, quickly slammed Biden for journeying to Ukraine and other GOP figures accused him of caring more for Kyiv's borders than those in the US.
"This is incredibly insulting. Today on our President's Day, Joe Biden, the President of the United States chose Ukraine over America, while forcing the American people to pay for Ukraine's government and war. I can not express how much Americans hate Joe Biden," Greene said in a tweet.
There are many Americans on the right who agree that Biden has not done enough to secure the southern border and the issue will be at the center of the 2024 election. But Greene's comment did not just exemplify the deterioration in civility in US politics. It was revealing from a pro-Trump Republican who has been supportive of the insurrectionists who tried to destroy American democracy on January 6, 2021.
There may be nothing more presidential than standing for the foundational US values of freedom and democracy and the right of a people to repel tyranny enforced at the point of the gun from a more powerful foreign oppressor whose fight for independence mirrors America's own.
Source
mypresscity