Sports
BoilerUpload – Lessons From a Loss – Purdue Gets A 2nd Chance at IU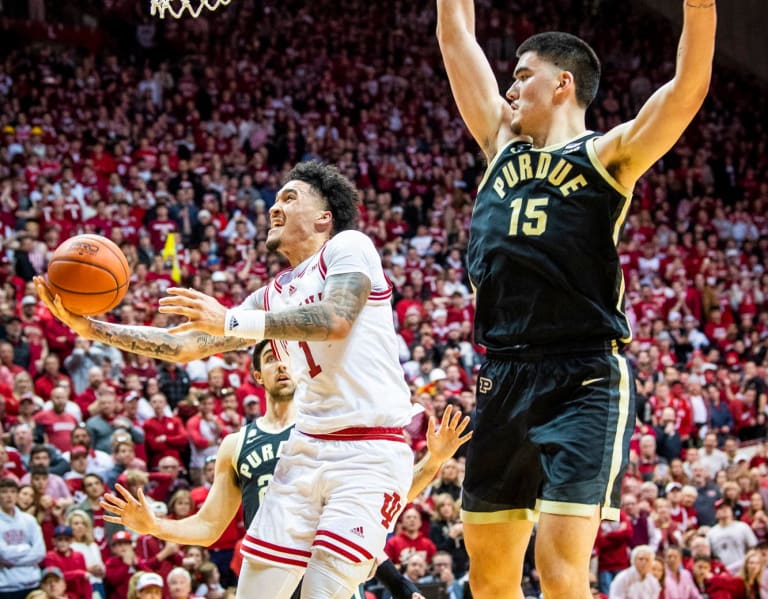 For the first 23 games of the season, Matt Painter had to deal with the problem all coaches want – handling success.
Purdue was 22-1 and besides the lone Rutgers loss, Purdue was able to learn through winning. Tough games at Nebraska put a spot light on Purdue's poor shooting. But they were getting good shots. The lesson was confidence and staying the course. They survived a bad first half and too many turnovers at Ohio State after that Rutgers game. Some timely three-point shooting actually saved the game. But then Maryland came into Mackey and almost won there, dominating the second half, and again forcing Purdue into too many turnovers.
The lesson was to value the ball.
Then Purdue went into Assembly Hall.
Rivalries are the best part of college sports. They matter. They bring out the best and worst of fan bases, and often times, teams. In Bloomington, it brought out the worst in Purdue for the first 20 minutes.
There was the turnovers, 16 in total, and the first half ended with a perfect anecdote for Purdue's four games stretch where they lost at IU, lost at Northwestern, and then got blown out at Maryland.
At one end, Trey Kaufman-Renn looked like he had a dunk. Purdue's back up big man went up with one hand and out of nowhere, Trayce Jackson-Davis blocked another Purdue shot. But Purdue would force a miss by Davis on a reverse lay up on the other end with about ten seconds remaining and they got the rebound and passed to David Jenkins Jr. to set up the last possession.
But instead, as he held the ball briefly, IU knocked the ball out of his hand and Kaleb Banks ended up with the ball on the baseline, took two steps, reversed, traveling in the process, and got a lay up to go up 15 at halftime.
Purdue would turn the ball over 17 times in their next game against Iowa. Falling victim to the press in the second half again, but still winning by double-digits. But away from Mackey Arena, Purdue was no longer learning lessons through wins. The lessons came in losing lessons.
16 turnovers at Northwestern helped the Wildcats come from behind in that last few minutes.
Purdue corrected those turnover issues on the road against Maryland but uncharacteristically got out rebounded by a Terrapins team that gave Purdue it's first convincing loss of the season.
Ahead of Purdue's hosting of IU, Purdue will get their first chance to prove what they've learned from a loss. IU is the first and only team to have beat them this season that they are going to play again in the regular season.
I rewatched the first matchup, and here's what stood out for Purdue to improve upon in the second game.
Trayce Jackson-Davis, Shot Blocker
Trayce Jackson-Davis's shot blocking is an elite skill. There's just not bigs in college basketball that can move horizontally and vertically the way he can. The TKR block is a perfect example of that, but it was all the ball handlers for Purdue that had to contend with Jackson-Davis's ability to appear out of nowhere to swat the ball away. Every lay up is difficult if TJD is on the floor.
Braden Smith and Fletcher Loyer in particular, do not have the athleticism vertically or size to get over TJD, but they have both shown themselves crafty and capable of creating for others. Painter has preached to his young guards, Smith in particular, to play off two feet. This will be particular effective against someone like Jackson-Davis who wants to chase down every block.
Smith and Loyer need to stay aggressive, but patience in the paint, getting to a threatening position where they can shoot or pass, forcing Jackson-Davis to commit to them and then finding Zach Edey to finish for them is likely to be a better play than a difficult and contested finish at the rim.
Smith's ability to get in the air and make plays is one of the most exciting parts about his game, but it gives and takes.
It gave Purdue an open Brandon Newman three in the second half that sandwiched between two David Jenkins Jr. threes that cut the deficit to just 4 points. It also created an open three from the corner by Mason Gillis to tie the game late.
But down three in what would be Purdue's final possession of note, Smith got caught hanging in the air with only one place to go. He held onto the pass for a second too long and where Gillis had been open the play before, IU had him covered this time.
The turnover ended Purdue's rally.
"I think at the end of the day, that one turnover cost us. Felt like we had it there to win it and the one time we needed to win, I turned it over. So I've got to be better on my part," Braden Smith said after the game.
Edey quickly grabbed the microphone after his point guard's answer and made it clear the turnovers were a team issue. With an elite defender like Jackson-Davis, Purdue's aggressiveness will need to be deployed more carefully to not fuel IU's transition offense.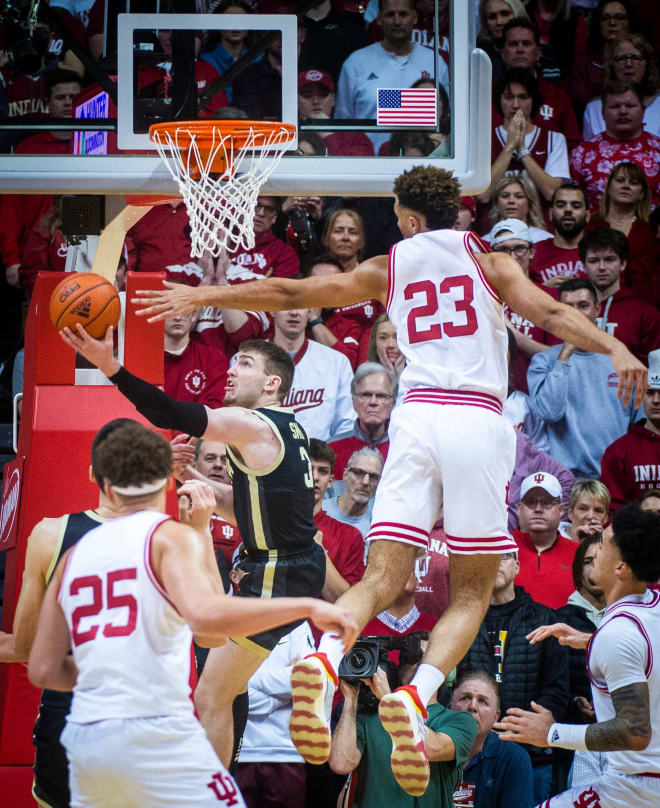 Braden Smith, the Shooter
Braden Smith has quietly been Purdue's best three-pointer shooter. The true freshman, relying mostly on three-point shots he's created for himself, has taken 77 three-pointers and made 41% of them.
He's been even better from three against Tier A opponents according to KenPom. He's made 45% of his three-point attempts against the best competition Purdue has faced. He's shooting 40% in Big Ten play.
Smith is an electric athlete, quick burst and pace beyond his years allows him to operate Purdue's safety blanket of offense – high pick and rolls with Zach Edey. It's been a revelation at times for this Purdue team. Smith is a dynamic driver with the basketball with incredible court vision.
But he's also small and got caught under the hoop a few times against IU with nowhere to go. Against IU, Smith was almost exclusively a driver of the basketball despite IU going under on pick and rolls. Smith struggled to score against IU, making just 1 of his 7 two-point attempts and only taking one three-pointer.
It was one of the rare times this year that Smith's offense didn't travel with him on the road. He's been better on the road in sheer production and efficiency. He's averaging 11.7 points a game compared to 8.7 at home. His three point percentage is 44% compared to 39% from three at Mackey Arena.
But against IU, Smith looked to drive and drive and drive. He had to attempt tough lay ups around Trayce Jackson-Davis at the rim when he did get past Jalen Hood-Schifino.
Matt Painter has implored one thing consistently to his freshman point guard – shoot the basketball. He wants him to take those in rhythm threes. Purdue needs Smith to be Purdue's second option especially against a defense willing to give him space.
Purdue has not lost a game where Smith has made three or more three-pointers.
Stay Out of Foul Trouble
Part of Purdue issue in the first half was Ethan Morton catching his second foul less than four minutes into the game.
Purdue's defense is a carefully constructed thing. They want to keep players out of the paint and run people off the three-point line. They've been one of the best teams at forcing teams into difficult, inefficient long two-point shots.
That plan goes a little haywire when their best perimeter defender, Ethan Morton, goes to the bench early. Morton's showed himself as one of the most versatile defenders in the Big Ten, capable of guarding everyone from Tyson Walker to Kris Murray. He missed large portions of that first half with Brandon Newman filling in and getting his first foul on his first possession in the game.
Newman has been good on defense, but Morton's feel on offense and size and attention to defense has settled Purdue on both sides of the ball all season. It makes it near impossible to sit Braden Smith or result in lineups that lack real play making as Painter had to go to five minutes into the first half with David Jenkins Jr, Fletcher Loyer, Brandon Newman, Mason Gillis, and Brandon Newman sharing the court at the same time and struggling to get good looks on offense.
Purdue needs to be able to stick to their rotation against IU this time and allow their bench to build off the success they had against Ohio State.
Source
mypresscity