Sports
Orangebloods – Texas blasts Iowa State, 72-54, to reclaim share of first place in Big XII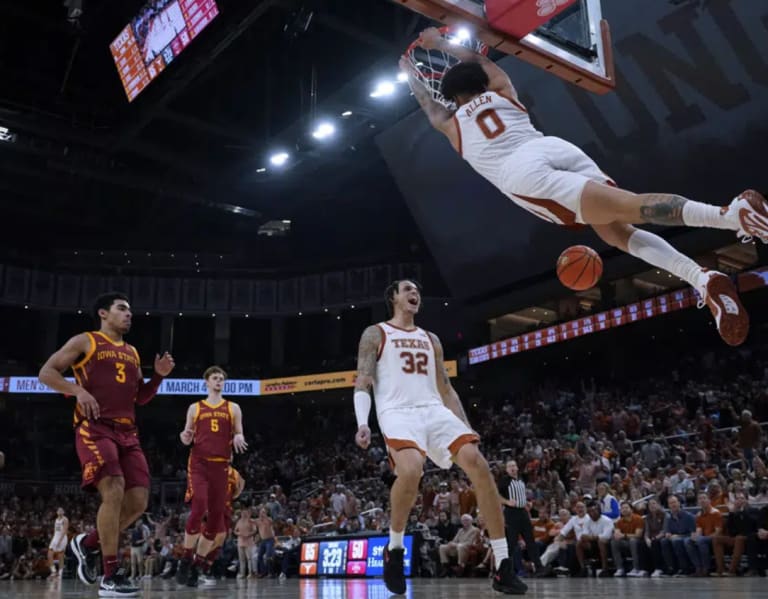 Sponsorship. 
Seth Fowler graduated from Texas in 1998. Since 2004, he has been helping home buyers and sellers in the DFW Metroplex. Whether new construction, existing homes, investment property, or land, he is your Real Estate Sherpa – guiding you through the process, making it an enjoyable experience. Based in Tarrant County, however, he will help connect you with a quality Realtor anywhere in Texas, the United States, or in the world. When looking to purchase or sell real estate in this new market, call Seth at 817.980.6636.
First Half. 
The first half went back and forth for a while, until Texas kicked itself into gear and went on a 15-0 run, putting them up 10, where they never looked back. No really, the entire rest of the game, Texas kicked ass and took names, exploding for 47 points in the first against one of the best defenses in the country (seventh on KenPom defensive efficiency, first in points per game allowed).
On offense, Tyrese Hunter had easily his best half in a long time, scoring 12 points on 50% from the field and 2/4 from three. He led all scorers in points in the first half, playing loosely and unlike how he's been playing recently, where he seemed to hesitate more often. He still needs to rely on his handle and attack the basket more, but the three-point shooting is definitely encouraging.
Carr added 11 and Rice added 10, meaning their three guards combined for 33 points tonight in one half. That's really impressive against this ISU defense, whose prowess I've previously mentioned – generally, their opponents shoot 32.1% (good for third in conference); in the first half today, Texas hit nine of 16 from deep. For my math brains out there, 56.3% is pretty good, right?
Overall they were frankly dominant this entire half and didn't let the Cyclones have an inch of breathing room. They took a 47-29 lead into the locker room, with the Moody Center crowd absolutely losing its mind.
Second Half. 
As dismissive as it sounds, nothing really happened to affect the outcome of the game in the second half. The Longhorns played well on the defensive end, but kept it on cruise control, tying the Cyclones with just 25 second-half points.
It was not pretty offensively. However, they never let Iowa State get back into the game at any real level. Their defense was stifling, keeping the Cyclones off balance the entire game. They shot a pretty lousy 38.5% total from the field, including 3/12 from beyond the arc in this half, and 2/5 from the free-throw line.
Really, the most notable thing about the second half was Brock Cunningham's eight points on three FG attempts (1/1 from deep, 1/1 from the line). Cunningham was the leading scorer overall in the second half, as no player on Iowa State scored more than five. The Longhorns kept it cool, as the closest ISU got to Texas in this period was 14 points. It was a real dominant performance against a good team from a Longhorns squad that seems unshakeable.
Highlight of the Game. 
The play below by SirJabari Rice has to be the play of the game for either team. Watch the Rice Man put up his patented Bari Pump Fake(TM) before the crossover Euro-step and lay-in. Somebody call Rob Thomas featuring Carlos Santana, because Bari's game is beyond silky smooth. He has excellent body control, which is on display here.
Player of the Game. 
Tyrese Hunter, though he didn't do much in the second half, was a major spark to getting this lead as big as it was as early as it was. Hunter was spectacular in the first half, as I mentioned earlier: 12 points on 4/8 from the field. He was feeling it from deep: 2/4 on threes in the first half, and 1/1 in the second. He looked so much more confident and natural playing in this game, whether it was from his enacting revenge on his old school or just playing up to his speed once again. He just continued to make winning plays that impacted the game positively for the burnt orange.
This is the type of Tyrese Hunter that Texas is going to need for the next three games in the worst way. If someone thinks they're strolling on into Waco for a date with Baylor and walking away with an easy dub, they are sorely mistaken. Baylor is one of the best teams in the country and also one that has experience as well as young talent, much like Texas does. If the Longhorns want to win arguably the toughest game on their schedule, they're going to need Big Baller Tyrese(TM) instead of the guy that has sort of underperformed in the last couple of months.
Offensive Rebounding. 
Out of nowhere today, Texas out-rebounded Iowa State on the offensive glass, 14-9, in one of their best performances to date in this category. ISU is third in the conference in offensive rebounding, averaging about 9.1 per game, a mark that ISU hit, but that Texas surpassed. It was a hugely convincing performance at this aspect, one which has really been Texas' biggest achilles heel on this team (since their three-point percentage has increased).
They were just so much more physical than Iowa State was. Had you watched the previous game between these two, you'd have though the exact opposite: The 'Horns were soft in that road loss, and clearly had revenge on their minds coming into tonight. Otherwise, I don't know that they would have come into this game and absolutely throttled an opponent that at one point was thought to have legitimate Sweet 16 upside, though they have been really struggling down the stretch.
Three-Point Shooting. 
The Longhorns shot absolutely lights out in this one, hitting 12 of 28 on the night. The backbreaking nature of many of these threes helped Texas to build a major lead that Iowa State never felt able to come back from. It was truly a clinic in many different aspects for this Texas team, who is getting and staying hot at the right time.
Hunter and Carr each went 3/5, Morris went 2/4, Rice went 3/8, and Cunningham went 1/2. They lit Iowa State up like a Christmas tree, which had to feel great for Tyrese Hunter, especially after all that he was exposed to by ISU fans after leaving the Cyclones to play for the Longhorns. The way the ISU fans have talked on Twitter about Hunter, combined with the very questionably dirty Caleb Grill undercut of Dillon Mitchell in game one of the series makes beating the brakes off of Iowa State in a thoroughly important conference game all the more satisfying.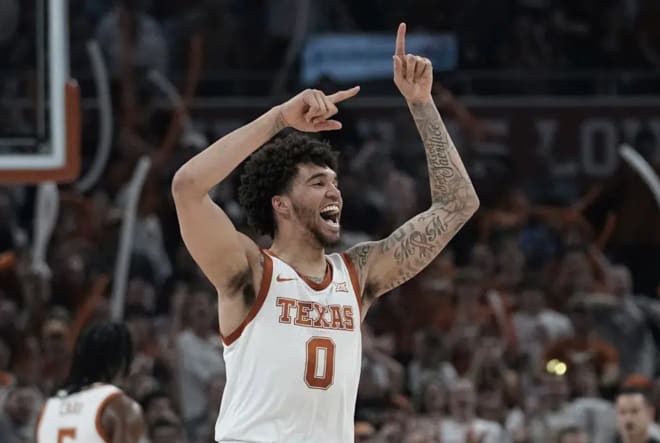 Conference Standings. 
With Baylor's loss to Kansas State tonight, they have eliminated themselves from a conference crown. As it stands now, here are the top teams in the Big XII:
T1. Kansas (11-4)
T1. Texas (11-4)
T3. Kansas State (9-6)
T3. Baylor (9-6)
5. Iowa State (8-7)
Really, the outcomes are:
• Texas and Kansas tie for regular season title
• Texas wins regular season title outright
• Kansas wins regular season title outright
This race could come down to March 4th, Saturday night, Kansas at Texas for the Big 12 Regular Season Title, both teams' last game of the conference season. So if you think that's going to happen, start camping out at the Moody Center for tickets, because that'll be a sellout.
Source
mypresscity