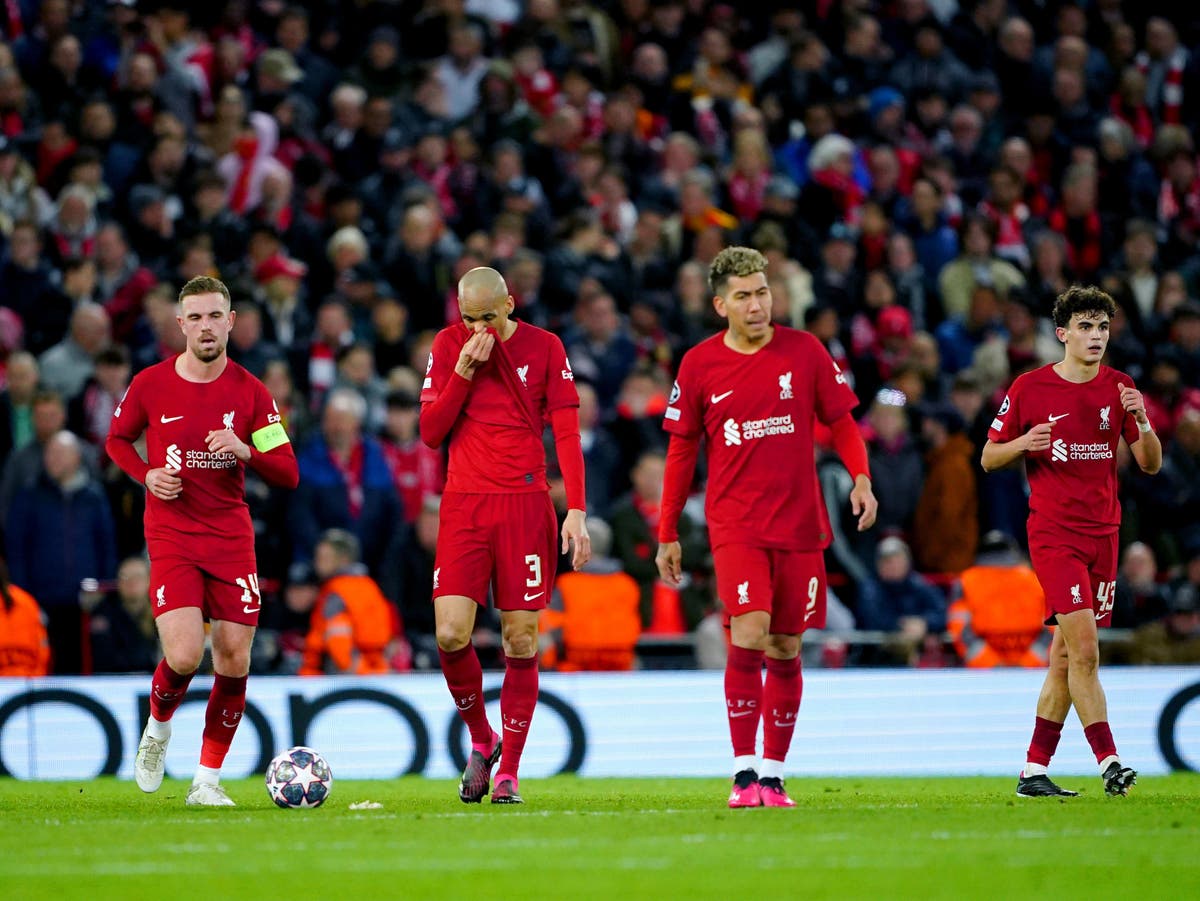 The scenario is doubly familiar, doubly famous. Liverpool's two greatest comebacks in Europe came from three goals down at half-time of sorts: one against a Carlo Ancelotti side, the other against a Spanish superpower. They were three adrift after 45 minutes in the 2005 Champions League final, three behind after 90 in the 2019 semi-final. They overcame Ancelotti's AC Milan in Istanbul on penalties and Lionel Messi's Barcelona at Anfield with a four-goal blitz.
Now for the hat-trick? Not likely. Now they go to the Bernabeu to face Ancelotti's Champions League holders, 5-2 down to Real Madrid already. Liverpool hare succeeded at mission improbable before but this seems mission impossible. Even the 'Jurgener believers' might struggle to believe now. Indeed, even Jurgen Klopp, who has turned positivity into an art form, sounded downbeat. "I think Carlo thinks the tie is over and I think it as well in the moment," he said. Defeat led to defeatism. "Of course" it is a tougher test than Barcelona, because the second leg then was at home.
The mentality monsters, to borrow Klopp's description of his own team, are now Real Madrid, the men in white who are the masters of comebacks. On a night which may have brought down the curtain on an era when Liverpool could overcome anyone in the Champions League, the timeless pair of Luka Modric and Karim Benzema were applauded off by many of the Anfield public. They are 37 and 35 respectively and their pursuit of a sixth Champions League apiece has accelerated.
As Klopp had noted, one or both of these sides tends to make the final. "Where's it next year? Istanbul. Book the hotel," Klopp asked after defeat to Real in May. A few of those bookings may have been cancelled.
It felt as though a continental campaign that started shambolically against one of Europe's best ended in similar style against another. Liverpool used to make statements of intent. Now others do so against them. Napoli were dominant from the start in demolishing them 4-1, Real the side who surged when trailing to inflict Liverpool's first 5-2 home defeat since they hosted West Bromwich Albion in 1951.
In each there was a potent left winger, whether Khvicha Kvaratskhelia or Vinicius Junior, a deadly striker, whether Victor Osimhen or Benzema, and a high-class midfielder, whether Piotr Zielinski or Modric. Yet in each there were familiar failings for Liverpool: a malfunctioning midfield and a porous defence.
"We gave all five goals away," lamented Klopp. It is not a sentence he can have said too often. "The first goal we have to defend better, there are enough players around." Yet Vinicius Junior had enough room between Fabinho and Joe Gomez to shoot. The second, he said, was just "slapstick," Alisson's clearance striking Vinicius and rebounding in. In a way, worse was to follow. "The third goal is a horrible goal and pretty much the game changer." Cody Gakpo allowed Eder Militao to head in Modric's free kick unmarked, a host of static Liverpool players in the six-yard box each seemingly unable to react. All three midfielders were outmanoeuvred and outwitted for the fourth before Benzema's shot deflected in off Gomez. Fabinho lost the ball for the fifth. Stefan Bajcetic was too weak to halt Modric when a man twice his age powered forward.
There are sadly recurring themes. As usual, Trent Alexander-Arnold was troubled by Vinicius. Virgil van Dijk looked fallible. Gomez can be a common denominator in defensive disasters. Removed at half-time in Naples, he came off a few minutes after the fifth goal. He is a centre-back who is liable to be substituted in thrashings: in the 4-0 to Manchester City and the 7-2 to Aston Villa in 2020. He may have a minor injury now but his inconsistency has come to seem inevitable.
His recent revival felt shortlived; so, too, Fabinho's as, in the second half, he reverted to being the player in the worst season of his Liverpool career. Jordan Henderson was terrific in the first half but the midfield ended up being ragged, just as they had been in Naples five months earlier. They were out-passed and outclassed by Modric. And yet it was an indication of the lack of confidence in the alternatives that Klopp waited until the 73rd minute to make a midfield change and then brought on the 37-year-old James Milner. It was an indictment of the unused substitute Naby Keita.
A broader issue seemed another unwanted constant. When Klopp has found a formula, a strategy for revival, it has only succeeded for a couple of games. Liverpool have only won three in a row once all season. After beating Everton and Newcastle, after two consecutive clean sheets, they sieved five.
After a defeat where Klopp might normally launch into rallying cry came instead a more realistic appraisal. There was praise for Liverpool's first-half performance and for a host of Real players. "Five-two could be damaging but I have to make sure that is not happening," Klopp said. His aim, it seemed, is that it does not torpedo Liverpool's chances of qualifying for the Champions League. But this year's campaign is all but over.
Source
mypresscity