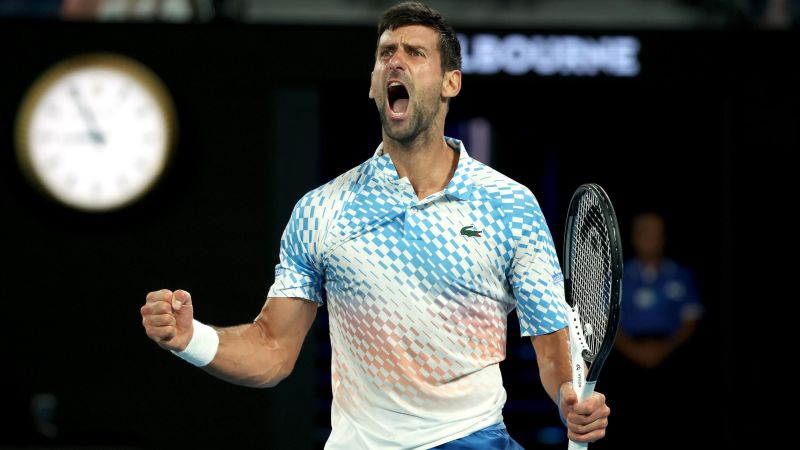 CNN
 — 

Novak Djokovic continued his scintillating form at the Australian Open, brushing aside world No. 6 Andrey Rublev in straight sets to reach the semifinals.
It was yet another near-perfect display of tennis from the 35-year-old, as he continued his seemingly inevitable march towards a record-equaling 22nd grand slam with a 6-1 6-2 6-4 victory in just two hours and three minutes.
Djokovic is now playing arguably the best tennis of his career and has lost just 12 games over his last two matches, extending his winning run at the Australian Open to 26, tying Andre Agassi's record.
The early signs were ominous for Rublev, who looked to still be feeling the effects of his five-set epic against Holger Rune, with the Russian broken in only his third service game.
It was a setback he never looked like recovering from, as Djokovic ran away with the match and took one step closer to winning a record-extending 10th Australian Open title.
"I would rank this win as No. 2 [this year], but very close to the performance of two nights ago," Djokovic said in his on-court interview. "I could not be happier with my tennis. I've been playing very solid from the back of the court, I love playing in these conditions … this court, I've said it before, it's the most special court for me.
"The scoreline in the first two sets doesn't speak to the reality of the match, there were some close games we had. Andrey is a great opponent and great player, I have great respect for him. I knew what the gameplan was, but one thing is to imagine how you want to play and another thing is to execute on court. In the most important moments, I found my best tennis.
"I've tried about any bio feedback machine on this planet in order to get my leg ready, it worked and I'm going to keep going. I miss tennis on my days off, but it's important to be smart and wise with the body in these particular circumstances where it's more important to get ready for the next challenge."
Djokovic will now face American Tommy Paul, playing in his first grand slam semifinal, for a place in Sunday's Australian Open final.
"Obviously, he doesn't have much to lose, first time in the semifinals of a grand slam," Djokovic said. "He's been playing some great tennis in the last 12 to 15 months … so I've got to be ready mentally, not approach it anyway differently to the last couple of matches.
"If I play this way, I think I have a good chance to go through."
A number of commentators had remarked after Rublev's previous win over Rune that the Russian had mentally already conceded defeat to Djokovic.
When asked about the prospect of reaching the first grand slam semifinal of his career, Rublev joked that it would have been nice if the quarterfinal was against any player other than the Serb.
It was a comment made in jest, but coming after a grueling five-setter, likely revealed a genuine dread that most players feel when they know a match against Djokovic is coming up.
Indeed, in the opening stages, Rublev had already started to cut an exasperated figure as Djokovic's early brilliance forced him to fight with everything to try and win each point.
Rublev's resistance was broken in only his second service game and he already looked a beaten man, with Djokovic breaking again soon after and running away to take the first set 6-1.
The second set was a slight improvement, at least, as Rublev held serve twice before being broken, but there seemed to be little he could do to stop the Djokovic onslaught. It always felt it was only a matter of when, not if Rublev would be broken.
Despite so far winning comfortably, Djokovic had become visibly frustrated out on the court and shouted towards his box on a couple of occasions during the second set.
It was unclear exactly what he was annoyed with, but the wind had whipped through the Rod Laver Arena a number of times during rallies, forcing both men to make errors.
Or, perhaps, so accustomed to the near-perfection Djokovic has been throughout this tournament, that just one stray shot was a shock to the system.
"You have to make adjustments and adapt to the conditions," Djokovic said of the wind post-match. "It wasn't as breezy around six o'clock when I was warming up and it started at the beginning of the match.
"When you have a strong wind at your back, the people in the stands or on TV don't see much of a difference, but for players, it makes a huge difference."
The second set proved to be a much sterner test for Djokovic as he twice faced serious pressure on serve – at 3-2 and 5-2 – but held firm on both occasions to take a commanding two-set lead.
Things soon went from bad to worse for Rublev, as he was this time broken in the first game of the third set. If the match didn't feel over before, it certainly did now.
To Rublev's credit, he continued to fight for each point and took the third set longer than the previous two, but it wasn't close to being enough to deny Djokovic a place in his 10th Australian Open semifinal.
Source
mypresscity