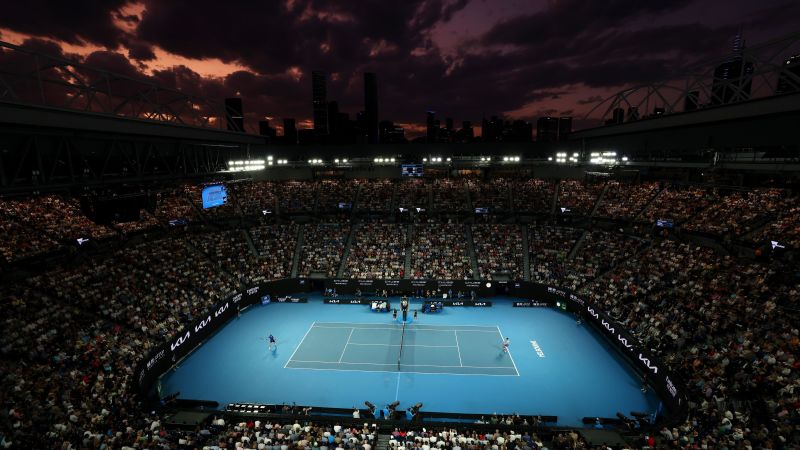 CNN
 — 

Four people who were attending the Australian Open were questioned by Victoria Police after they "revealed inappropriate flags and symbols and threatened security guards," a Tennis Australia spokesperson told CNN on Wednesday.
"Four people in the crowd leaving the stadium revealed inappropriate flags and symbols and threatened security guards," the Tennis Australia spokesperson said. "Victoria Police intervened and are continuing to question them.
"The comfort and safety of everyone is our priority and we work closely with security and authorities."
Victoria Police later told CNN that police spoke to four men after a Russian flag was produced on the steps on the grounds at about 10:20 p.m. local time on Wednesday in Melbourne. All four men were evicted, a police spokesperson told CNN.
Video posted on social media from tennis journalist Tumaini Carayol shows a person holding a flag with Russian president Vladimir Putin's face on it. It's unknown if those shown in the video were any of the four that were evicted.
Photos shot by Getty Images show a man wearing a T-shirt with the letter "Z" on it while he was at Rod Laver Arena during Wednesday's men's singles quarterfinal match between Russian Andrey Rublev and Novak Djokovic of Serbia.
Tennis Australia did not say if the man in the photos is one of the four people questioned by police, and a police spokesperson told CNN she hasn't seen images of the men involved. It was unclear when the man was first seen wearing the shirt. In another photo, the same man is seen wearing a different shirt.
The"Z" symbol is viewed as a sign of support for Russia, including its invasion of Ukraine. The symbol has been seen on Russian equipment and clothing in Ukraine.
Tennis Australia previously said that fans would not be allowed to bring the Russian or Belarusian flag to the site of the Australian Open to enforce its "neutral flag" policy.