Politics
House GOP looks for plan B after struggling to pass border security bill | CNN Politics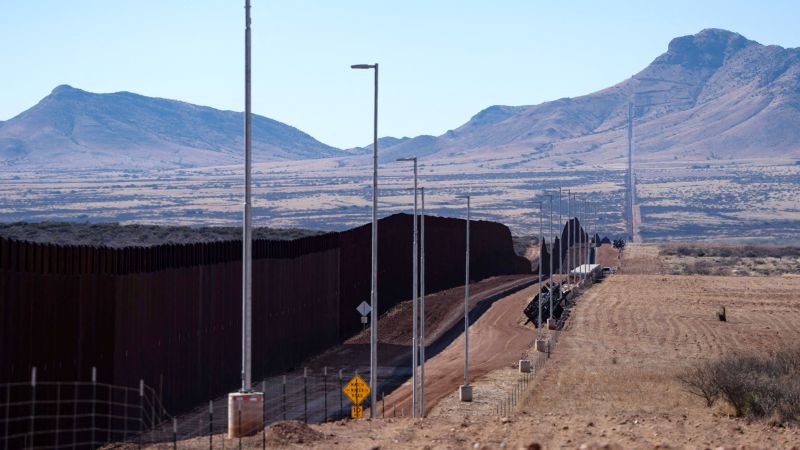 CNN
 — 

House Republicans had hoped to pass a narrow border security bill within the first two weeks of their new majority, notching an easy win and delivering on a key campaign promise in the process.
But a three-page bill from conservative Texas Rep. Chip Roy has run into fierce opposition from moderates, forcing GOP leaders back to the drawing board and exposing deep divisions in the party along the way.
The party's struggles to pass a messaging bill that's dead on arrival in the Democratic-controlled Senate — and on an issue that uniformly excites the GOP's base, no less — underscores the challenges of governing in a razor-thin majority, and dashes whatever hopes there were for a bipartisan package to address border security and reform the nation's broken immigration system.
For his part, Speaker Kevin McCarthy has defended the House GOP's inaction on border security thus far, arguing it's still early in their new majority and reiterating that Republicans are committed to addressing the issue. The California Republican made his first trip to the southern border last week as speaker, while Republicans on the House Judiciary Committee are slated to hold a field hearing Thursday afternoon in Yuma, Arizona, on what they describe as "the Biden border crisis."
"Committees have just now been constituted, not all of them have even been constituted. So I don't think it's really an opportunity to say you haven't acted," McCarthy said during a news conference in the Tucson Sector, near a stretch of border wall. "This isn't my first trip. This is my sixth trip. … So no, Republicans have been taking action. We've got a lot of ideas inside Congress."
But the GOP's early internal disagreement over the issue of border security has inflamed tensions between the party's moderates and conservatives, even as Republicans are united in their belief that the record level of migrant encounters along the border amounts to a crisis.
In a sign of how tense things have become, a staffer for Roy recently blasted out an op-ed to other congressional offices that was critical of GOP Rep. Tony Gonzales, a moderate who represents a Texas border district and has been an outspoken opponent of Roy's border bill, according to a screenshot of the email shared with CNN. The op-ed, written by a conservative advocacy group, dubbed Gonzales a "RINO" and accused him of "helping Joe Biden undermine our border." One senior GOP source said the email was "just pouring gasoline on the fire."
Asked for comment, Gonzales told CNN: "Anyone who thinks a 3 page anti-immigration bill with 0% chance of getting signed into law is going to solve the border crisis should be buying beach front property in AZ."
Roy had some choice words for the critics of his bill, though he didn't name names.
"If someone is calling a bill 'anti-immigrant,' that carries out the very policies that that same someone has supported in the past," Roy told CNN, "then that someone should do a long, hard look in the mirror at what they're trying to sell their constituents and the rest of the American people."
As House Republicans struggle to unite behind a border bill, Democrats have their own internal disagreements over immigration policy. The Biden administration released a new rule Tuesday that largely bars migrants who traveled through other countries on their way to the US-Mexico border from applying for asylum in the United States, marking a departure from decadeslong protocol. The Biden policy has garnered wide condemnation from Democratic lawmakers and immigrant advocates.
As part of his bid to win the speaker's gavel, McCarthy promised to pass a border security plan. His top deputy, House Majority Leader Steve Scalise, outlined a dozen bills and resolutions in December that were supposed to come straight to the floor within the first two weeks of the new Congress, while committees were still being organized.
That included a three-page measure from Roy, dubbed the "Border Safety and Security Act," which would allow the Homeland Security secretary to turn away migrants at the border if it was deemed necessary to maintain "operational control" of the border.
But the bill — which was initially seen as a straightforward measure that could be quickly moved on the floor — rankled the party's moderate and Hispanic lawmakers, who worry it would block legitimate asylum claims. Republican leaders, who can only afford to lose four votes on any partisan bills, yanked the bill from tentative floor consideration and instead promised to move it through the normal committee process, hoping to assuage those members' concerns that way.
Yet the Roy bill, which has over 60 co-sponsors, has remained stalled, with skeptics unmoved in their opposition to the measure. Now the House Judiciary Committee is exploring a broader package focused on border security and protecting border communities, senior GOP sources tell CNN, which they hope can win wider consensus in the conference. But even if Republicans are able to move it through the House, such a measure is unlikely to be considered in the Senate.
Roy said there's a lot of "misinformation" about his border plan, and rebutted the notion it would ban legitimate asylum seekers – though he did acknowledge it would make it more difficult to claim asylum and get quickly released into the United States. He also said he'd be willing to make some tweaks to the bill, but not if the end result is watered down.
"I'm open to words that will clear up that which I don't think needs to be cleared up," Roy said, in reference to the claims that his bill would ban asylum seekers. "So long as it doesn't change the purpose of the bill: which is to ensure that people are not being released into the United States until they've been processed and adjudicated as having an actual, credible fear of persecution."
Some moderates said they still harbor some resentment toward the 20 House GOP rebels – a group Roy was a part of – who initially opposed McCarthy's speakership, forcing him to make a number of concessions, many of which benefited the holdouts.
"There's deep anger across the conference on the 20 who hurt the team in early January. Deep resentment," one GOP lawmaker told CNN. "Folks don't want to lift a finger for them."
Perhaps the GOP's best opportunity to address the border will be in upcoming spending fights, since House Republicans will actually have leverage now that they are in power. But it could also take the government to the brink of a shutdown — and some conservatives are already agitating for a fight.
"Don't think for a minute that I'm all that inclined to fund a government that isn't securing the border," Roy said.
In the absence of legislative momentum, House Republicans have continued to move ahead with their messaging efforts to call attention to problems at the southern border.
The field hearing in Yuma hosted by House Judiciary Chair Jim Jordan, marks the third Republican-led trip to the border so far this year. The House committee on Energy and Commerce and McCarthy both led trips to the border last week, just a day apart. The House committee on Homeland Security also has an upcoming trip, billed a "border bootcamp" for Republican freshman members, while the House committee on Oversight and Accountability is also planning something for the near future as well, a source familiar with the plans tells CNN.
In a sign of the intense focus on trips, House Judiciary Republicans have requested $262,400 for travel this Congress, compared to the $7,986 the committee spent on travel in 2022 in the last Congress when the House was under Democratic control, a Democratic committee source tells CNN.
Back in Washington, DC, both the House Oversight and Judiciary committees have held hearings on the border. And both committees have sent a flurry of requests for documents and interviews to the Department of Homeland Security. The House Homeland Security panel will dedicate its first full committee hearing to the border next week.
In preparation for a slew of field hearings, the House Administration committee put together a field hearing guide, in consultation with various House offices, which was provided to Republican committee staff, a senior aide told CNN. Titled "Running an Effective Committee Field Hearing," the purpose of the memo was to sync House Republicans on a variety of fronts including technical specifics about livestreaming, best practices for communication strategy, and what to consider when choosing a location site.
House Republicans contend that multiple committee hearings and border trips reflect an aggressive strategy in their effort to build a public case against Homeland Security Secretary Alejandro Mayorkas, who according to a department spokesperson has already testified before Congress more than any other Biden administration cabinet secretary, and the Biden administration at large.
GOP Rep. Kelly Armstrong, who serves on both the Energy and Commerce and Oversight panels, told CNN that "the only way we have a chance to break through is by coordinating and keeping the pressure constant."
"Nobody overlapped. Everybody is working hard to make sure we are communicating with each other" Armstrong said. "And we are forcing the Democrats to respond."
House Democrats and the Biden administration, however, view the multitude of trips and hearings as political stunts.
The top Democrat on the House Homeland Security committee, Rep. Bennie Thompson, said in a statement to CNN, "it's clear that House Republicans have gotten ahead of themselves with their proposed anti-immigrant legislation and so-called border oversight. Republicans are eager to make trips to the southwest border, but seem unwilling to do the actual work necessary to address the challenges we face."
Democratic Rep. Henry Cuellar, who hosted House Minority Leader Hakeem Jeffries in his Texas border town last week, told CNN, "For me, being from the border, I wonder how much all of this border activity at the end of the day that the Republicans are doing will actually become law? Or is it more trying to get publicity?"
But, Cuellar is not surprised by the numerous trips.
"It's really a byproduct of their political campaign that they ran this last November in many ways," he said.
White House spokesperson for oversight Ian Sams told CNN that instead of working with President Joe Biden on the immigration reform bill he proposed, "House Republicans driven by their most extreme MAGA members are wasting time on politically motivated stunts."
The messaging battle has left each side to dig in with their respective camps. House Judiciary Democrats are not attending Jordan's Thursday field hearing, over scheduling disagreements. Instead, an outside Democratic messaging group, the Congressional Integrity Project, will station a mobile billboard ad outside of Jordan's field hearing in Yuma attempting to discredit Judiciary Republican efforts.
Source
mypresscity