Sports
TideIllustrated – How to watch: No. 2 Alabama basketball vs. Arkansas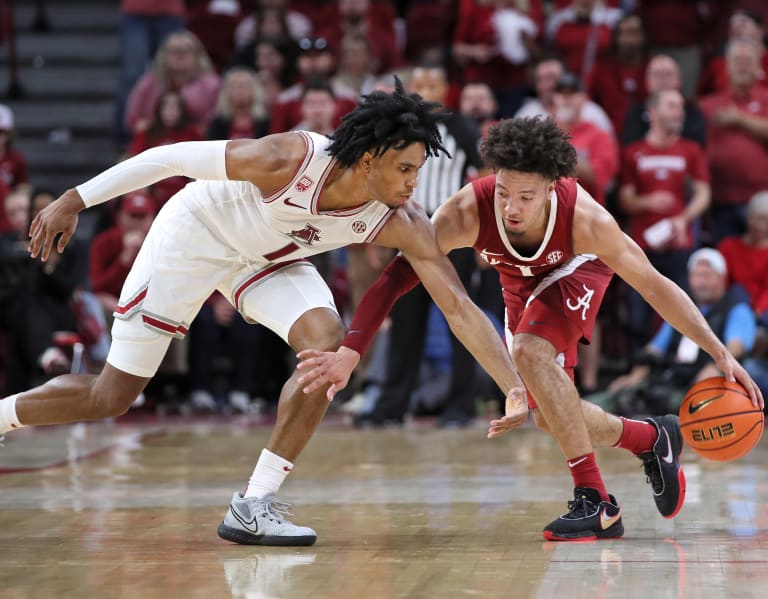 TUSCALOOSA, Ala. — After surviving a scare at South Carolina earlier this week, No. 2 Alabama basketball will return home Saturday to face Arkansas in what will serve as Senior Day inside Coleman Coliseum. The Crimson will honor three seniors, Adam Cottrell, Noah Gurley and Dom Welch after the game.
While Alabama will honor its three seniors before the game, Saturday is another must-win if the Crimson Tide plans on hosting its second SEC Championship trophy in the Nate Oats era.
Alabama dominated the Razorbacks in its 84-69 road win on Jan. 11. Led by Mark Sears' 25 points, Noah Clowney's 15 and Brandon Miller's 14, the Crimson Tide shot 46% from the field at Bud Walton Arena which includes 45% mark from behind the 3-point line.
At the time, it was also one of the rare games where Alabama won the turnover battle, as it forced Arkansas to cough the ball up 15 times. The miscues became easy offense for the Crimson Tide, resulting in a 24-7 advantage in points off of turnovers.
While the team hopes to replicate that performance again on Saturday, Alabama head coach Nate Oats said Arkansas has improved since the last time the two teams met.
"It's a big game," Oats said. "Obviously we only have two home games left and we're a game up on Texas A&M with three games to go. If you're planning on winning an SEC Championship you can't give away home games — we've said that from the beginning. Arkansas is much better than they were the first time we played them and I think we're better too."
Here's everything you need to know about the matchup.
How to watch
Who: No. 2 Alabama (24-4, 14-1 in the SEC) vs. Arkansas (19-8, 8-7)
When: 1 p.m. CT, Saturday, Feb. 25
Where: Coleman Coliseum, Tuscaloosa, Ala.
Watch: ESPN2 (play-by-play: Tom Hart; analyst: Jimmy Dykes)
Listen: Crimson Tide Sports Network (play-by-play: Chris Stewart; analyst: Bryan Passink; engineer Tom Stipe)
Alabama's projected starters
Jaden Bradley: 6-foot-3, 185 pounds, freshman
Stats: 7.8 ppg, 2.8 rpg, 3.5 apg, 42.0% FG, 28.6% 3-pt
Mark Sears: 6-foot-1, 185 pounds, junior
Stats: 13.4 ppg, 3.6 rpg, 2.8 apg, 43.5% FG, 39.3% 3-pt
Brandon Miller: 6-foot-9, 200 pounds, freshman
Stats: 19.5 ppg, 8.0 rpg, 1.9 apg, 46.6% FG, 43.1% 3-pt
Noah Clowney: 6-foot-10, 210 pounds, freshman
Stats: 9.7 ppg, 8.0 rpg, 0.8 apg, 48.1% FG, 27.3% 3-pt
Charles Bediako: 7-foot, 225 pounds, sophomore
Stats: 5.7 ppg, 5.5 rpg, 0.6 apg, 62.1% FG
Arkansas' projected starters
Anthony Black: 6-foot-7, 198 pounds, freshman
Stats: 12.9 ppg, 5.1 rpg, 4.4 apg, 46.7% FG, 32.0% 3-pt
Davonte Davis: 6-foot-4, 185 pounds, junior
Stats: 10.5 ppg, 3.9 rpg, 2.9 apg, 40.7% FG, 32.4% 3-pt
Nick Smith Jr.: 6-foot-5, 185 pounds, freshman
Stats: 11.7 ppg, 1.3 rpg, 1.4 apg, 40.9% FG, 33.3% 3-pt
Jordan Walsh: 6-foot-7, 205 pounds, freshman
Stats: 7.3 ppg, 3.9 rpg, 0.9 apg, 45.8% FG, 29.3% 3-pt
Makhi Mitchell: 6-foot-9, 230 pounds, senior
Stats: 7.3 ppg, 5.9 rpg, 1.1 apg, 67.2% FG, 100% 3-pt
Senior Day
Cottrell, Gurley and Welch will all get their moment to shine in the spotlight after Saturday's matinee. It's a well-deserved honor for all three players, according to Oats who have all been contributors off the bench for Alabama this season.
"Those guys have had really good ways of leading without playing a ton of minutes. (They're) veteran guys in the locker room," Oats said. "I'm happy to be able to honor all of them. Senior days are always interesting with honoring everybody, but our team's doing a really good job of getting focused on what we need to do and that's beating Arkansas."
All three will receive a nice ovation from the crowd at Coleman Coliseum, but no one will get a louder cheer than Cottrell, a preferred walk-on who has electrified the crowd on multiple occasions when the end of the bench checks into the game.
The Flowery Branch, Georgia native is averaging 0.7 points per game in just 19 minutes of playing time, but when he's out there, the ball seems to find him going 2-for-6 from deep this season.
Thanks to Alabama's consistent play this season, Cottrell has seen action in 11 games this season which is more than most walk-ons get the chance to play according to Oats.
Then there is Gurley, one of Alabama's captains for the 2022-23 season. With high-flying freshmen such as Brandon Miller leading the charge for Alabama, it has resulted in a smaller role for Gurley who is averaging 15 minutes a game in 26 contests this year. Regardless of the smaller role, the Fayetteville, Georgia native stayed ready for when he was called upon.
When his number was called, he contributed, averaging five points per game and 3.3 rebounds per game. Gurley also had his moments to shine including his 16-point outing against Jackson State and his 42-minute performance against North Carolina at the Phil Knight Invitational.
Finally, there's Welsh who transferred from St. Bonaventure in May. A nagging calf injury shortened his stint with the Crimson Tide as he had to wait until Dec. 28 against Mississippi State to make his debut with the team.
The 1,198 point-scorer with the Bonnies hasn't found that same shooting touch this season but has shown flashes of what he can do, including his season-high eight points against Georgia on Feb. 18.
The return of Nick Smith
The last time Alabama and Arkansas faced off, the Razorbacks were missing their best player in Nick Smith Jr. The highly-sought after guard from Jacksonville, Arkansas missed 19 games this season due to a knee injury he suffered in December. It's been a slow return for the former five-star guard but in his last two games, Smith scored in double digits and set a new season-high against Georgia with 26 points.
Against the Bulldogs, Smith went 5 of 8 from 3-point range, adding one rebound and three assists in Arkansas' largest win of the season. While Smith is averaging 11 points per game, his return takes some of the pressure off of leading scorer Anthony Black, who scored just five points when he faced Alabama last time.
With his addition to the lineup, Oats noted it's a different Arkansas team than the squad it played in January.
"Getting Nick Smith back has been a big addition for them," Oats said. "They lack in 3-point shooting a little bit and he hit five 3-pointers last game. We're going to have to figure out how to guard them with more shooting on the floor."
Game notes 
— Alabama is the first SEC team to score 100 points versus three conference opponents since the 1997-98 Arkansas team. The Crimson Tide won all three games against LSU (106-66), Vanderbilt (101-44) and Georgia (108-59).
— Alabama has won 11 SEC games by double digits, tying the program record set by the 1955-56 team.
— Alabama and Houston are the only two schools to rank in the top 15 in both defense adjusted efficiency (No. 5) and in offense adjusted efficiency (No. 15), according to KenPom.
— Brandon Miller is seven points away from tying James "Hollywood" Robinson for the second most points (554 points) scored by a freshman in a single season in UA history. Collin Sexton holds the program's freshman record with 632 points in 2017-18.
— Alabama's freshmen have scored 52.4% (1,222 points) of the Tide's points this season led by Miller's 19.5 points per game.
Source
mypresscity