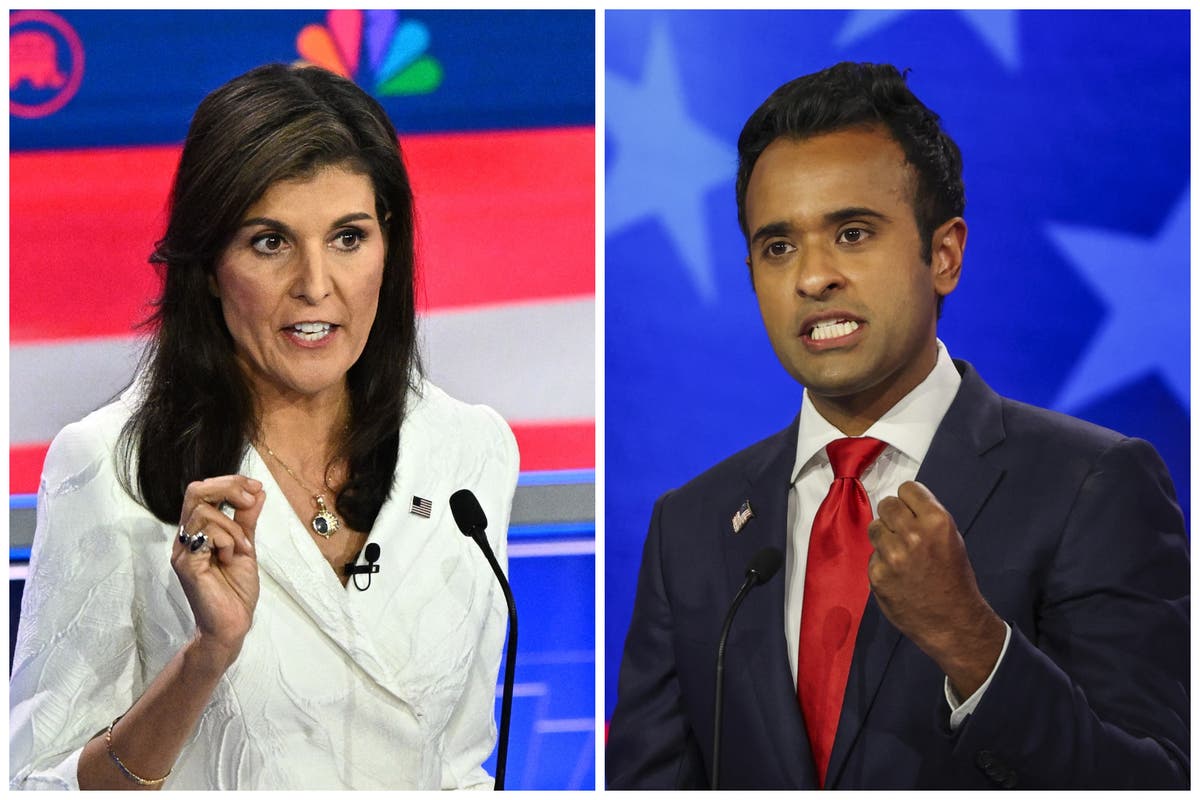 Among the many spirited exchanges the 2024 Republican presidential candidates engaged in during Wednesday evening's GOP debate, Nikki Haley calling Vivek Ramaswamy "scum" was one of the most memorable.
During the third Republican debate, moderators asked candidates how they would approach handling security concerns associated with China and TikTok – a topic that candidates had sparred over in previous debates.
When Ms Haley said the app was detrimental, Mr Ramaswamy called out her daughter.
"In the last debate, [Ms Haley] made fun of me for actually joining TikTok while her own daughter was actually using the app for a long time so you might want to take care of your family first," Mr Ramaswamy shot at Ms Haley.
The former UN ambassador responded furiously, "Leave my daughter out of your voice."
Mr Ramaswamy's insult was met with boos from the audience.
"You're just scum," Ms Haley added shaking her head.
The two candidates have butt heads in previous debates. During the first debate, Ms Haley attacked Mr Ramaswamy's foreign policy saying he would make America less safe. In the second debate, the former South Carolina governor said she felt "a little bit dumber" every time Mr Ramaswamy spoke.
But Wednesday night's attack was the most personal yet between the two.
Now as the number of lecterns on the stage dwindles and the presidential primaries approach, the candidates are launching more targeted attacks on each other.
"Dick Cheney in three-inch heels"
Earlier in the evening, Mr Ramaswamy referred to Ms Haley as well as Florida Governor Ron DeSantis as "Dick Cheney in three-inch heels" – an allusion to rumours that Mr DeSantis wears heeled shoes.
Ms Haley later responded to Mr Ramaswamy's insult saying, "They're five-inch heels and I don't wear them unless you can in them. The second thing I will say is, I wear heels. They're not for a fashion statement. They're for ammunition."
"Party of losers"
Kicking off the debate, Mr Ramaswamy accused the Republican Party of being a "party of losers" citing the lack of conservative officials elected on Tuesday.
The tech entrepreneur accused Republican National Committee (RNC) chairwoman Ronna McDaniels of being the reason for losses on Tuesday and previous elections.
"Putin and President Xi and 'salivating'"
Ms Haley insulted Mr Ramaswamy's approach to foreign policy by saying Russian President Vladimir Putin and Chinese President Xi Jinping would enjoy Mr Ramaswamy being president.
"I'm telling you Putin and President Xi and 'salivating' at the thought that someone like that could become president," Ms Haley said.
As the candidates wrapped up on Wednesday evening, Ms Haley shook hands with her political opponents, except for Mr Ramasawmy.
The two avoided eye contact as they departed the stage.
Source
mypresscity