World News
Turkish channels call Aleyna 'miracle girl' who was rescued alive 248 hours after earthquake | CNN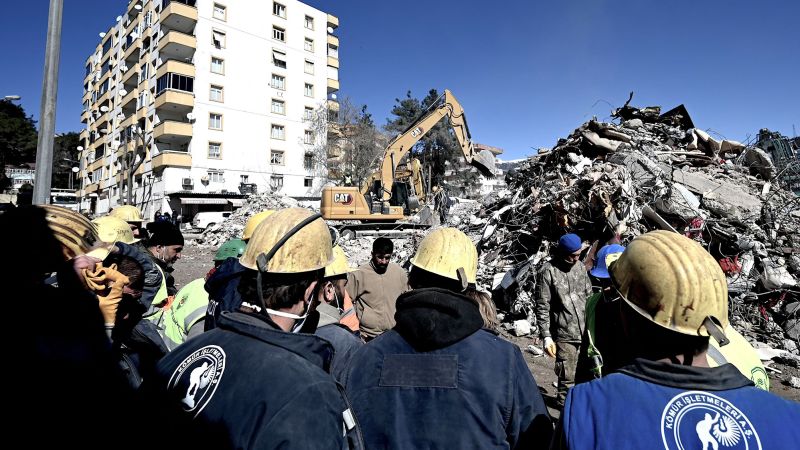 CNN
 — 

A 17-year-old was dubbed the "miracle girl" when she was pulled alive from the rubble 248 hours after a fatal earthquake that ripped through southern Turkey, as rescue efforts shift to recovery operations ten days on from the disaster.
More than 42,000 people have died across Turkey and neighboring Syria following the powerful 7.8 magnitude quake on February 6, according to authorities. Efforts to retrieve survivors have been hampered by a cold winter spell across quake-stricken regions, while authorities grapple with the logistical challenges of transporting aid into northwestern Syria amid an acute humanitarian crisis compounded by years of political strife.
Earlier Thursday, the UN Secretary-General António Guterres announced an appeal for $1 billion in aid towards earthquake relief efforts in Turkey over the course of three months. It came two days after the UN launched a flash appeal for $397 million in earthquake aid for Syria, also covering a three-month period as humanitarian bodies stress the need for psychological and mental health services in the affected regions.
Turkey's state news channel TRT Haber crew visited teenager Aleyna Ölmez in the hospital room after the rescue operation and talked to her and her doctors and family members. Speaking from her hospital bed, TRT Haber cameras showed Aleyna's eyes open, her body covered up to her neck, and tubes inserted for oxygen supplements.
Alyena was taken directly to Kahramanmaraş Sutcu Imam University Faculty of Medicine after the rescue operation on Thursday.
A video showed Aleyna's aunt and grandmother next to her bedside, touching her face and kissing her hands. When the TRT Haber correspondent reached out to Aleyna with a microphone asking how she was doing, Aleyna shook her head and smiled.
Aleyna's doctor Prof. Dilber said he was very surprised by Aleyna's good health condition and told TRT Haber: "She couldn't eat anything and drank nothing the whole time (when she was under the rubble), but she was still in a good condition."
Dr. Dilber added that "since she couldn't move under the rubble at all, we could say that her inactivity has protected Aleyna a little and she needed energy and she has endured during this time, but I guess we can't explain it that way."
The moment Aleyna was brought into the hospital, she was conscious and talking to the doctors. "We have made the necessary interventions. Body imaging was done, and blood tests were taken. She was in a very good condition," Dr. Dilber told TRT Haber.
"There was no hypothermia. Blood tests also showed very good kidney functions. Muscle enzymes weren't too high. Fluid therapy started immediately. After the fluid therapy, Aleyna still spoke to us very well," he added.
Hacer Atlas, a member of the search and rescue team who saved the young quake victim told Turkey's state-run news agency Anadolu that they were able to reach Aleyna after long and tiring efforts.
"First we held her hand, then we took her out. She is in very good condition, and she can communicate. I hope we will continue to receive good news about her," Atlas said about the moment when they found Aleyna.
TRT Haber reported later that Aleyna was brought to the Turkish capital of Ankara by plane.
Another quake survivor defied predictions that the time for survival had passed earlier this week, when a woman aged 77 was pulled alive from the rubble on Tuesday in the city of Adiyaman some 212 hours after the earthquake struck, Anadolu reported.
Source
mypresscity