Health
Try this avocado salsa — it's a Super Bowl winner | CNN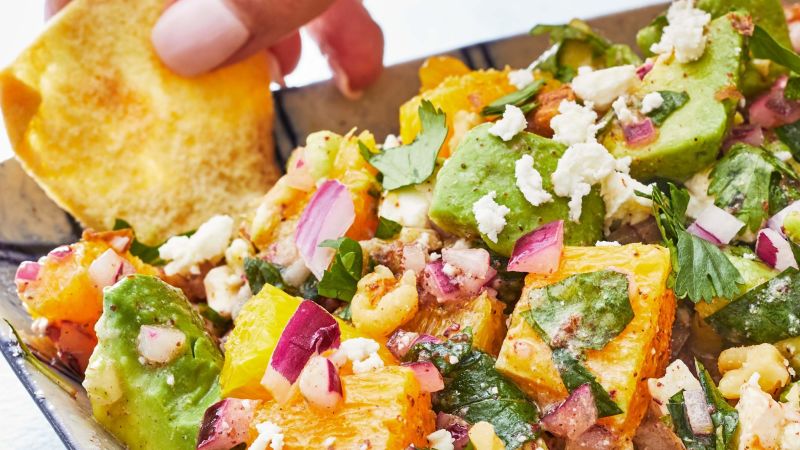 Editor's Note: Sign up for CNN's Eat, But Better: Mediterranean Style. Our eight-part guide shows you a delicious expert-backed eating lifestyle that will boost your health for life.


CNN
 — 

I will smash a ripe avocado for any meal or festive occasion. Add lemon or lime juice, olive oil, and kosher salt and freshly ground pepper, and I've got my version of guacamole to snack on with chips or slather on toast.
My easy guac isn't the only way to go. I have little interest in American football, but Super Bowl Sunday is an excellent excuse to celebrate my hometown fruit in new ways. I have my avocados nearly ripe for the weekend festivities.
And yes, avocados are good for you. Besides being the perfect toast topper, they are a great source of potassium, packed with monounsaturated fats, high in fiber and rich in folates.
I did a test run of Suzy Karadsheh's 10-Minute Citrus Avocado Salsa, featured in her recently published cookbook, "The Mediterranean Dish: 120 Bold and Healthy Recipes You'll Make on Repeat," and the combination of flavors — avocado, orange, red onion, mint, cilantro and sumac — blew me away. I will definitely make it this Sunday.
Like me, Karadsheh doesn't care much about the game. "But I do love the energy and getting together with friends and family around some delicious food," she said via email. "For me, it starts with the dips. I usually do three dips at a given party, and this year, I'm sticking with some family favorites."
Karadsheh is including her "sassy" citrus avocado salsa.
"If you love guacamole, think of this dip as its bright and unexpected Mediterranean cousin," she said. Just add pita chips or chips on the side.
Don't know when an avocado is ripe? Check out this video below:
Don't just squeeze. Check this spot to see if your avocado is ripe
Think that red onion can be a little too spicy? I agree, which is why I work ahead and do a quick pickling a day before I make the salsa. The red onion will be tart but not too much. Take one chopped medium red onion, ½ cup of apple cider vinegar, 1 tablespoon of sugar and 1 ½ teaspoons of kosher salt, and shake in a sealed jar. Refrigerate overnight, and your pickled red onion is ready to use.
Have an aversion to cilantro or don't have sumac in your cupboard? Leave it out. Want to add cucumber and tomato to turn the avocado salsa into a salad? Go for it. This recipe is flexible.
Want to expand your party menu? Karadsheh's lineup also includes a five-minute whipped feta dip, which marries feta cheese with a bit of creamy Greek yogurt and herbs, and her ode to the seven-layer dip, which is a simpler hummus dip layered with a seasoned meat topping and tomato, onion, parsley and pine nuts.
With this game-day spread, you'll have your friends and family cheering for a whole lot more than the final playoff.
Source
mypresscity